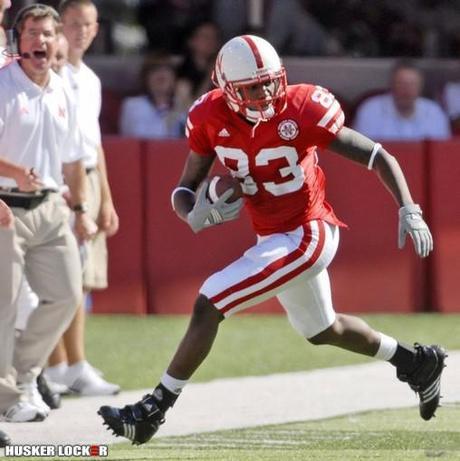 By Brian Towle
The words "overrated" and "underrated" come out often when you want to compare players, coaches, broadcasters and other sports personalities. Whether you have intense anger towards a player or coddle a coach, others are more than happy to tell you why you're wrong. There's no better evidence of this than on the internet.
Why not join the fray as the days tick down towards Nebraska's first kickoff of the 2011 season? Keep in mind, these are only my opinions and do not reflect those of anyone else writing for the site.
OFFENSE:
Underrated: Nate Swift, Todd Peterson, Terrence Nunn
The reason I listed all three players is that when they were upperclassmen, there was no better receiving corps in the Big 12 and one of the top sets in the nation. Swift ended up breaking the record for receptions by a Cornhusker, Peterson seemed to never drop a ball and Nunn made a big play when one was needed on about a 99-percent clip. Yes, the fumble against Texas in 2006 was awful, but that's one play.
These three were fantastic together and only now do Husker fans realize what they had with this trio. Imagine if you took these three then added Brandon Kinnie and Jamal Turner to the mix. Then you add in Taylor Martinez and Rex Burkhead? Unstoppable, I say.
Overrated: Sam Keller
This list is admittedly a long one. While there were some candidates that stood out such as Josh Gibson, Harrison Beck and Kenny Wilson to name a few, the list is topped by Keller. Not only did he come to Lincoln following a spat at Arizona State, but it appears that he was essentially promised the starting job.
This kept Joe Ganz off the field. He might have salvaged some of what was the chemical-filled train wreck that was the 2007 season. To give Keller some credit if you found him these days as he's waiting for the EA Sports/NCAA lawsuit to finish up, he could make you a mean Tom Collins.
DEFENSE:
Underrated: Keyuo Craver
Craver was a great cornerback under Craig Bohl. He broke Mike Brown's tackle record along with racking up seven picks and blocking four kicks during his time in Lincoln. He wasn't the biggest guy at 5'11" and certainly not the fleetest of foot in the defensive backfield (that was DeJuan Groce).
He was a great man-to-man defender. His interception of Jason White on the first play versus Oklahoma during the classic 2001 thriller set the tone for the Blackshirts for the entire game.
Overrated: Corey McKeon
McKeon was talented enough to play, however Corey was a few cards short of a full deck. His frying of the fans during the 2007 season, especially his defense of former DC Kevin Cosgrove, was decried across Husker Nation.
I don't blame Corey for being upset, but there's a fine line between having your coach's back and telling your own fans that you're playing hard when you clearly mailed in two-thirds your performances during an entire season.
Could you imagine how this would gone if Bo, Carl and Mike Eckler had been on watch? Thank goodness that Ndamukong Suh didn't listen to McKeon's ramblings.
COACHES:
Underrated: Scott Downing
Laugh all you want. Scott Downing has been ridiculed for his time as head coach at Northern Colorado. His record wasn't great, heck it wasn't even good. However, Downing was not only the lone remnant from the Solich/Osborne/Devaney era once Bill Callahan came around, but he also was the recruiting coordinator for Callahan's famed 2005 recruiting cycle.
While that class had some extreme whiffs in Harrison Beck, Justin Tomerlin, Leon Jackson and Rodney Picou, those unfortunate signings were alongside Ndamukong Suh, Zach Taylor, Zack Bowman, Marlon Lucky, Steve Octavien and Cody Glenn's.
While he was in Lincoln, Downing did a great job coaching Kyle Larson, too. Could you imagine the work that Downing, Ron Brown and John Papuchis could do as a tandem?
Overrated: Bill Busch and Phil Elmassian
These two share blame for the mockery of what was the 2007 Blackshirt defense. They both had promising starts to their Cornhusker careers. The 2005 secondary was respectable ending the season No. 2 in the Big 12 and No. 10 nationally in pass efficiency. However, the 2007 season saw numbers that could rival the worst video game beatings put up on the secondary.
Only once in the final nine games of the 2007 season did the defense give up less than 35 points. In that single game (Texas), Jammal Charles destroyed the Huskers with 216 rushing yards in the fourth quarter alone as Nebraska surrendered 25 points in 20 minutes.
The debacle in Lawrence followed where Nebraska actually outgained Kansas through the air in yardage 405-354, but the Jayhawks ran for 218 yards in the 76-39 rout. Both coaches also chose both their words and actions poorly from Busch reportedly having to be restrained from going after fans to Elmassian telling media members that sacks are overrated.
Honorable Mention: John Blake
Blake only gets mention because while he was a fantastic recruiter and coach for Kevin Cosgrove's defense, he also ended up being a very shady person.
Could you imagine if Blake was still at Nebraska and the allegations that came to North Carolina's doorstep regarding his ties to a agent were in Lincoln instead? Talk about dodging a rather hefty bullet.