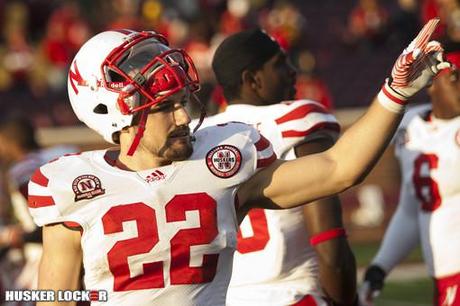 By Erin Sorensen
During one of the crucial moments during last weekend's game versus Michigan State, Rex Burkhead motioned to the sidelines to be taken out. The junior I-Back from Plano, Texas was tired, and his legs were beginning to cramp.
He had carried most of the workload for the Nebraska offense against the Spartans and he needed to catch his breath, but he stayed in. Following his 31st carry of the game, he was on the ground and the crowd was deathly silent.
Bo Pelini walked out to check on his workhorse, but immediately turned around. Burkhead was going to get up. He would only need two plays to rest before returning to the game.
He would then catch a 27-yard touchdown pass from quarterback Taylor Martinez on his first play back on the FieldTurf. After 35 carries, it was time to rest, and Burkhead watched the last few minutes from the sidelines.
The bruising I-Back's statistics speak for themselves: 882 rushing yards, 5.3 yards per carry, 12 rushing touchdowns; nine receptions for 95 yards and two touchdowns. The Cornhuskers are 9-0 when Burkhead has rushed for at least 100 yards in his career.
There is a lot more to the soft-spoken Texan than just numbers, though. It is his heart, leadership and determination. It is the things that can't be quantified or caught on tape.
One of the biggest examples of this is Burkhead's relationship with Jack Hoffman, a six-year-old from Atkinson, Nebraska that is battling brain cancer.
When the two met several weeks ago, he befriended the little boy and began to wear a "Team Jack" bracelet on his wrist in honor of his little buddy. Burkhead believes Jack's illness "is motivation for [the team] to strive that extra mile."
Through their time as friends, Burkhead has brought national media attention to Jack's story, something the family believes would not have been possible if not for No. 22. Jack has just enjoyed getting to know "Superman." It's an inspiring friendship that is a testament to Burkhead as both a person and a leader.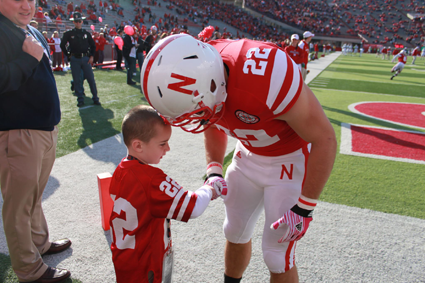 The junior's teammates also have an immense amount of respect for him. In fact, redshirt wide receiver Kenny Bell started a #FactsAboutRex hashtag on Twitter. Over the last few days, Bell has tweeted out interesting "facts" about Burkhead, inviting fans to do the same.
Senior wide receiver Brandon Kinnie also has a deep admiration for Burkhead. When asked to comment on the powerful running back, Kinnie said he was a great teammate.
When asked what his teammate's greatest trait was, the senior wide receiver responded, "His name. He's a perfect human being. Rex can do everything. He can literally do it all."
The incredible part is the respect Burkhead has for his teammates. When speaking of Kinnie, he has said, "There is no one else like him." As for Bell, he believes "[Rex] is a huge impact." It is the mutual respect between both Burkhead and his teammates that adds to his likability with fans.
A grassroots effort to get Burkhead noticed in the Heisman race has now cropped up. The people behind the @Rex4Heisman twitter account have gained nearly 500 followers in two days, reaching out to fans, former and current players, and members of the media for support.
While Burkhead will need big performances against Penn State and Michigan to beef up his resume and highlight-reel, a trip to New York City is not out of the question.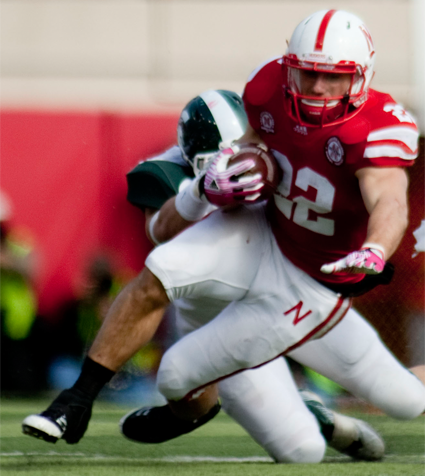 Many believe if he does not receive the attention this year, he will in 2012. "He'll be up for the Heisman next year if he stays healthy and keeps doing what he's doing," said former Nebraska 1983 Heisman Trophy winner Mike Rozier.
Beyond the Heisman talk, Burkhead has positioned himself as arguably the most beloved Cornhusker football player since the late Brook Berringer.
This is fitting as he's has been named to the Brook Berringer Citizenship Team in both 2010 and 2011. Whatever "it" is, the I-Back has it and people are beginning to take notice now more than ever.
For Burkhead, it's just business as usual. As he walked off the field following a 24-3 win against Michigan State last Saturday (during which he scored all three touchdowns), he admitted his legs were a little sore. While head coach Bo Pelini would love to get him more rest, Burkhead is clear on what he loves to do, "I love being out there."
The fans, coaches, teammates, and Jack Hoffman love having him out there, too.
Support 'Team Jack' on Facebook: Team Jack
Support the 'Rex Burkhead For Heisman' on Twitter here: @rex4heisman
Follow Erin on Twitter: @helloerinmarie
Follow Husker Locker on Twitter: @huskerlocker
Like us on Facebook: Official Husker Locker Page

Permanent Link to this Blog Post