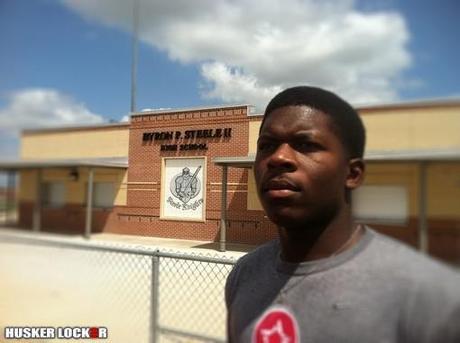 By Brandon Cavanaugh
Thanks goes to Husker Locker's Brett Baker for the interviews
After former Nebraska quarterback Cody Green decided to transfer to Tulsa and Kody Spano chose to hang up his pads for good, the Cornhuskers' quarterback depth chart has been cause for worry. Tim Beck's new offense takes a physical toll on its signal-callers which made signing quarterbacks this recruiting cycle a necessity. Enter Tommy Armstrong.
The 6'2" 210-pound athlete from Cibolo, Texas' Steele High School likely won't be the only quarterback that Nebraska picks up this cycle because of the aforementioned lack of depth, but he'll be bringing a big game mentality with him from the Lone Star State.
Armstrong took in Nebraska's game versus the Washington Huskies this past weekend and despite what appeared to be weather straight from Seattle, the Cornhuskers' offense had plenty of fireworks to put on display for its visitors. "I had a great time. I was bonding with the coaches and the players. It felt like home, like I could be there the next four or five years of my life," said Armstrong.
It didn't hurt that plenty of Texans were making plays on the field for Nebraska including San Antonio native Aaron Green. The true freshman Husker running back had encouraged Armstrong to follow him to Nebraska following Green's eventual commitment to the Cornhuskers.
Steele High School head football coach Mike Jinks couldn't be more excited for his pupil's future. "It's a great day for Steele High School and it's a great day for Tommy Armstrong," he said. "He's become a leader in our program and a leader in our community."
Armstrong and Nebraska had strong communication dating back into the summer months and according to Jinks, the Cornhuskers made a lasting impression. "In the back of his head, I think Nebraska's always been number one."
In 2010, Armstrong had the good fortune of having one of the most highly-rated running backs in the country share the backfield in future Texas Longhorn Malcolm Brown.
This year, he's stepped his game up and has led Steele High to a 3-0 record while rushing for 337 yards and two touchdowns. He's also yet to be intercepted while completing 20 passes out of 37 attempts for 372 yards and five touchdowns.
When it came time to make a decision, Armstrong sounded confident. This past weekend's visit provided what appears to have been the tipping point. "It just felt right," he said.