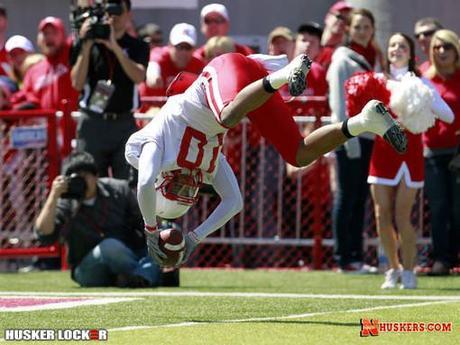 By Brandon Cavanaugh
One of the hottest topics to come out of this young preseason camp is wide receiver Jamal Turner taking snaps at his high school position of quarterback. Since Bubba Starling has returned to Kansas, overall quarterback depth is officially a concern not to mention the group's inexperience.
Since Turner began working with Nebraska's signal-callers, many fans have started to worry about what this means for the offense, but the truth lies in an assigned position's occasional half-truths.
Is Jamal Turner a wide receiver? Absolutely and he's and a dynamic one, too, but he's capable of far more than just catching passes. He's a quarterback, a situational running back and could very well return both punts and kicks. Simply put, Turner's simply an exceptional athlete.
Every so often, a program is fortunate enough to find players who can excel at multiple positions. Nebraska fans are very familiar with this thanks to Ndamukong Suh and most recently junior running back Rex Burkhead.
It'd be a mistake to assume that Turner will be limited to his official position this year as only two things stand between him and a more frequent stay under center: Injuries to teammates and his own talents.
It's no secret that Turner is a rare offensive weapon. Last April, Cornhusker fans were treated to a fireworks display courtesy of No. 10. Consider that a sneak preview of things to come in Tim Beck's offense.
This is only further evidenced by where he's fit into the plays ran by the team so far this month. Turner has been practicing in the shotgun formation next to Taylor Martinez in the running back spot opposite Rex Burkhead.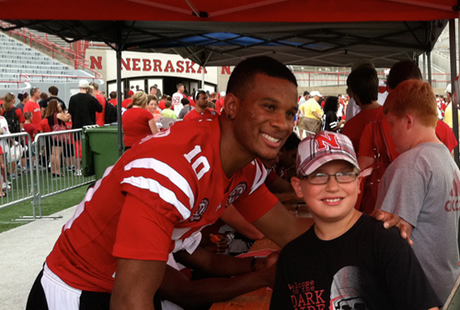 He's the type of athlete that any college program gets on the field one way or another. Redshirting him or having him stand on the sideline is an obscene waste of ability. Assuming that Nebraska's quarterbacks can avoid severe injury this fall, you won't see him at their position unless it's a designed play.
A combination of talent like Martinez, Brion Carnes, Rex Burkhead, Brandon Kinnie and the trio of freshman running backs along with Turner is just begging to be used to give defensive coordinators fits.
Turner's style under center is similar to that of Martinez's. This presents a unique opportunity for Tim Beck to mix and match personnel. Turner might find himself in the shotgun with Martinez or he may be the one taking the snap while Burkhead's on his hip and No. 3 heads to the slot. This multi-talented Texan brings the same options to the table for Nebraska that Minnesota Viking wide receiver Percy Harvin did for Florida a few years ago.
During his three seasons as a Gator, Harvin tallied 133 catches for 1,929 yards (14.5 YPC) and 13 touchdowns while running the ball 194 times for 1,852 (9.5 YPC) yards with 19 touchdowns. This may very well have been on the mind of the Nebraska staff's mind when recruiting Turner. His teammates see the comparison. Some actually refer to the true freshman as "Percy".
In less than a month, Beck's playbook will be opened just a crack. Regardless of how many plays are run during Nebraska's first game or two, it's a safe bet to say you're going to see Turner at more than one position on a frequent basis.
While official quarterbacks Brion Carnes, Ron Kellogg and Tyson Broekemeier jockey for position on the depth chart, they shouldn't fear Turner's presence in the offensive backfield. He'll only be stopping by for a play or two before taking off quicker than a hiccup.
Follow us on Twitter: @huskerlocker
Like us on Facebook: Official Husker Locker Page

Permanent Link to this Blog Post