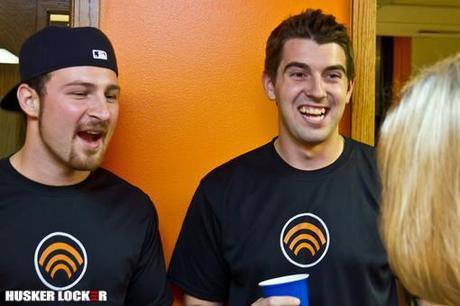 By Erin Sorensen

For former Nebraska football players Blake Lawrence and Adi Kunalic, it all began one night over a couple of beers. A business model Lawrence had created while interning with Kunalic at a local Lincoln, Nebraska company was the source of inspiration.
Having generated $200,000 in new revenue, Kunalic believed it would be a good idea to take the system and expand on it. It was at that moment that a model created to help one company was tweaked to help thousands. What resulted would eventually become Hurrdat Social Media.
A marketing and management company focused on properly using social media to help generate profit, Hurrdat had its' official open house last Friday at their new Lincoln office. The turnout was strong as nearly 75 people from across the community came to support Lawrence, Kunalic and the entire Hurrdat team.
The former Huskers spent the evening mingling with old and new faces. The support of friends, family and business people filled the orange-tinted office. Lawrence called it, in a word, "awesome."
The company also has an office in Kansas City, Missouri which is headed up by Chief Marketing Officer Austin Brown. While Brown will hold down the fort in Kansas City, Lawrence stressed the importance of the company staying rooted in the Cornhusker State. "It's going to be a big part of our company to stay connected and to stay in Lincoln because [Lincoln] has given us so much," Lawrence said.
What is most impressive about Hurrdat is that its' Chief Executive Officer (Lawrence) and Chief Operating Officer (Kunalic) are both only 22 years old. From Lawrence's perspective, they are a product of hard work and motivation – something they both learned as Nebraska Cornhuskers.
"I think it's a huge part of our business success that we are motivated to compete. We are motivated to do something on another level. I think we learned that by playing football at Nebraska," Lawrence said.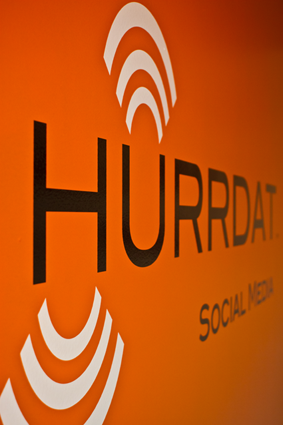 The Shawnee Mission, Kansas native is no stranger to hard work. Having dealt with the effects of four concussions while playing for Nebraska, Lawrence saw his setbacks as an opportunity to get better, instead of letting them bring him down. "I think there was some motivation there. The injuries put me in a position where I had to work harder," he said.
When the concussions ultimately ended his football career at Nebraska in October 2009, Lawrence opted to continue working hard to accomplish his ultimate goals. He obtained his undergraduate degree in Marketing from the University of Nebraska-Lincoln in just two years.
He is currently on track to graduate with his MBA in marketing this December, meaning he'd have earned both an undergraduate and Masters Degree in only four and a half years.
It is those experiences that drive Lawrence to work harder at everything he does. He is also happy to have created a company that allows him and Kunalic to stay connected to sports. "It allows us to leverage our experience in the sport of football and with athletes in general. Staying close to sports is important because it is something we know a lot about," he said.
As Lawrence adjusts to life off the field, his alma mater is adjusting to life in a new conference. He believes the Big Ten is ultimately a good fit for Nebraska, even if it takes a little time to adjust.
"How Nebraska's sports fit into the Big Ten has yet to be seen. I think it's a great fit down the line. It's going to take a little getting used to for the Nebraska fan base this year but academically, it is a perfect move. It puts our academics on a whole new level," Lawrence said.
When asked what the football team will need to do to continue competing in the Big Ten this season, his answer came quickly. "Confidence. Even after the big victory (against Ohio State), there is still a lack of identity and confidence with the team. The more that this team can do to come together and form an identity and increase their confidence will help."
Lawrence also believes both Michigan and Michigan State will be a challenge for the Cornhuskers. "Both opponents definitely have an identity and if Nebraska doesn't find out what we're good at and what we're bad at, it could be a challenge to beat teams that are establishing their confidence early in the season," he said.
When asked about if Lawrence had the opportunity to play linebacker for Nebraska in the Big Ten, he said that he doesn't believe he would stand out amongst the conference's linebackers. "I was undersized [in the Big 12], but really known for being quick and smart. The smartness would help, but the Big Ten goes for bigger linebackers so I'd definitely be undersized."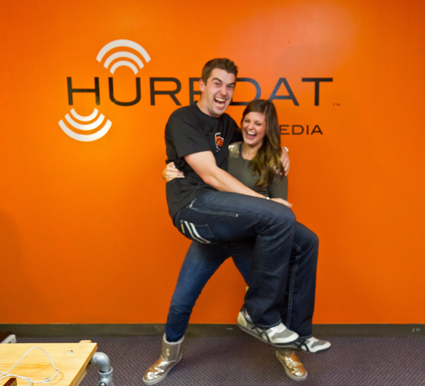 A year of firsts for Lawrence, Kunalic and the Cornhusker football team combines for a lot of promise ahead. Overall, Lawrence looks at his time with Nebraska as a growing opportunity and is grateful for the support he's gained and lessons learned along the way.
When reflecting on the past few years, Lawrence makes it clear how thankful he is. "I think the reason that Adi and I both came to Nebraska is because of the fans and because of the support. And the reason we are still here is because of the fans and because of the support," Lawrence said.
It may have all began over a couple of beers between friends, but Lawrence is looking forward to a bright future with Hurrdat. With his best friend by his side, he plans to take everything he has learned while at Nebraska and make his business venture a bigger success than it already is. One thing is for certain, if Lawrence's attitude towards success means anything, Hurrdat has a bright future.
For more information on Hurrdat, visit http://www.hurrdat.com
Follow the Hurrdat crew on Twitter:
Blake Lawrence: @Blake_Lawrence
Adi Kunalic: @Kunalic
Hurrdat: @Hurrdat
All photos by Jon Miller (@LiquidRetro).
Follow Erin on Twitter: @helloerinmarie
Follow Husker Locker on Twitter: @huskerlocker
Like us on Facebook: Official Husker Locker Page

Permanent Link to this Blog Post