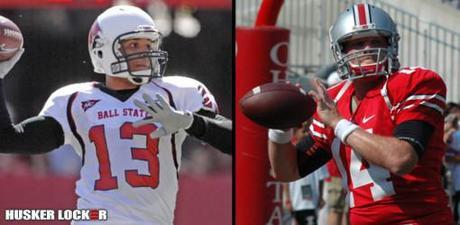 By Brandon Cavanaugh

The stage had been set. The Nebraska Cornhuskers were under the brightest of spotlights, including headlining ESPN College GameDay, and being featured in the primetime ABC game. What followed was absolute humiliation of Nebraska on every level, live and in high-definition.
While Southern Cal walked into Lincoln and pummeled the Cornhuskers, Wisconsin had the privilege of doing so in friendly confines. Nebraska and Ohio State haven't met since 1956, but the significance of this week's game is eerily similar to one four years ago against the Ball State Cardinals.
For those who have seared the Callahan Era from their brain for completely understandable reasons, allow a brief refresher. An upstart Ball State squad came into Lincoln following the Huskers' drubbing by the Trojans in 2007 and hope was high among the Nebraska faithful for an immediate rebound.
The results were less than encouraging. Nate Davis, Ball State's upstart sophomore quarterback, torched the Nebraska secondary to the tune of 422 yards. The Cornhuskers would deny the upset bid thanks to a Bo Ruud pick-six and Maurice Purify touchdown catch. Nebraska had their own "free agent" in former Arizona State quarterback Sam Keller who performed well, throwing for 438 yards and three touchdowns.
Following the heroics that saved the Huskers further embarrassment, Nebraska would drop six of its next seven games. The head coach was promptly removed following a shootout during the final contest of the season, and the rest is history. Bo Pelini finds himself in a position not unlike that 2007 squad, except the pieces to this season's puzzle are scattered a bit differently.
In 2007, Keller was far from perfect, but he did manage 2,422 yards passing and 14 touchdowns. He also set Cornhusker records for passing accuracy and single-game yardage. In 2011, Nebraska has sophomore Taylor Martinez delivering more passes that result in eventual scores for the opposition thanks to a 5-4 interception-to-touchdown ratio.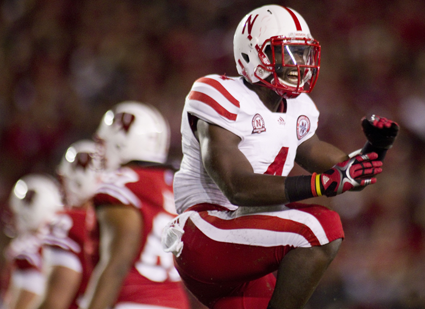 Perhaps what's most concerning about the 2011 squad is that prior to the season, this defense appeared loaded. With Jared Crick, Lavonte David and Alfonzo Dennard all returning, fans likely anticipated black practice jerseys being handed out by now. Five games into the season, the Cornhusker defense is giving up 377 yards per game.
To be fair, Nebraska didn't have those three talented athletes all healthy and on the field at the same time until reaching Madison. Unfortunately, even their presence didn't affect a vastly superior team across the board nearly enough. The loss to Wisconsin is behind Nebraska and now comes a very crucial game for the Cornhuskers.
Neither Ohio State's Joe Bauserman nor Braxton Miller is going to be confused for Nate Davis circa 2007. In addition, three very talented players in running back Daniel "Boom" Herron, wide receiver DeVier Posey and offensive lineman Marcus Hall had their suspensions extended as of yesterday. While Las Vegas' coffers were promptly filled following this news, Ohio State's cupboard isn't entirely bare.
The good news for Nebraska is that this game presents an opportunity for a massive shift in morale and direction for the entire 2011 season. Pelini and company have the necessary talent to bounce back on both sides of the football, but changes are necessary for Pelini's "process" to begin an upward trend. If the Cornhuskers are going to have a successful inaugural season as a member of the Big Ten, it's time to erase the drawing board and start from scratch.
While there's little doubt Taylor Martinez will start against the Buckeyes this week, the call to relieve him in favor of another option, be it Brion Carnes or Rex Burkhead, needs to be made. Burkhead has proven to be a rock at running back. This is one position where Cornhusker fans know they have a reliable leader and talented corps.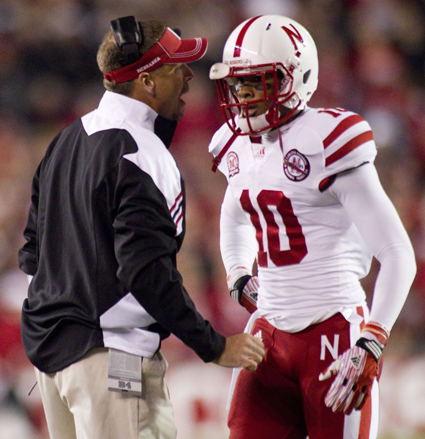 Jamal Turner is being sinfully underutilized. There's no reason that he should be held back any longer. It doesn't matter if he's used as a wide receiver, quarterback or even running back. Turner needs to be on the field, as all playmakers should be. Nebraska's offensive line is quite reliable overall. The work of John Garrison and Brendan Stai is clearly meshing well with what Barney Cotton already had in place.
On defense, the Cornhuskers may want to consider moving the versatile Jared Crick to the outside opposite Cam Meredith and plug the middle using Steinkuhler, Moore, Randle and Rome. Unfortunately, Sean Fisher doesn't look like he'll ever regain his old speed which necessitates one of three things: Move Daimion Stafford to linebacker, a Peso-style hybrid, or burn David Santos' redshirt.
Despite only having one game under his belt, Alfonzo Dennard wasn't attacked much by Wisconsin. The same can't be said for the rest of the secondary. Where is Antonio Bell or Josh Mitchell? At this point, is giving P.J. Smith or Courtney Osborne truly not worth a shot? Yes, the defensive backfield is still a work in progress, but as it stands, it's hard to comprehend why the coaches wouldn't start mixing up personnel until they find a group that clicks.
If these changes are made and an absolute commitment is made by Tim Beck to stick to an effective game plan (See: First quarter vs. Wisconsin), Nebraska will very likely avoid a record mirroring 2007's. However, if there is little to no shakeup, Taylor Martinez remains under center, and square pegs keep being slammed against round holes, the Buckeyes are good enough to beat the Cornhusker team seen last Saturday in Camp Randall Stadium.
A 41-40 win over Ball State in 2007 was an ominous sign of things to come. If Nebraska's first Big Ten home game is a loss, the difficult challenges that Nebraska faces this week may be welcomed in comparison come this Sunday.
Follow us on Twitter: @huskerlocker
Like us on Facebook: Official Husker Locker Page

Permanent Link to this Blog Post