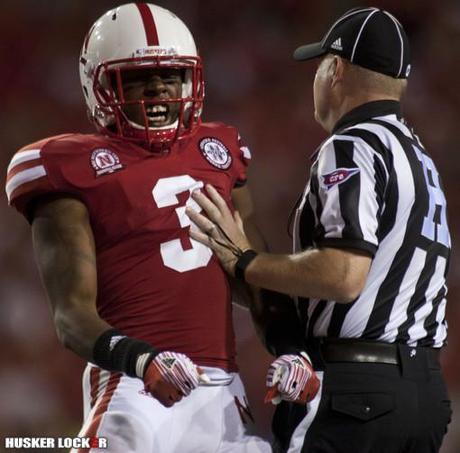 By Brian Towle
So many things went right and wrong last Saturday night in Lincoln. Enough that it makes you wonder how the tale of 2011 Nebraska football is going to finish both on and off the field.
The first half was essentially the moment this team had their backs against the wall. Tim Beck was calling the game that fans had begged for all week. More Rex Burkhead, controlled passes by Taylor Martinez, all of that. The defense was supposed to suffocate and stop the Ohio State offense, a goal that was never really accomplished. The booing of the arm-punt by Martinez that Bo Pelini waived off, the dejected looks on each and every player and coach's face, it told the story of the entire prior week-plus.
The second half was one of the most memorable that anyone will likely see. From Lavonte David's strip to "Rex and the O-Line's Greatest Hits" being belted out among the raindrops to a formation that saw Burkhead, Ameer Abdullah, and Aaron Green on the field at the same time. As an aside, as you look at Quincy Enunwa's touchdown catch in the third quarter, watch for Aaron Green down the field. You could have fit the new addition to Memorial Stadium between him and the two Buckeyes on Enunwa.
Adding to the good and yet baffling moments was one wide receiver-turned-cornerback Stanley Jean-Baptiste. If you had him in the pool as the best-looking cornerback opposite Dennard come the end of the game, you're likely eating well for a while.
A disclaimer: I'm not a guy to crush the good vibes, because a happy bunch is a good one to hang around. However, when you start flinging around statements like "Bo Pelini's signature win", I am going to have to ask you to put the fruit punch down, because it wasn't.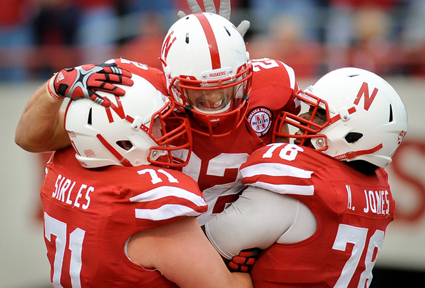 Come from behind wins are good, but they don't necessarily make for signature wins. A game in which you beat a 3-2 football team lacking a number of key players thanks to NCAA suspension doesn't equate to a coach's defining moment. Was it a great win? Absolutely.
Those of you that disagree, please consider the following: What do you consider Frank Solich's signature victory? Most would likely say 2001 Oklahoma, of course. Not many people will come back with 2002 Texas A&M as an answer. The story of that game against the Aggies was the same as this past Saturday's: Nebraska played a good, but not great team close while performing horribly in the first half and fantastically in the second.
Ohio State needed this win badly, but the Buckeyes also realize that this season may be shot. This isn't fair to them at all, but at least the Buckeye fan base realizes what may come from a downward spiral. With a loss on October 8, Nebraska would have had mutiny on its hands. The rain wouldn't have been the only thing that dampened Cornhuskers' spirits as they left the stadium.
Braxton Miller's fumble and the ensuing Taylor Martinez touchdown was the keg being planted on the Ohio State sideline, and Miller's injury was the fuse being lit. Fate was rather cruel to the Ohio State true freshman as he did a great job against the Nebraska defense.
If you think he was a handful, picture Northwestern's Dan Persa and Michigan's Denard Robinson. There's no need to do that yet as there is a Minnesota Golden Gophers team that Nebraska should blow out of the water standing just over the horizon. "Should" and "will" are two different things, however.
Should fans consider everything grand and think this year will be fine now? Not at all. There are six more games on the regular season schedule, a fight for the conference title, and there are still issues to be addressed. Taylor, while consistent and efficient last Saturday, must still improve. Bo's back and forth with the media, whichever side you're on or if you even care, is still an issue. The secondary still needs players to step up.
Thank goodness for the bye week as everyone needs a break and despite the uncertainty, hair-pulling and hand-wringing, things aren't bad as they could've been if the largest comeback in Nebraska history hadn't happened.
Follow Brian on Twitter: @btbowling
Follow Husker Locker on Twitter: @huskerlocker
Like us on Facebook: Official Husker Locker Page

Permanent Link to this Blog Post