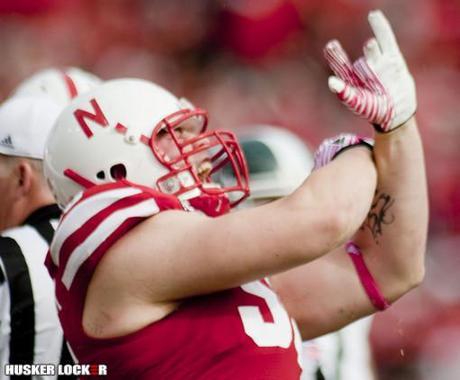 By James Stevenson
Last Monday, 20 (that's twenty, not a typo) Nebraska defenders found black practice jerseys in their lockers. Eight defensive linemen and nine defensive backs were among those honored in Bo Pelini's tweaked version of the Blackshirt tradition.
While the Huskers certainly earned the right to their black practice jerseys after dominating Michigan State, the resurgence on defense may have as much to do with the competition as with the Blackshirts actually improving.
There's no question that Nebraska's defense has statistically improved since the non-conference schedule. After the debacle at Wisconsin, Nebraska's was ranked No. 68 in pass defense, No. 58 in pass effeciency defense, No. 64 in total defense and No. 73 in scoring defense.
Heading into the game against Northwestern this week, those rankings have improved to No 12 in pass defense, No. 23 in pass efficiency defense, No. 29 in total defense and No. 33 in scoring defense.
That's some massive improvement. Bo Pelini's defenses are known for gelling over the course of the season, as players learn to trust each other and the system in his Zone Pattern Match defense.
For example, the 2010 defense had improved from No. 35 to No. 12 in total defense from the third to the tenth week of the season. The 2009 team improved from No. 50 to No. 9 in the same category.
The last two seasons prove that Bo Pelini defenses improve during the middle of the season, evolving into the fearsome units he is known for coordinating. The 2011 Nebraska squad seems to be following this pattern, but the competition faced during October is decidedly different than what was seen in the Big 12.
In 2009 and 2010, Nebraska faced two teams ranked No. 2 in total scoring (Texas Tech in 2009, Oklahoma State in 2010). They usually had another date with a Top 25 scoring outfit (Missouri in 2009 and 2010).
Unlike those seasons, the 2011 Blackshirts have padded their stats since the Wisconsin game, playing against the Nos. 108, 110, and 66 scoring offenses in Ohio State, Minnesota and Michigan State, respectively.
Neither Ohio State (No. 111 passing offense) nor Minnesota (No. 108 passing offense) featured any sort of significant threat against the Huskers' secondary. Even Michigan State, despite star quarterback Kirk Cousins, was merely average in both total offense (No. 66) and scoring offense (No. 58).
Aside from the first half against Ohio State, Nebraska did what it should have done against the offenses it faced: shut them down. Over the last ten quarters of play, Nebraska has only given up 24 points. That's good defense no matter how you slice it.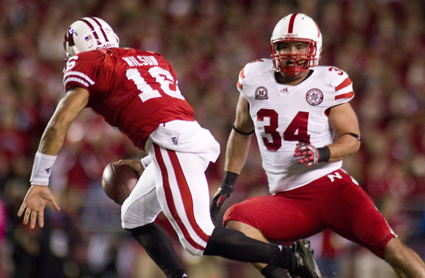 The big question that remains going into the November contests is if the Blackshirts can contain a mobile quarterback. Nebraska was exploited early in the season by slippery signal-callers.
Ohio State's Braxton Miller gashed the Huskers for big gains before his second half injury. Wisconsin, Washington and Fresno State used rollouts and plays designed to get their quarterbacks on the move and into space effectively.
Much like Michigan State, two of Nebraska's upcoming opponents, Penn State and Iowa, don't feature much mobility at the quarterback position. The real test for the improved Blackshirts will be Northwestern and Michigan.
The first mobile quarterback will be Northwestern's Dan Persa. Hampered by an injured Achilles' tendon, he hasn't quite returned to his 2010 form. Last week against Indiana, he still rushed for 41 yards on four attempts with his longest gain being 22 yards.
The Wildcats' change-up option at quarterback, Kain Colter, is more of a runner than a thrower, and accounted for 38 yards on five attempts gaining 20 yards on his longest run. Northwestern doesn't sport much of a defense though, which should reduce pressure on the Blackshirts.
The biggest test will be in two weeks in Ann Arbor. Nebraska will face one of the most dangerous dual-threat quarterbacks in the country in Michigan junior Denard Robinson. "Shoelace" leads the Wolverines in passing and rushing, and is averaging over 100 yards on the ground in his last seven games. If Nebraska can contain Robinson and limit his running ability, they have a chance to win at the Big House.
For the Cornhusker defense, being able to defend a mobile quarterback will be paramount during the November stretch if they want to win the Legends Division. Given that dual-threat quarterbacks Braxton Miller and Russell Wilson lead two of the three teams that could hypothetically oppose the Huskers in the conference championship game, a conference title may rely on that improvement, as well.
The Blackshirts have come a long way since that fateful night in Madison, but to win the inaugural Big Ten Championship, they'll have to step up and prove they can to shut down the conference's highest-octane signal callers and offenses.
Follow James on Twitter: @JamesStevenson
Follow Husker Locker on Twitter: @huskerlocker
Like us on Facebook: Official Husker Locker Page

Permanent Link to this Blog Post