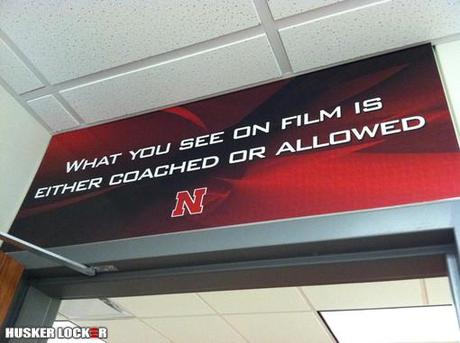 By Erin Sorensen
So much goes into preparing a college football team for a game each week. Everything from the uniforms to athletic tape is a crucial part of the process.
The efforts of those behind the scenes have just as big of influence as those front and center and sometimes get lost in the shuffle. For the Huskers, that effort comes from the Nebraska Football Video crew.
Led by third-year Football Video Coordinator Mike Nobler, the staff consists of one assistant and eight students. This group films and cuts every single minute of practices and games for the Nebraska football team to digest. It is through Nobler's guidance that this group is so successful in providing video for both coaches and players quickly and efficiently.
A native of Chicago, Illinois, Nobler graduated from Western Illinois University in 2001. From that point forward, he began to stack his resume with experience, including an internship with the St. Louis Rams along with time spent at both Illinois and Oklahoma. Nobler would first meet Nebraska head coach Bo Pelini during their stay in Norman. It was only a matter of time before the two would work together again.
After leaving Oklahoma, Nobler began working for XOS Digital, the Huskers' current video system. It wouldn't be long before Nobler was brought on staff at Nebraska. It was also through his experience at XOS Digital that he realized the most rewarding part about working for a university.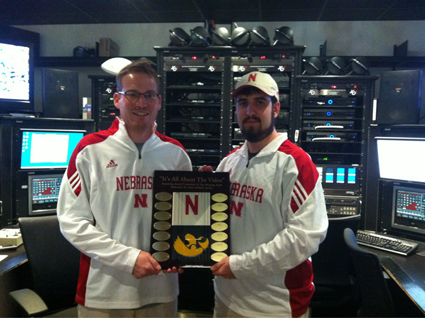 "When I went from school to school after Oklahoma with XOS Digital, I was out of athletics. What you really miss is while you always have coworkers and you work together to accomplish a goal, it's when you can actually put your goal out against somebody else's goal and you're competing – not that I'm out the field competing – but it's really cool to at the end of the week see the direct result of your hard work," Nobler said.
Having grown up in Chicago, Nobler is a proud Bears fan. In fact, he has company in Nebraska Graduate Assistant Joe Ganz who often helps him with the arduous task of watching The Monsters of the Midway's games in the video offices on Sundays. Having grown up out of Nebraska and after working for so many different programs, fans might assume that Nobler is a fan of another college program. That couldn't be further from the truth.
"When I was growing up in '95, when I played high school football, we ran the same offense that Nebraska ran. So our coaches always said, 'Go watch Nebraska. Your homework is to go watch Nebraska. They do what we want to do.' So we always watched Nebraska. It was always something really cool to watch Tommie Frazier and all those guys play, so I kind of always watched Nebraska," Nobler said.
Although, after working at both Oklahoma and Nebraska, he admits, "It's pretty cool to be on either side of that rivalry."
It was clear within minutes of meeting Nobler just how passionate he is about his job and Nebraska football. In fact, he considers himself and staff a part of the team. "I like to think what we do has an impact," he said.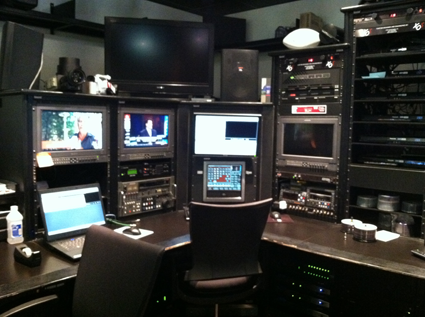 Nobler genuinely believes it takes an army to prepare the Cornhusker football squad for a game every week. From the equipment managers and video staff to the fans, every person plays a part. Nebraska's video virtuoso understands that.
"Fans say that they have a direct impact on the game when they go cheer and I totally understand that. It's our team. A win means we all got the job done."
The work that the video crew does may not always be noticed, but it is a vital component of Nebraska's success. It is apparent from the moment anyone steps into their world that this group has the impact Nobler suggests, and a very big one at that.
Interested in what a day in the life of the Nebraska Football Video staff is like? Check back Thursday to find out exactly what it takes to get practice film recorded, cut, and ready for coaches and players.
Follow Nebraska Football Video on Twitter: @NEB_FB_VID
Follow Erin on Twitter: @helloerinmarie
Follow Husker Locker on Twitter: @huskerlocker
Like us on Facebook: Official Husker Locker Page

Permanent Link to this Blog Post