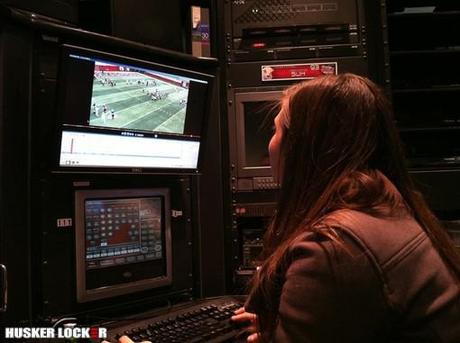 By Erin Sorensen
After arriving at the North Stadium security desk just before 2 PM on the Wednesday prior to Nebraska's game against Michigan, I was instructed to head to the second floor to meet Mike Nobler, the football video coordinator for the Cornhuskers' football team. He greeted me with a warning that there would be a lot of commotion on the way to his office.
Team meetings were just about to start and bodies crowded the narrow hallway outside of the players' lounge. "They all hang out in there before meetings," Nobler said as we passed by the windows. He was right, as nearly every player on the Big Red's roster seemed to be packed into the lounge.
Nebraska's football video office is just down the hall from the lounge, so it's in the middle of the action. Visitors are frequent, but as meeting times grew closer, the quieter our surroundings became. Today's preparation had officially begun.
2:00 PM: With players in meetings, the video staff had about an hour to prepare for practice. The staff, led by Nobler, consists of one assistant and eight students. Tate Guillotte is Nobler's assistant from LSU. The eight students are Britton Hess, Evin Hale, Matt Haron, Andrew Jensen, Anthony Madl, Mike McGuire, Brandon Baratta and Dan Rudolph.
It was clear from the moment I arrived that this group is very dedicated. There was an almost eerie feeling as I sat knowing all of the players were currently watching film that Nobler and his staff prepared. I wondered what would happen if something went wrong.
"It's hard to describe, but the stress level is the most challenging," Nobler said. "Right now, we're getting ready to play Michigan. Every one of these meeting rooms is filled with 10 to 20 guys who are watching video of Michigan, getting ready to play them. If something happens right now and the video network goes down, we don't have video. So now we can't prepare for Michigan."
2:35 PM: After chatting with Nobler about his job at Nebraska, I had the chance to listen as the video students prepared for practice. I quickly learned that the most undesirable job at practice is to be on "Music Duty." After expressing that this actually sounded pretty fun, everyone quickly chimed in with disagreement. To please an entire football team is nearly impossible, as the students have learned.
No one on the team likes classic rock and head coach Bo Pelini does not like any music that contains screaming. Quarterback Taylor Martinez and the offensive line like country music with the exception of offensive tackle Yoshi Hardrick. Wide receiver Kenny Bell and running backs coach Ron Brown like old school music (Brown being especially fond of Motown). The defense prefers to work in silence.
It turns out that Music Duty isn't so fun after all.
3:00 PM: As Nobler walked me through game film preparation, the crew wrapped up their pre-practice checks. The temperature had dropped since I arrived, and the wind picked up significantly. It's conditions like these that present the highest safety risk, as highlighted by the tragedy involving Notre Dame student Declan Sullivan who lost his life due to a collapsed lift.
Nobler told me that both he and Pelini are very careful with weather conditions. In fact, Pelini and his staff are known to watch the skies and ask the video crew's head man if practice needs to be moved inside. In addition to this attention to safety, Nobler assures that all proper precautions are taken to ensure an accident never happens.
"We totally revamped the way we do things," Nobler said. "I think it hit all of us hard because it could have been any of us. We used the exact same lifts. So this offseason, we just put in permanent towers."
At this point, most of the video students had already headed out to practice, but Nobler reminds the last few remaining to take a jacket. He also mentioned to me how much he trusts all of them to complete their assignments as we headed outside. "I trust them completely to get the shots we need."
3:15 PM: Before heading to practice, Nobler walked me through the players' meeting rooms. As we passed through the theaters, he told me which ones he knew for fact would still have projectors on. He was right about every single one. After checking out the room's stadium seating, I asked how some players could fit in their seats. "I really don't know," Nobler said.
3:40 PM: Nobler and I headed to the Hawks Championship Center ("The Hawks") as practice began in earnest. Having been in The Hawks before, I had never noticed the walkways that ran along the sides high enough up to film. We continued on to where a group of his students already had the cameras rolling.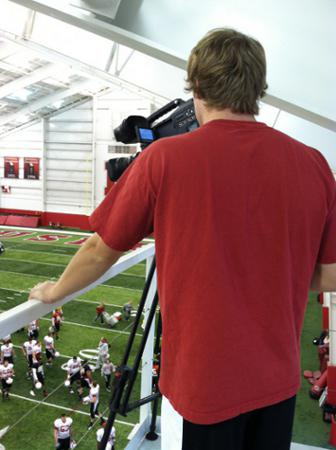 They explained how they knew when and where to point the cameras before showing me the equipment at their disposal and how it all worked. As I studied the day's schedule and asked how they knew exactly when everything was going to happen. "A lot of practice," Nobler said.
4:10 PM: Having spent enough time inside the warmth of The Hawks, we stepped outside to see what kind of a day the Nebraska offense was having. While inside, no music was heard, but after stepping outside, it was louder than I expected. So loud in fact, it made speaking to those around me difficult.
The most fascinating thing to watch was Nobler's students knowing exactly when to start and stop the music. It's all based on hand motions from offensive coordinator Tim Beck. When he waves, the music stops. Another wave signals for the tunes to blare again. When offered to try my hand at reading Beck's signals, I declined. Official appreciation of this task's difficulty had set in.
4:35 PM: "If I'm cold, you must be freezing," junior tight end Ben Cotton said as he noticed me.
He was right. I wasn't dressed warm enough to be outside, and the weather had taken a turn for the worse. Nobler quickly received notice that the offense would be moving inside during the next break. This may sound like an easy transition, but it's an incredibly difficult task for the video crew to accomplish.
In less than ten minutes, they would need to pack all equipment, get down from the towers, move inside and set back up. If not done quickly and efficiently, key pieces of practice may be missed. I watched as Nobler and the students moved rapidly. When they realized one student would not be able to make it in time, Nobler sprang into action to ensure everything went off without a hitch.
4:50 PM: Back inside, Nobler began collecting film from each of the students. While his crew would remain to finish filming, Nobler would need to begin cutting the tape. With practice ending between 5:30 and 5:45, coaches would be expecting film by 6:30 at the latest. This demands that Nobler and his staff continue to work swiftly.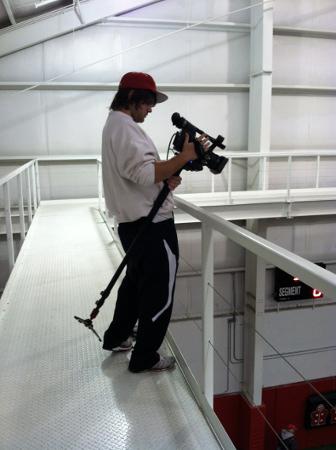 5:05 PM: We returned to the football video offices where Nobler began downloading the film and cutting it. He showed me the steps he takes and what goes into preparing it for XOS Digital. What impressed me the most was that Nebraska has its own server that hosts the software only for the coaches. In fact, there are specific computers that restrict video access to the coaches as well.
The difference between now and five years ago is that coaches can watch film at home with the help of a program called "Hudl." Regardless of if a player or coach is at a computer, holding an iPad, or even an iPhone, they can watch film.
"Nebraska has been on the forefront of technology on any level, college or pro," Nobler said. "Nebraska is usually cutting edge. We were one of the first to go from film to VHS tape. We were one of the first to go digital. We were the first, us and Colorado, to shoot coaches' video in HD."
5:15 PM: Nobler believed I was ready to dive in and cut film myself. He demonstrated the process a few times before turning the reins over to me. I was in charge of cutting some of the special teams film. As I watched kicker Brett Maher get into position, I marked the spot. After beginning to cut film to Nobler's specifications, it truly hit me how much work goes into preparing film for Nebraska's football team. Frankly, I was floored.
5:30 PM: Practice was ending and it was time for me to head out so that Nobler and his staff could wrap up their work for the day, as the coaches would be expecting their film soon. After goodbyes were exchanged, I headed for the North Stadium entrance.
Replaying the day in my head, I realized how much I now appreciated just how much work goes into prepare film for a football team. Often forgotten, this group is the unsung heroes of game preparation. Without them, Pelini and his staff would not be equipped nearly as well as they are now.
I can only hope I didn't mess Maher's film up too much.
Follow Nebraska Football Video on Twitter: @NEB_FB_VIDEO
Follow Erin on Twitter: @helloerinmarie
Follow Husker Locker on Twitter: @huskerlocker
Like us on Facebook: Official Husker Locker Page

Permanent Link to this Blog Post