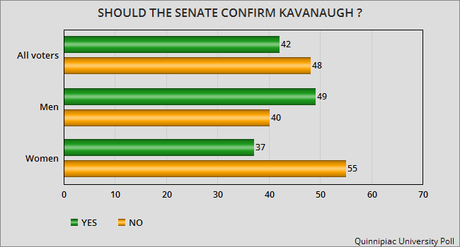 These charts are from the new Quinnipiac University Poll -- done between September 27th and 30th of a national sample of 1,111 voters, with a margin of error of 3.7 points.
It shows that nearly half of voters (48%) think Brett Kavanaugh should NOT be confirmed to sit on the Supreme Court, while only 40% are in favor of confirmation -- a negative gap of 8 points. Men support confirmation by 9 points, but women oppose it by 18 points.
The poll also asked if Dr. Ford and Kavanaugh were honest. Dr. Ford was viewed as honest by 59% of voters, while Kavanaugh was viewed as honest by only 46%.
Voters don't like how either party is handing the accusations against Kavanaugh. Democrats have a 14 point deficit (38% to 52%), while Republicans have a 23 point deficit (33% to 56%).