Hello all, I hope you are doing good. Nothing scares me more than dark spots and pigmentation. My skin is prone to pigmentation and even a slight change in environment can give me dark patches of skin. When I was planning to start medication for this, I came across Navarasas aromatherapy oils and blends.  I got my hands on few of these products which I will review in the coming months. The product I am going to review today is a personalized blend for skin pigmentation and dark spots. I am using it for a month now regularly at night and I think this is the right time to share my thoughts about it.
About aromatherapy and essential oil blends:Harmonizing holistic healing & nature's living energy in the form of Essential Oil blends & Aromatherapy, we at Navarasas cater to a wide range of all natural products for humans & animals alike. All of our blends are personally researched, studied & created by Nikki to fully harness the potential of aroma & massage therapies. Our mission at Navarasas is to bring about eternal wellness & balance of mind, body & soul! Essential oils & Aromatherapy's history has been documented on both Egyptian Hieroglyphic & Chinese manuscript, which date back to before 2780 BC. Their uses medicinally are recorded by many cultures around the world & in the last two decades they have been studied in great depth about how the chemical components' of the oils influence both Human & Animals.

Price: For 30ml – ₹ 699/-, for 100ml – ₹ 1699/-
My take on the product: The product comes in a dark  blue-bottle with a black screw cap. The packaging is made up of glass but can be carried around provided you are a little cautious. On opening the cap, you will find a plastic stopper that allows the oil to come out drop by drop, thus preventing spilling and wastage.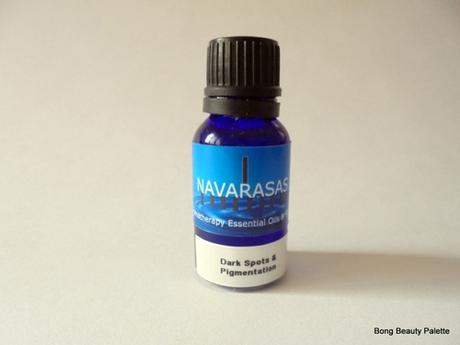 The blend is very lightweight and non sticky. On applying for the first time, the product blended to my skin completely in a minute and there was no oily or greasy feeling. The oil has strong fragrance which appears to me as the smell of turmeric. However the smell subsides in sometime. I usually wash my face well and take few drops of oil and massage gently on dark spots and pigmentation at night.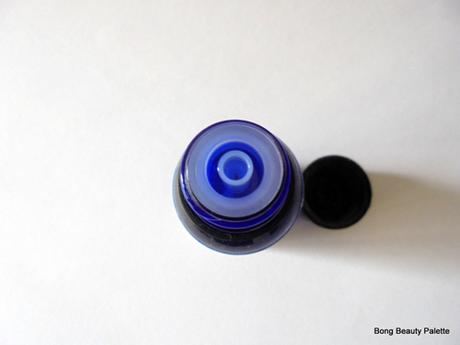 With regular use, my dark spots have started fading and pigmentation have also lighten. This is not a magic product but definitely very effective and will work on dark spots provided you have the patience to wait for visible changes to occur. Overall, I am very happy with the results and would love to use another bottle once I finish this one up.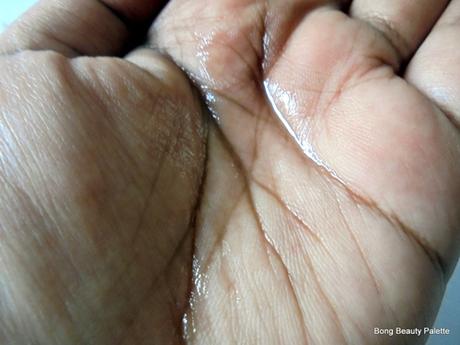 Pros: 1. Removes dark spots
2. lighten pigmentation
3. Non sticky
4. Lightweight
Cons: 1. Strong Fragrance
2. Costly
Rating: 4/5
Recommendation: I will highly recommend Navarasas  personalized blend for pigmentation all those who are looking for a natural and chemical free product to treat dark spots and pigmentation.
*PR Sample*