Its about time I get on with compiling this year's list of the 'Naughty and Nice', shouldn't I? Sit back, relax and get a box of tissue, just in case. Put in the music player, that mix-tape you made for that girl you knew a long time ago. Oh but then you didn't keep it for long, thinking you'd move on.. so let me suggest a song instead.
Its Christmas. So I'll only be adding to that yuletide mood. 'Oh Come All Ye Faithful' in the baritone voice of Johnny Cash sounds like a good one to start with? Yes.I had spent my New Year's Eve on train (celebrating the last day of the year without much celebration has thus become a habit) from Kolkata to Mumbai. The next six month would pass among people I had only just met, and them being amazing, was a welcome surprise. I indulged in the first bit of serious research work (something I'm going to ignore for your sake) there at IIT Bombay, and loved the flexibility in the timings I work to accomplish my objectives. That was possible only because it was Mumbai, the maximum city - where I found myself calling on an old school friend at 9 o'clock at night, meeting him in Andheri, then catching a late night movie in Goregaon, followed by us sneaking into a beach-front that lay doggo near Versova at 2 hours past midnight.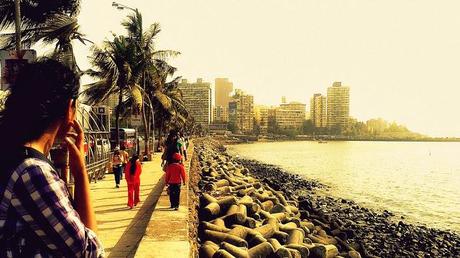 The guys from SGLab are walking the line
How can I forget that one night when the four of us - old school friends - accidentally ended up spending an entire night at Nariman Point? So many years later, we were as motleyed as we could be - one working at IIT Bombay, one at Fractal Analytics, one at IIM Ahmedabad and one from National Institute of Industrial Engineering, Mumbai. After the
light-headed
(if you know what I mean) dinner at Cafe Mondegar (everyone who know, would now shout out
'Mondys!'
and smile), we strolled towards Marine Drive and grabbed for us a couple of ice creams at Naturals. Then for a few hours, without wasting much time, we just chatted non-stop. There were 7 years of catching up to do, what else can one expect? It was a fun night, as many bikers started pulling off high speed stunts on their bikes as the night progressed. There were
chai-wallahs
who almost marked us to be their only customers. Then there were the policemen who chased us away with their raised
laathis
, on a moped. We ran and ran, as the empty streets echoed with our childlike laughter, ended up pleading the door-guy to open the gates of the local raiway station at Churchgate. He obliged. It was 4am in the clock, and an unforgettable day had just concluded. It will always be one of the most memorable reunions I ever had, and there have been many..
You could've played Frank Sinatra's 'Jingle Bells' while reading that one.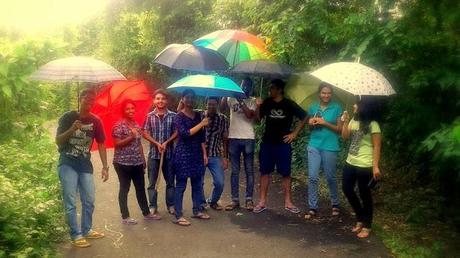 Its been a wet WET monsoon at IIT Bombay, and the SGLab sure knows how to roll!
As IIT Bombay became my home away from home, (and by that I strictly mean the place that temporarily replaced my university) I met some amazing people - Sanket, Ishaan, Rizvi, Hemant, Gunjan, Meenakshi, Ankita, Priyanka, Akash, Purna and Priya. They proved to be the most amazing people to work with, to go have coffee or tea or dip-tea at the CHEA canteen with, to go have messy lunch with, to discuss abnormal sexual queries with (no prizes in guessing who) and to go out chilling at the cafe with. Before I came back, they had thrown a farewell party of sorts, a picnic by the Powai lake and an informal game of cricket (although I'm not sure hitting a plastic ball with a water-logged stick qualifies as cricket). Fun! By the month of June, it was time to say goodbye, which was very painful. More, because it was so rushed in the end.

2013 could be easily declared as The Year of

Farewell

(or The Year of the

Yeast

, in case you're of Chinese descent and are compelled to promote an animal or something.

PETA

worker anyone?).. 'Have yourself A Merry Little Christmas' by Frank Sinatra. Now!

I also saw one of my closest friends for one last time in a long time this year. Noelle Antao Victoria. Sounds archaic, right? Trust me she's so ancient, that it even 'creaks' when she walks! There is that one thing she said, right before I left Mumbai. That one thing I'll never forget, for the words were heavy and I don't reckon poor Noluene to be one of those heavy-weight lifters of words. As she hugged me goodbye, in her almost-teary eyes, she says "I can't believe this fantastic journey has come to an end.. look at this - the finality of it all!" to which I protested "Finality? Oh Noelle! YOU ASS! This is of course not the end.." Haven't seen her after that (except on Skype calls where she appeared heavily pixelated), major hindrance being her hectic schedule of grad school and the time difference between Kolkata and New York. So, until we meet again, I'll pray that your 'finality' stunt wasn't really much to ponder upon..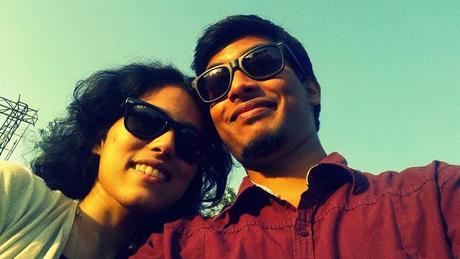 Anda-faced Noluene and the Small-bearded Chatterjee
Arjun, Swathi and Somi di underwent the same fate - moved on to bigger things. But weirdly, I'm more in touch with them than I'm with anyone else currently residing in this country. I found out that I'm more close to Swathi than many others I thought I would be, and this realization struck only after they left the country. Weird, but moving on. Switch to Vaughn Monroe singing 'Let It Snow!'
Much has changed in my petite world of blogging. What triggered it was an Indiblogger meet at the Times of India building at Mumbai, the topic being 'Mumbai for Women' - safety, social acceptance and general attitude towards them in the city. I met with some of the finest and most well-known bloggers in the country in that meeting, and a little introspection regarding my own blog followed much later that night. I changed the appearance of my blog and made it open to a more wider readership, unrestricted within any particular genre. Then I took part in a few contests, won prizes in a few and finally got to meet some of the bloggers from my own city through a blogging contest, in which I was a part of the team representing Eastern India.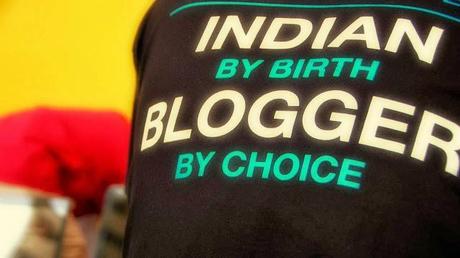 If you're looking to sue the people who make me ramble much on the internet.. well, here they are!
I met Diptee di, Abhishek da and Aniesha over a cuppa at the Oxford Cafe and shared our stories and ramblings and a little bit of this and a little bit of that.. you know! I got in touch with a few of the others too - Sudeshna, Apala di, Soumya, Priyanka di, Prashanth, Sayantini, Mohit and Shraddha. All of them are brilliant bloggers and I was rather intimidated by a couple of them. Many were already published and this is where I got to understand a funny thing about myself - that although it is the dream of every blogger to be published, I don't seem to harbor any such inclination. An online presence of my overstated creativity is just what I desire for myself. On further analysis of this deviation from normalcy, I realize that maybe its the dread that takes over someone pursuing research work, when he hears the words 'publication' and 'impact factor' and 'peer review journals' and.. Oh my God, I'm already hyperventilating!
This year is at an end and I'm just halfway into the retrospection. See you in part 2, which I intend to finish before this year gets over - its a race against time! Hang in there lovely readers, although I know you won't read it, it being so personal and mushy. Here's me signing off tonight, shaking-a-leg to Lynyrd Skynyrd doing their 'Santa Claus Is Coming To Town!' at full volume.
Happy Christmas, and a Happy New Year to you all!

________________________________________________________________________________


All the photos are clicked by me, except the last one - that's a property of IndiBlogger.in