Natural Makeup For When You Are Just Starting Out With Makeup, Something For Every Day.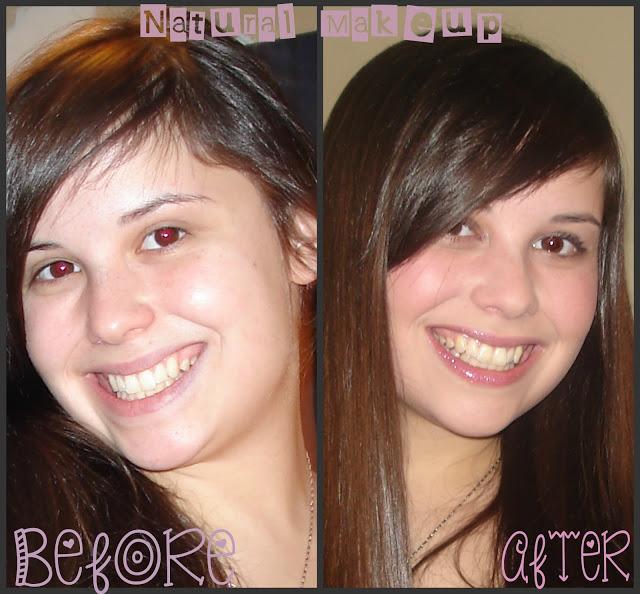 One of the before and afters i have done, It is pretty awesome sometimes what makeup can do even when you are just wearing a little, Yes she is beautiful in the before and after shot, but in this case it makes all the difference when you are just brightening up, and adding a little color to your face. All she is wearing is a little foundation and powder, a the smallest amount of well blended almost black eye shadow, a tad of eyeliner, mascara, and a little blush and lip gloss fr color, and it makes the difference, for her we did this look for a night out because she isn't someone who wears a lot of makeup and she doesn't need a lot anyway, but i would say this would be more of an everyday look super quick, and perfect for when you are just started to wear makeup, and aren't sure how much or what you should be wearing day to day.
Apply foundation evenly.
pat a little powder, on your T-zone, or anywhere you are shiny.
apply a little color on your lids(although for an every day this can be skipped for a look like this)
A thin line of eyeliner only on your upper lash line staying close to your lashes,
 Add a thick 2 coats of mascara on your bottom&top lashes.
Add a little blush, and lip gloss, and you're good to go :)
For Extra brightness and if you have time you can highlight your inner tear duct, because i believe we may have done this here as well (take 2 seconds)
Model: Katie Charette.
Makeup By: Kathleen Paul
Photographed by: Kathleen Paul.