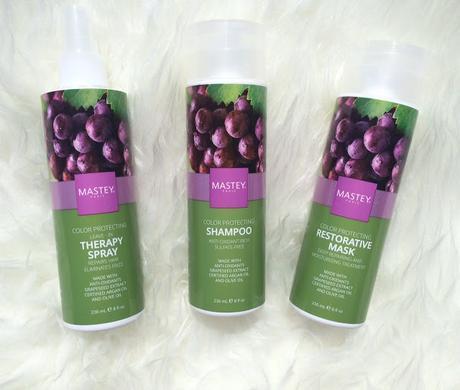 I'm not a product hoarder but I love finding new products to try. I'm always on the look-out for products with ingredients that are all-natural and beneficial to the overall health of my hair and body without being filled with a bunch of toxic ingredients.
Mastey's Color Protection
hair care line not only works great for my fine, colored treated natural hair but it's also gentle, 100% vegan, gluten-free and contains no sulfates, parabens or harsh preservatives. I couldn't wait to use the shampoo, deep conditioner and thermal spray for hair wash day and even came out with a new favorite to include in my hair care arsenal.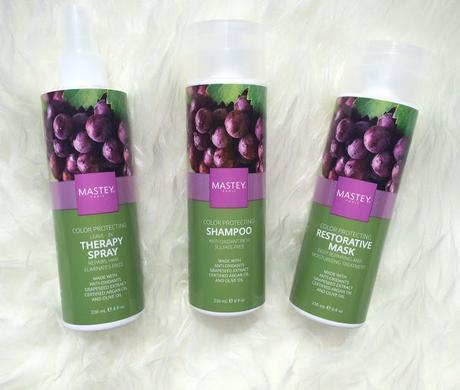 MASTEY COLOR PROTECTING SULFATE-FREE SHAMPOO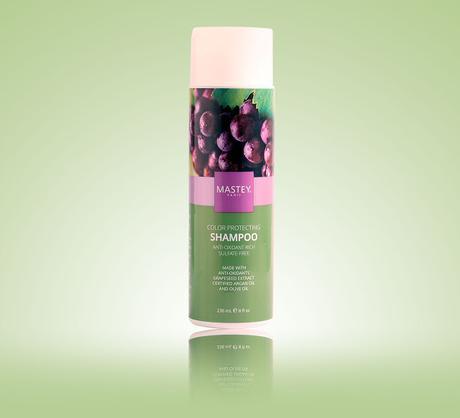 Mastey Color Protecting (Sulfate free) Shampoo Retail Price: $18 Size: 8 fluid oz.
I appreciate it when plant-based hair products actually work on my hair. Mastey's Color Protecting Sulfate-free Shampoo does a killer job in the cleansing department. I like that the shampoo is extra creamy and contains grapeseed extract, argan oil and olive oil to help your hair maintain moisture while thoroughly cleansing. It has a light, floral fragrance and lathers very well. Most color-care shampoos that I've experienced provide a low but the Mastey shampoo has about the same lather as you would expect for a shampoo.
• Strengthens and repairs processed hair
• Creates beautiful softness and shine
• Gives hair a smooth and silky finish
• Rich in vitamins and anti- oxidants
• Protects and prolongs the life of hair color
• Reduces and controls frizz and fly-aways
• Naturally Hydrates the hair and scalp
• Build up free • Optimizes styling results
Find the Color Protecting Sulfate-free Shampoo here.
MASTEY COLOR PROTECTING RESTORATIVE MASK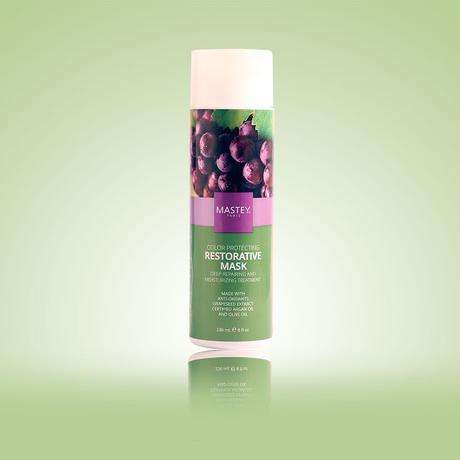 Mastey Color Protecting Restorative Mask Retail Price: $22 Size: 8 fluid oz
After shampooing, I followed-up with the Color Protecting Restorative Mask as my deep conditioner. I applied it to my wet hair and noticed that it had a fairly decent amount of slip. This is the step where I usually detangle my hair using a wide-toothed comb. There wasn't as much slip as I would have liked, but I was able to get through my detangling process without having to use a second product or lose any extra strands. The conditioner has a more prominent fragrance that the shampoo and surprisingly, it left my hair amazingly soft and ultra smooth!
• Deep restorative treatment repairs damaged hair with rice amino acids
• 
Smooths
 and softens hair
• Seals in hair's natural moisture with our 100% Vegan Natural Moisturizing Factor
• Rich in Omega-3, Omega-6, and Omega-9
• Formulated with Certified Argan Oil, Olive Oil, and Grape Seed Extract
• Fortifies and improves your hair's manageability
• Improves elasticity and texture
• Adds shine to dull over processed or dry hair
Find the Color Protecting Restorative Mask here.
MASTEY COLOR PROTECTING LEAVE-IN THERAPY SPRAY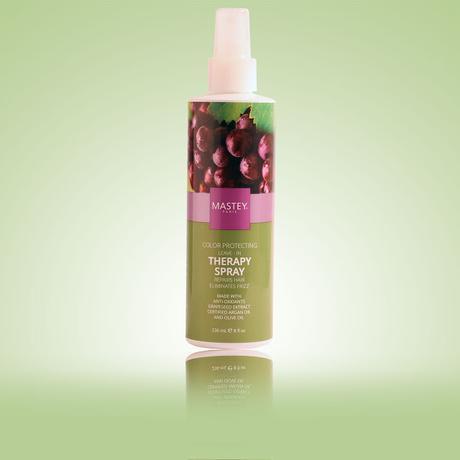 Mastey Color Protecting Leave-in Therapy Spray Retail Price: $25 Size:8 fluid oz
There are two things that I absolutely love about Mastey's leave-in Therapy Spray. The first is how clean and fragrant it is and the second would be how soft this bad boy made my hair. I've been heat styling my hair for months now whether it's simply blow-drying my hair or straight up flat-ironing with 350-400 degree heat. I run across a lot of thermal protectors that either leaves my hair crunchy or leaves behind a sticky residue. Finally, I've found something that makes my hair ultra soft, protects my color and my hair from heat damage. I have to say that $25 a pop is a little steep for a leave-in. My hair does feel pretty gansta' right now so this is one product that I will not be sharing.
• Repairs dry and damaged hair with rice amino acids and vegetable based moisturizers
• Smoothes hair and controls fly aways and frizz
• Seals in hair color and  protects it from premature fading
• Detangles • Provides thermal protection from hot tools
• Creates silkiness and adds shine to dull and damaged hair
• Enhances the natural body of your hair
• Prevents hair breakage and split ends
Find the Color Protecting Leave-in Spray here.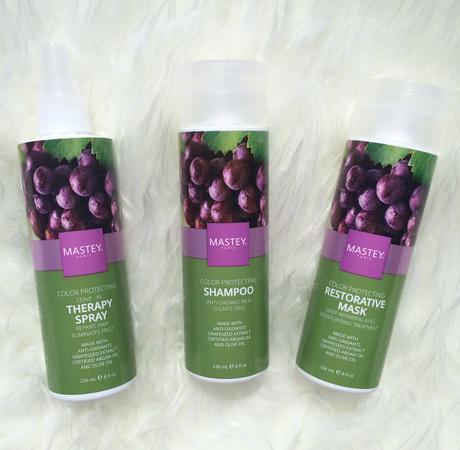 So my favorite product from the Mastey Color Protecting line would have to be the Leave-in Therapy Spray. I've been using it on a regular basis and I love how soft and amazing it makes my hair look and feel. If you're interested in learning more about Mastey products, be sure to visit their website and check them out. 

Disclosure: Rockin' it Napptural! received the above mentioned products at no cost in exchange for an honest review. No monetary compensation was received. For more information, read my full disclosure policy here.