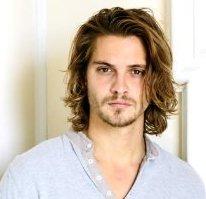 Back in December, Luke Grimes (the original vampire, James) left True Blood prior to the show's seventh and final season, reportedly because of the creative direction for this character, James. Nathan Parsons took over that role, and a new report somewhat changes the reason for Grimes' departure.
The reason Luke Grimes was leaving True Blood was reported back then that he didn't like the way Jame's storyline was going.  The talk at the time was that there was a possible romantic relationship between James and Lafayette. TV Line answered a question from a reader asking if that was the reason Grimes left.  They replied:
"Grimes' rep insists James' Season 7 storyline 'was never actually fleshed out in advance of him fielding a few film roles which conflicted,' adding that the Brothers & Sisters vet (and upcoming Fifty Shades of Grey co-star) 'ultimately exercised his out clause to pursue these other projects as opposed to anything having to do with [his True Blood] storyline.'"
THE NEW HUNKY MALE VAMPIRES IN BON TEMPS

From what we saw in the first episode of True Blood Season 7, Nathan Parsons fits nicely as the new James and we look forward to more between him, Jessica and Lafayette. There was definitely some charisma with this soulful 70′s draft dodger vampire and Lafayette.  We look forward to what's to come for them and how James' relationship with Jessica will be impacted.
We have also heard about a new vampire will soon arrive in Bon Temps:
"You'll soon meet a chiseled new vamp who gets pulled into the H-vamp war. And when he sets his eyes on one lucky Bon Temps lady, he'll prove to be just as good a lover as he is a fighter. Although the object of his affection is initially a bit heartsore and unsure about entering into a new relationship, she eventually lets the good times roll when they get down and dirty on a pool table."

The part is "Keith" and will be played by Riley Smith.
The casting call described the character as a romantic vampire who moonlights (get it?) as a drummer in James'  (Nathan Parsons) band and who takes an instant liking to a certain grieving waitress. 
Whatever happens to these two new vamps, they're certainly hunky enough to fit well into True Blood's "easy on the eyes" vampire male population!
What's your opinion about these new True Blood vampires?  Tell us what you think in the comments below!
source: mstarz.com