Nashville Day 2: Belle Meade Plantation, Bluebird Café and Honky Tonk Central
Disclosure: I received some free/discounted accommodations and attractions while in Nashville for review purposes here on the blog. Opinions are, as always, my own.
As you may recall, Day 1 of our Nashville trip included the Country Music Hall of Fame and Museum and the General Jackson showboat.
On Day 2, we were up and at 'em and took a taxi from Hotel Indigo (there was always at least one waiting out front) to another popular Nashville tourist destination, Belle Meade Plantation.
We signed up for the guided tour, and were lucky to land another amazing tour guide who was funny and knowledgeable. She took us around the inside of the mansion (where no photography was allowed), and then we were free to explore the property and outbuildings on our own. 
I was surprised to learn that this "plantation" wasn't for crops (my limited knowledge of American history led me to believe that plantations were mostly for cotton) but this one was in fact very renowned for horse breeding/racehorses.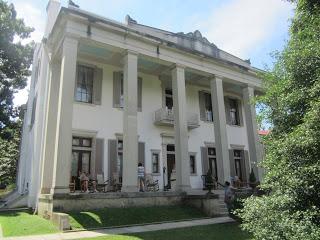 We had the chance to touch bullet holes in the limestone columns at the front of the mansion, remnants of the Civil War's Battle of Nashville (again, I'm more of a Plains of Abraham girl here, so my apologies if I make an historical error).
Of course the children of Belle Meade needed a cool play house (I try to take at least a few travel pics to interest my girls):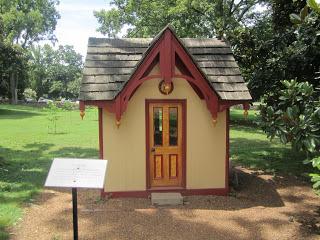 Just doing some southern back-porch sittin'… you know, on the back porch of a mansion!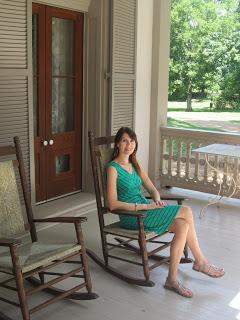 What's a mansion without its own mausoleum? (The "residents" have since been relocated to cemeteries)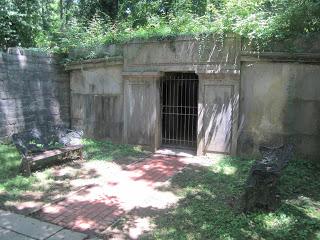 The evening found us at the famous Bluebird Café, where such stars as Garth Brooks, Faith Hill and Taylor Swift were first discovered!
How many of you had heard of this place before the TV show Nashville? I may have read about it in passing somewhere, but it really wasn't on the radar for me until I started watching the show, and I knew it was a must-see for this trip. But believe me, it's not easy to get in!
Here's how it works: they do have minimal walk-in bar/chair seating at the back of the café, but that involves getting there early, waiting in line and taking the chance that you're going to be turned away. The better way to do it, if you're quick on the internet and available at precisely the right time: get a reservation!
Reservations are available at 8 am Central (9 am Eastern) each Monday for the coming week. You click on the calendar, click on the show you want, and see a note that reservations will be available Monday at 8. So Monday at 7:55 you get on the computer and constantly refresh the page until the "Click here to reserve" button appears. You pick a table, and proceed with your reservation. Early shows are only a $2 processing fee (with a $7 food/drink minimum order per seat). The later shows have a $12 cover, and the same food/drink minimum (alcohol is served and the food is very pubby and yummy).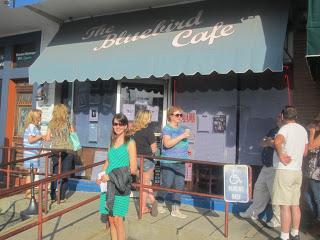 I was thrilled when I was quick enough at the keyboard to get reservations, and we took yet another cab ride out to the nondescript strip mall where the Bluebird is located. And I have to admit I did feel kind of important walking right in past the line of those desperately hoping to get a last-minute seat.
Here I am at our table, mere feet from the stage. Okay, all of the tables are mere feet from the stage. (Hubby says I'm doing my weird "big eye" thing in this shot, but it's not like I'm going to be vain about the photos I use on my blog. Besides, I already eliminated seventeen shots of me on Day 1's General Jackson showboat post because either my eyes, hair, or chest looked weird.)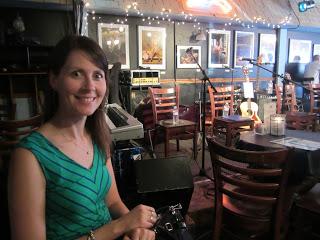 We were there for an "In the Row" performance, which is four singers/songwriters literally sitting in a row, and taking turns sharing their original songs. A few tunes were only good, but most were excellent. Like, "Why has no one put this on the radio yet?" excellent. It actually makes me feel sorry for people struggling to make it in a market that's so oversaturated that such incredible music is being turned away.
Lance Carpenter in particular reminded us of Toby Keith, especially with his novelty songs like the Jack Daniel's ode "I Know Jack". A.J. Bryant had us in stitches with "I Like Big Women", as did Craig Winquist with his voyeuristic "She's Cutting Her Grass", but there were some sweet and meaningful tunes thrown in there as well. Usually I like listening to music I know, but this original stuff had me drawn in for a full two hours (the policy is that everyone is quiet and listening to the artists, so it's not like you can just chat with your companion if you're not impressed)
Just like the General Jackson, cabs aren't exactly lined up waiting after the show, so we had to phone, and ended up sharing a ride downtown with two other couples, who of course asked us the most common question in Nashville: "Where y'all from?" Because no one in Nashville is from Nashville.
We wanted to check out some live entertainment downtown on Broadway, and landed in Honky Tonk Central, where we nabbed bar stools and hung out for another couple of hours, watching the place pack so tight that no one could move, and listening to some amazing live music. Unlike at the Bluebird, the performers here were totally doing cover music, so I sang along to every song that the Luke Bryan/Eric Church hybrid threw out at us, before finally heading back to Hotel Indigo for a good night's sleep.
Yes, it seems like we've already accomplished a lot in Nashville by this point, but we're only half done. Stay tuned for:
Day 3: Country Music Stars Tour of Homes, Opry Mills Mall and Grand Ole Opry Day 4: Ryman Auditorium, Waterfront and General Tourist Tips