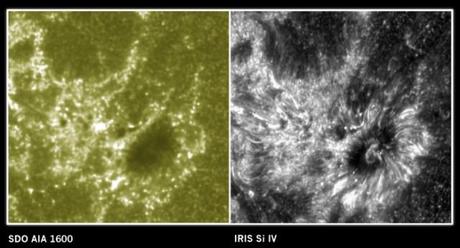 Left- Solar Dynamics Observatory's view. Right – IRIS's view of the Sun
Back in June NASA sent out the Interface Region Imaging Spectrograph (IRIS) satellite to take a look at the interface region, the area above the surface of the Sun. Which IRIS project scientist Joe Davila said to play a big part in understanding "how it affects the solar system."
The 400-pound satellite started taking pics of the Sun on July 17 and now NASA has released those close-up photos of the Sun, showing us how amazing it really looks on the surface of the Sun. The improved resolution of the images makes it easier for us to see the Sun more clearly. It's even better than the photos sent down by the Solar Dynamics Observatory, the previous satellite that went up there to study the Sun in 2010.
"These beautiful images from IRIS are going to help us understand how the sun's lower atmosphere might power a host of events around the sun," said Adrian Daw, the mission scientist for IRIS at NASA's Goddard Space Flight Center in Greenbelt, Md.
You can see things better in this short video after the jump.
[Via: Ars Technica / Source: NASA]
(All the images, trademarks, logo's shown on this post are the property of their respective owners)
Roshan Jerad Perera