Napoleon is a Boston terrier whose medical condition was misdiagnosed by a veterinarian, and consequently he had to have his eye removed. True to his name, Napoleon kept his strong personality, and here, his mom shares the story.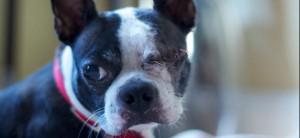 Meet Napoleon
Napoleon is a seven-year-old Boston terrier. He is the love of my life and means the world to me. About three years ago, Napoleon developed a bluish color to his eye. My Kansas veterinarian said it was a cataract and there wasn't much he could do. He explained that if he removed the cataract, it would just return, and if it wasn't bothering him, to leave it alone.
Three years later, he seemed very bothered by it, so I immediately went back to the vet. This time, he told me that Napoleon had an ulcer in his eye and was completely blind in it. He said it could have been prevented with eye drops. The eye drops he gave me seemed to help for awhile, but soon after, Napoleon's eye looked like it was melting. He wouldn't even open it, and there was a lot of discharge. Once again, I returned to the vet, but he had no new treatments to offer. He then referred me to a specialist.
The specialist visit cost close to $700. He gave me two different kinds of eye drops, two kinds of pills, and an anti-fungal solution. He also gave Napoleon an injection and ran a series of tests. Altogether, Napoleon was on six different kinds of medications. But after all of that, Napoleon's eye became much worse, so I had to schedule an emergency surgery. Saving his eye was no longer an option, as it had started to rupture.
Napoleon is a peppy, silly, and lively dog, but during this time he was groggy and sad. He would just lie in bed and groan, or let out complaining whines. It was painful to hear him cry. All I could do was keep him comfortable until the surgery.
Update
Napoleon is healing very well. He didn't have any complications during his surgery, and had only some swelling and bruising, which I was told was quite normal.
I can't thank my community enough for coming together to hear Napoleon's story, for sharing it, and for caring about the life of a dog they once knew nothing about. Napoleon is such a strong little boy, and I've been told that his name suits him well.
I hope that when Napoleon is completely recovered, he can become a therapy dog to children who have also lost an eye. He will teach them that although they may look different, having a missing eye takes away nothing from their true personalities.