Technology giant Infosys co-founder Nandan Nilekani and his wife Rohini Nilekani have joined "The Giving Pledge". Nandan Nilekani has decided to donate half of his wealth to 'The Giving Pledge'. It is one initiative formed by Bill Gates, Melinda Gates and Warren Buffet. The Giving Pledge is an effort to help address societies most pressing problems by the world's wealthiest individuals and families to commit more than their wealth to philanthropy or charitable causes during their lifetime or in their will. This made the trending news of the year.
The Giving Pledge uploaded the letter signed by Nandan Nilekani of donating half of his wealth.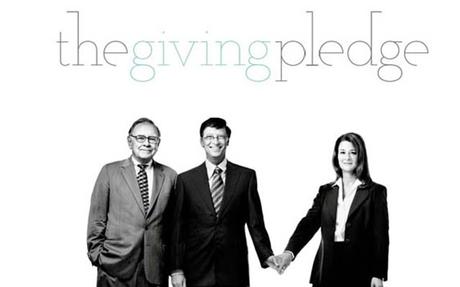 In their letter, he thanked Bill and Melinda. The letter said, "We thank Bill and Melinda for creating this unique opportunity to realize a moral aspiration inspired by the Bhagavad Gita - "
Karmanye Va dhikaraste Ma Phaleshu Kadachana, Ma karma phalaheturbhurma Te Sangostvakarmani".
We have a right to do our duty but no automatic right to the fruits of the doing. It is critical that we do not slip into inaction fearing that we may not be able to reap the direct reward. It is to this idea that we pledge".
On this action of Nandan Nilekani and his wife Rohini Nilekani, Microsoft founder Bill Gates released a statement saying "I am surprised that Nandan Nilekani has taken this initiative to name his entrepreneurial passion for philanthropy. I am very happy to welcome Nandan and his wife Rohini Nilekani in 'The Giving Pledge' ". This made the trending news on social networks.
Nandan Nilekani and his wife Rohini Nilekani are the fourth Indians after Biocon chairman Kiran Mazumdar- Shaw, Wipro chairman Azim Premji, and Sobha Developers chairman P N C Menon to sign up this initiative bringing the total number of donors to 171 from 21 different countries.
About The Giving Pledge, Bill Gates said," This is about building on a wonderful tradition of philanthropy that will ultimately help the world become the much better place". this definitely has to be trending news.
Comments
facebook comments