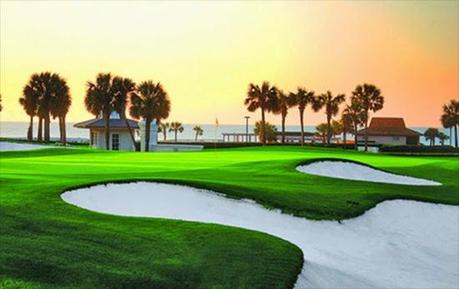 Grand Strand Easily Outdistances Competition in Online Vote
Myrtle Beach, S.C. – Myrtle Beach has been voted "Best Golf Destination" in the 10Best Readers' Choice travel award contest sponsored by USA TODAY. The award winner was decided by a four-week, online vote by 10Best and USA Today readers.
Myrtle Beach bested 19 other nominees to claim a title it has held unofficially for years. The Grand Strand easily outdistanced Kiawah, Sea Pines, Pinehurst and Naples among the top five finishers.
"Golf's most important ratings panel is comprised of the people who spend their hard-earned money to take a golf trip, which is why this honor is so meaningful to us as a destination," said Bill Golden, president of Myrtle Beach Golf Holiday. "As home to more than 50 4-star courses and 13 layouts that have been ranked among America's top 100 public courses, Myrtle Beach has always strived to provide golf's best and most inclusive experience, and the 10Best vote was affirmation of those efforts."
With more than 102 golf courses and nonstop air service from more than 25 cities, Myrtle Beach is golf's most accessible and inviting destination. Due to the diversity of its offerings, the Grand Strand can accommodate any type of golf trip, which lies at the heart of the destination's enduring popularity.
In 2013, the National Golf Foundation surveyed core golfers and found that Myrtle Beach was by far the game's most popular destination in America and Canada.
Myrtle Beach golf will be promoted on USA TODAY in the Friday edition of the print version and on usatoday.com's travel homefront the same day.??10Best.com provides users with original, unbiased, and experiential travel content of top attractions, things to see and do, and restaurants for top destinations in the U.S. and around the world. The core of the site's uniqueness is its team of local travel experts: a well-traveled and well-educated group who are not only experts in their fields - and their cities - but discriminating in their tastes. These local experts live in the city they write about so the content is constantly updated. In 2012, 10Best.com averaged more than 700,000 monthly unique visitors generating approximately 28 million page views. It was acquired by USA TODAY in January of 2013.
USA TODAY is a multi-platform news and information media company. Founded in 1982, USA TODAY's mission is to serve as a forum for better understanding and unity to help make the USA truly one nation. Through its unique visual storytelling, USA TODAY delivers high-quality and engaging content across print, digital, social and video platforms. An innovator of news and information, USA TODAY reflects the pulse of the nation and serves as the host of the American conversation – today, tomorrow and for decades to follow. USA TODAY, the nation's number one newspaper in print circulation with an average of more than 1.6 million daily, and USATODAY.com, an award-winning newspaper website launched in 1995, reach a combined 6.6 million readers daily. USA TODAY is a leader in mobile applications with more than 16 million downloads on mobile devices.
About Myrtle Beach Golf Holiday
Myrtle Beach Golf Holiday is a non-profit trade association comprised of 79 championship golf courses and 99 golf package providers in the Myrtle Beach, South Carolina area. Founded in 1967, the organization continues to be the driving force behind the growth of the region's thriving golf market. The originator of the "Stay and Play Package," Golf Holiday provides non-biased information about accommodations and golf courses to assist golfers in making the most informed decisions when planning for their next vacation.
Golf Holiday also hosts seven events and tournaments annually to help to foster continued growth of the game. In addition to hosting the Hootie & the Blowfish Monday After The Masters Celebrity Pro-Am Golf Tournament each spring, Golf Holiday also manages the GOLF.com World Amateur Handicap Championship – the world's largest single-site amateur golf tournament, the Summer Family Golf Tournaments, the Palmetto High School Golf Championships, the Veterans Golf Classic and the Myrtle Beach Never Forgets Memorial Golf Outing.