The director Mathieu Spadaro confides on the making of the documentary series in three episodes "Mylène Farmer - the ultimate creation", which reveals the singer during the conception of her last show in an intimate and new light ...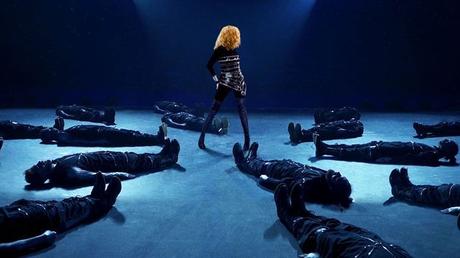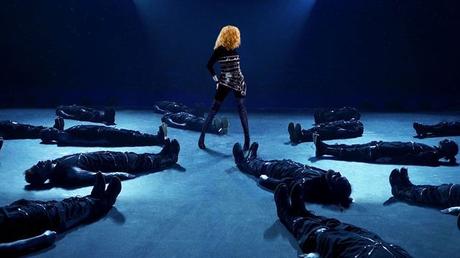 Rare in interview, mysterious and secret, Mylène Farmer had never revealed herself as much as in the documentary series Mylène Farmer, the ultimate creation, available exclusively on Amazon Prime Video and presented as a " é extraordinary pilogue of a work started with the album Disobedience on the preparations for the concerts given in June 2019 at Paris La Défense Arena". This immersive, intimate journey immerses us" in the artist's creative universe, punctuated like a fascinating countdown that leads us to the big meeting with the public ". A gift for the fans and for all those who are directly or indirectly interested in the career of the singer who crosses the eras and the generations with grace and a success never denied. The young director Mathieu Spadaro thus shows it under a new day, in her moments of joy, doubts, relaxation, laughter, surrounded by all those who allowed her to realize this new dream.
AlloCine: Can you tell us about the genesis of this ambitious project? When were you contacted by the Mylène Farmer team and what was your first reaction?
Mathieu Spadaro: I had the chance to make the making-of for the clip "Désobéissance" directed by Bruno Aveillan in 2018 and Mylène was so happy with the result that she called me back a few months later to tell me that she wanted I'm filming behind the scenes of his next show. The idea of ​​making a documentary was born quickly. At the outset, we mainly wanted to make beautiful images and very quickly, we thought that it could become a real film.
What was your relationship to the world of Mylène Farmer before working on this project and what did she represent to you?
I didn't know all of his work but I obviously knew his iconic clips, his flagship songs. I was almost on virgin ground. I knew a little about her history and her universe, but above all I learned to discover the woman behind the artist.
What surprised you the most about her compared to the image you had of her?
She is a fascinating and touching woman, because there are times when things burst out, where things go very, very quickly, others when she is full of sweetness. I told myself that I had never seen someone like that and that it was absolutely necessary to tell a story that resembles him, that is authentic. Sometimes I let myself be carried away by the emotion. I remember one particular time during rehearsals when she sang the first few tracks, raw, and I found her amazing. I said to myself "But what is this singer ?!".
Were the Netflix documentaries on Lady Gaga (Five Foot Two ") and Taylor Swift (" Miss Americana ") recently released references for Mylène and for you?
They are immersions alongside an artist too, so in that sense we can say that there is something in common, but we did not use it as inspiration for what we were going to do. The idea was to offer a very aesthetic and introspective documentary, with a voice-over. So the approach is a little different.
Did you have a predefined scenario or was the structure done at the time of editing?
A bit of both. I had proposed a plot, with things that could happen. But you never really know what to expect when you shoot like that by the mile. Unexpected things happen, others don't. Then it changes a lot during editing, as with all films.
What were the technical means deployed for this shoot?
I filmed for two and a half months every day, alone, just my camera and me. The project was really to film for a long time. And that was a luxury.



Did Mylène participate in the assembly phase by your side?
She gave me carte blanche; his commission was to make the film I wanted to see. Suddenly, she gave me time for the editing, and we watched it together at the end so that she gave me her feedback and put her voice-over. I had left room for that, she surprised me with her lyrics.
Did Mylène set limits during the shoot? Places you didn't have access to?
Surprisingly not at all. Everyone was kind to me, I quickly integrated into the team, and I could therefore make any request possible. There were no restrictions.
Have you positioned yourself in the role of the little mouse trying to be forgotten?
She trusted me. She wanted to go to the end of this project without doing things by halves so the question of putting a microphone, for example, came up quite quickly. We tamed each other. She let me film her a little more each day, a little longer. Then she put the microphone on and we immediately had some interesting sounds. And when she needed privacy, she kindly invited me to look elsewhere, saying: " Aren't you tired of filming me? Go have a coffee!" (laughs).
Benoît Di Sabatino, his companion, who is also a director, produces the documentary. What role did he play from day to day?
He mainly did the catwalk with Amazon Prime Video. He accompanied me throughout the manufacturing process with kindness.
The credits of the documentary are very beautiful and very referenced. Can you tell us about its design?
At the beginning, there was no credits and it became a series I suggested to him, telling him that I had never seen a series without credits so it was absolutely necessary! I wanted something a little crazy, with loads of hidden symbols, and she was blown away by the idea. I work with two awesome talents from Very Cool Studio, who are based in Los Angeles. I went there and we worked on a whole bunch of references to his show but also to his music videos, his albums ... We had to set the tone for the documentary. And it took us a long time! Almost four months.
At the start of episode 1, there is a real suspended moment where you film set elements from his old shows ...
We wanted to form a cabinet of curiosities, and start the documentary at Mylène's, in her house, as close as possible to her privacy. These are objects that she has kept, gifts, souvenirs, very intimate and precious things for her.
Did you have the feeling of filming her like a singer? Like an actress? As a friend ?
Like a woman that I have learned to discover and love. Everything was done with a lot of love. I also wanted to transcribe what I was experiencing, what touched me. A portrait in his image from my point of view, faithful to his process of creation, in short.
You also filmed during the show. How emotional was it for you to be in the room after seeing all this preparation?
I filmed all 9 shows. The idea was not to use any footage from the show's film to give the documentary its own identity. So it's completely different points of view, and every day I was in a different place in the room. It was amazing to live it next to the fans. The tension in the pit that you can feel is heavy, unique. I had never experienced anything like it. See the faces of all these people, who look at her as a gift ...
Thinking of doing something with all those rushes beyond the documentary?
No, they will only live like that. There will be no reassembly of the concert.
What moment of the show particularly marked you?
The arrival from the sky is amazing, the end is overwhelming. It was a great emotion on each date. I love "M'effrondre" and I find the painting "Disenchanted" magnificent.
What moment in the documentary are you most proud of?
This passage in the corridor, before Mylène goes up on stage, is for me a very strong symbol of the artist that she is. The spinning of "Innamoramento" also, in the 3rd episode. She sings, she lets herself be overcome by emotion, without being able to quite finish the song. As I filmed it, I told myself that was what should be said.
The documentary series trailer available on Amazon Prime Video: