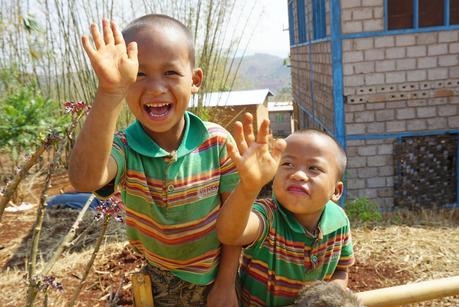 Once we decided on adding Myanmar to our six-month route, we started researching the 'must sees'. 'Cos unlike countries like Thailand and Vietnam, we didn't know much about Myanmar. Upon doing so, we quickly discovered that so many people's #1 experience was to trek to Inle Lake.
And this sounded right up our street!
Scenery? Getting to see the 'real' Myanmar? A bit of exercise? My god we needed it after three months of travel food and beach hopping! 
The trek has quickly become a well-established route, with several tour operators offering a variation on the two or three day package. As a result, it can be tricky to decide which to go with - they are all much of a much-ness, I think. 
Some background / what it isThe trek we did took us from Kalaw to Inle Lake; we read about it in the Lonely Planet guide along with all the other back packers in SE Asia! As a result, this is by no means a 'hidden gem' - but it is incredible. And completely, 100% worth doing if you are in Myanmar. Regardless of which tour operator you go with, the route will start in Kalaw town and end in Inle (or thereabouts - more on that later). Different tours take slightly different routes, but you can be sure to see stunning scenery, nature and locals. There are two options - two days one night (2D/1N) or three days two nights (3D/2N), depending on how much time you have. More further down on how we spent each day. The tour company will take your big backpack/suitcase for you and transport it to Inle Lake, meaning you just have to take a smaller backpack with the essentials in for the trek. 
How we got to KalawWe came from Bagan by bus. The journey took about seven hours - we left Bagan at 7am and arrived in Kalaw at around 2pm. We booked to stay the night in Dream Villa Hotel in Kalaw - a double room with breakfast cost us £23 (April 2016). The hotel was great with clean rooms and a huge breakfast which set us up nicely for the trek! In Kalaw itself there is a market where you can buy the essentials (more on these later!) and be sure to eat at Sam's Restaurant for good, cheap, home cooked curries - you can also book treks here. 
Who we went withAfter much research we decided to book our trek with Ever Smile. We read loads of complimentary reviews on Trip Advisor and various blogs, as well as just getting a good vibe when we went to book. We had emailed in advance to enquire about availability and cost and they were really helpful, suggesting we pop in to their office when we arrive in Kalaw to talk things through. The office is tucked away behind the main road, and is in fact the owner's home - complete with litter of puppies on our visit! We decided to do the three day, two night trek after hearing so many people say the two day trek just wasn't enough. It cost 40,000 kyat each (around £24 each, April 2016) which covered food, accommodation and trek guide. The 3D2N trek is around 60km in total, and from what we read online not too challenging. 
Day by day accountDay oneWe met at Eversmile at 8.45am with the others in our group - there were twelve of us in total, made up of Brits, French, Dutch and German travellers. We were lucky to get a great group - all so friendly and up for a laugh, as well as being super interesting with plenty to talk about. Our guide was a local Shan woman called July who was an absolute star - incredible English, full of knowledge and interesting information. We learned about local customs and traditions, about religion and politics and nature. No question was off limits and in that sense this was so more that just a trek - we got a full three day tour of the history and culture of Myanmar. We trekked 22km on day one, through jungle and forest to start as well as along train lines and through fields. For lunch we stopped at a viewpoint where we were served a simple but tasty meal of vegetable curry with chapatti. Drinks were not included in the trip cost, but we were happy to may a small amount for a sugary drink or two to help refuel! In the afternoon we were hit by a huge downpour and unfortunately got pretty drenched... I mean, totally soaked! Top tip - pop the contents of your backpack in plastic bags when you pack - as well as using a waterproof bag cover - to try and keep things dry should you too be hit with bad weather. We arrived at a village just as the sun was setting, where we were sleeping for the night. We stayed in a local family's home, organised by Ever Smile. July explained to us that they use a few different families to spread the financial reward around the village, meaning the local community directly benefit from the tourism. We were shown where we would be sleeping; a simple large open room with thin mattresses on the floor. Before hitting the hay we were fed a feast of home cooked food - the chef travels ahead by motorbike, cooking for us and meeting us at each food stop! All the food was vegetarian and just so delicious; there was no fear of going hungry! In terms of sleep, we were all pretty exhausted and fell asleep in moments. I don't know if it was me being a princess (if you've been following these posts, you'll know what I'm like with accommodation - we might have had backpacks but we stayed in more 4* hotels than we did hostels!...) or it was the miserable weather and soggy clothes, but I had a pretty uncomfortable night's sleep. Note: the home stays are as basic as you would expect, with no real opportunity to shower etc. Suck it up, as whilst it might have been uncomfortable it was such an incredible experience. 
Day twoUp and at it really early - 6.30am - with a huge breakfast to start the day. We were lucky to have excellent weather for the rest of the trip and the second day was pretty blissful with warm weather and lots of sunshine. Again we walked an impressive 22km on day two, visiting several hill tribe villages en route. One of the most memorable was a tea stop in a Pa'O village where we were shown how women weave traditional fabrics used for headscarves. I bought a gorgeous red check scarf for 4000 kyat (around £2) which took the weavers four days to craft by hand - such a measly sum, I know. We felt it was important to give something financially - no matter how small - to these local villages as July told us how they have come to rely on the money generated by trek tourism in recent years. Our destination on day two was a village where several other trekking groups were staying. When we arrived we were able to visit the local monastery and given a guided meditation session, before exploring the village some more before dinner. Several beers later we retired to bed for another much-needed sleep before the final day. You might be pleased to know that I slept well on this night - I was cream crackered!
Day threeAgain, an early start, with a breakfast of pancakes and tea. The final day's trek was less than the previous two, with just 14km left before the end destination. Despite the shorter distance, I found the third day the hardest with tricky walking conditions - lots of hills, uneven tracks and the sunshine beating down on us. I developed a bit of a knee injury which compounded this, but July was so lovely in giving me some tiger balm and bandages to wrap my knee up! When we arrived at Inle we had to pay a 12,500 kyat entry fee each, and then just had a short walk to the final stop and lunch. The boots came off, the beer came out and I breathed a sigh of relief - I thought I was moderately fit, but this trek was tough. After lunch we hopped into boats and enjoyed an hour boat ride across Inle Lake to the town and our accommodation, where our backpacks were waiting for us! If you don't get much of an opportunity to see Inle, then it's worth noting that you do get a fairly decent trip across the lake as part of this - we even saw some of the famous 'fishermen'! I'll do a separate post on where we stayed etc in Inle Lake next time. 
What I learnedTake the right footwear. I had my walking boots with me, but in hindsight I only needed decent trainers. I also wore socks which were too thick, meaning my toes rubbed and I ended up losing my two big toenails - grim, indeed! On the other end of the footwear spectrum - two girls in our group only brought flip flops, which was a bit of a disaster when the rain hit. At least they didn't have wet boots to contend with, I suppose...I also learned that I am more of a princess than I thought. And perhaps not as agile as I thought I was! Thin mattresses, 22km a day walks and a lack of showers do not make for a happy Lizzie. But do I regret doing it? Absolutely not! It was an absolute trip highlight.
ClothingWith regards to clothing, I suggest wearing light layers. For women, be careful about wearing short shorts - I dressed fairly modestly during our time in Myanmar. Long-ish shorts or loose fitting trousers are best. I wore vest tops and t-shirts, and carried a hoody in my bag as it got cold at night and in the mornings. Wrap any spare clothes/underwear in plastic bags inside your backpack in case it rains. As I mentioned above, wear trainers rather than sandals / heavy boots. Take a waterproof mac in case it rains, and a hat for the sunny weather. We had both heavy rain and strong sunshine during our trek, so it's best to prepare for all eventualities. 
EssentialsBefore you go, make sure your small back pack has the following essentials. Remember, your main backpacks / suitcases will be transported to Inle for you. 
Money - for drinks, souvenirs and Inle entry feeSun cream - make sure it's waterproof, you will sweat!Toilet roll - not usually provided in the homestays/lunch spotsMedication - also paracetamol / imodium etcDrinking water - not loads (heavy!) but a big bottle, you can buy more along the wayBaby wipes - for those no-shower daysHat - protect from the sunWaterproof mac - that can be folded away if not neededSleeping bag liner - if you have oneTorch - the home stays don't all have an indoor toilet, so you'll need to brave the outdoors at nightCamera - even if it's just your iPhone
Have you done the Kalaw - Inle trek? What did you think? It's definitely not something to be missed!