Hello everyone, I hope all is well with you! I'm back today with another book review. I just finished reading John Green's new book, "The Fault in our Stars."
I must say, I absolutely loved this book. It's very emotional, but with humorous parts that captured the essence of the characters' personalities beautifully. I really liked the two main characters and the way they looked out for each other.
Hazel Grace is a wonderful girl who has terminal cancer and she meets Augustus at a Support Group meeting. The story is about how these two meet and fall in love even though the odds are stacked against them.
It's a story about granting last wishes and even though there's a lot of humor in it, the deeper message comes shining through. I would highly recommend this book. This is hands down the best John Green book I've read.
The cover and blurb are below.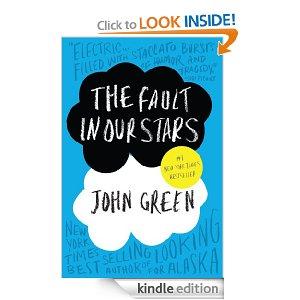 "The Fault in Our Stars is a love story, one of the most genuine and moving ones in recent American fiction, but it's also an existential tragedy of tremendous intelligence and courage and sadness." —Lev Grossman, TIME Magazine
Despite the tumor-shrinking medical miracle that has bought her a few years, Hazel has never been anything but terminal, her final chapter inscribed upon diagnosis. But when a gorgeous plot twist named Augustus Waters suddenly appears at Cancer Kid Support Group, Hazel's story is about to be completely rewritten.
Insightful, bold, irreverent, and raw, The Fault in Our Stars is award-winning-author John Green's most ambitious and heartbreaking work yet, brilliantly exploring the funny, thrilling, and tragic business of being alive and in love.
Thanks for stopping by to read my review. I'd love to read your thoughts, so if you're so inclined leave a comment!