Hello Everyone,
These days I am into cooking mode and that too healthy cooking, I keep looking out for ways to make a recipe healthier! And talking about healthy I have been hearing a lot of great reviews about Fortune RiceBran Health Oil, so I thought why not give it a try and find out what exactly is Rice Bran Health Oil and how it is different and healthy from the other oils in the market.
About 2 weeks ago, I brought in a liter pack of the Oil and started testing it in various recipes that my family is fond of but before I talk about my experience let's try and get to know what Rice Bran Health Oil is?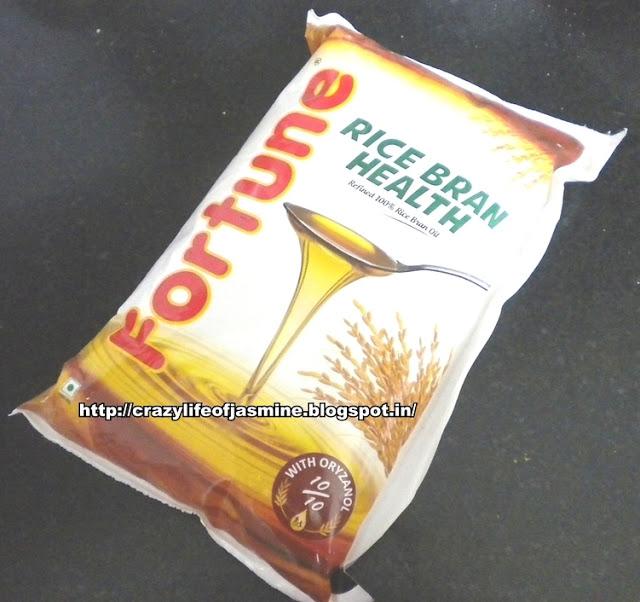 Fortune Rice Bran Health Oil is a revolution in the world of cooking oils, but why? Well, Because Rice Bran contains about 20% oil which holds more than 65% of the nutrients present in the bran, including the amazingly heart-friendly compound 'Oryzanol. Rice Bran Oil has the most balanced fatty acid composition amongst edible vegetable oils as per WHO recommendation apart from valuable nutrients like Tocotrienol (a very powerful Vitamin-E), skin-friendly compound Squalene and above all the amazingly heart-friendly Oryzanol. 
And Oryzanol present in the Rice Bran Oil selectively reduces the Bad (LDL) Cholesterol and improves the Good (HDL) Cholesterol – thereby improving the HDL-LDL ratio which is considered to be more important health parameter than Total Cholesterol.
Check out the 10 major benefits that you enjoy from 100% Rice Bran Oil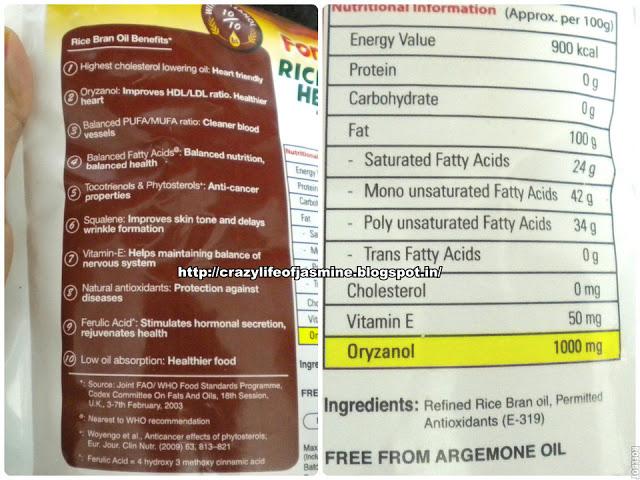 So,It wouldn't be wrong to say that Fortune Rice Bran Health is the best fit for every health-conscious family!!
Now let's get back to what I cooked :) I started the Oil testing  phase with my most loved recipe which was my granny's signature recipe and has been in the family for more than 2 decades!!
Recipe : Mutton Rogan Josh 
Ingredients
500 gm lamb

3 Tbsp 

Fortune Rice Bran Health Oil
5 cloves
1 inch cinnamon stick
2 bay leaves
2 black cardamoms
1 tbsp Ginger Garlic Paste
1/4 tsp turmeric and half tsp of grated raw turmeric
1/2 tsp red chilli powder
1 tsp ground cumin powder
1 tsp ground coriander
3 medium tomatos pureed
1 tsp salt
A pinch of garam masala
2 tsps Mutton masala
Brown onion paste of 3 medium onions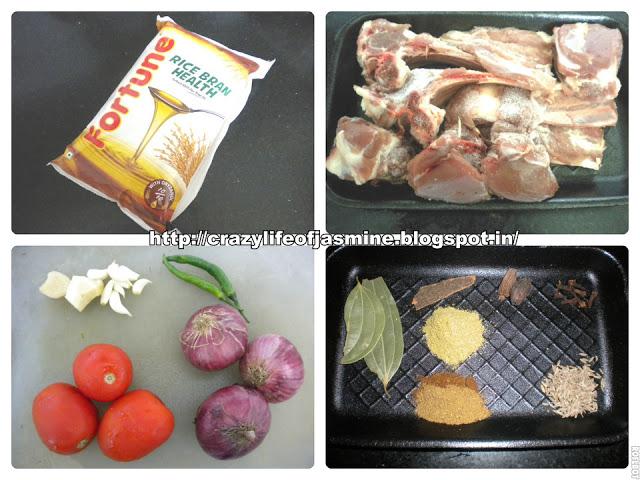 For Marinade
3 tbsps of hung curd
¼ tsp salt
¼ tsp red chilli powder
1 tsp home made chilli powder
½ tsp 
Fortune Rice Bran Health Oil
Method
1. In a large bowl, mix in all the marinade ingredients and add the mutton. Mix well and keep aside for 30 minutes.
2. Now heat the 

Fortune Rice Bran Health Oil

 in a heavy based pan.




3. Add ground cumin, cinnamon stick, bay leaves, cloves and cardamoms. When they sizzle add the ginger garlic paste and the brown onion paste. Cook till 5 to 7 minutes


4. 

Add the turmeric, chilli powder, mutton masala, salt and coriander powder and cook for about 2 minutes. Stir in the tomato puree and mix.


5. 

Add the lamb along with the marinade and fry for 10 minutes till it changes color.


6. 

Transfer the lamb in a pressure cooker, add 2 large cups of warm boiled water (400 ml), cover and cook for 40 minutes or till the meat is tender. (4 to 5 whistles)


7. 

Remove the lid and sprinkle the garam masala and garnish with coriander leaves.
Tip - The oil should rise to the top of the saucepan, which means the curry is ready.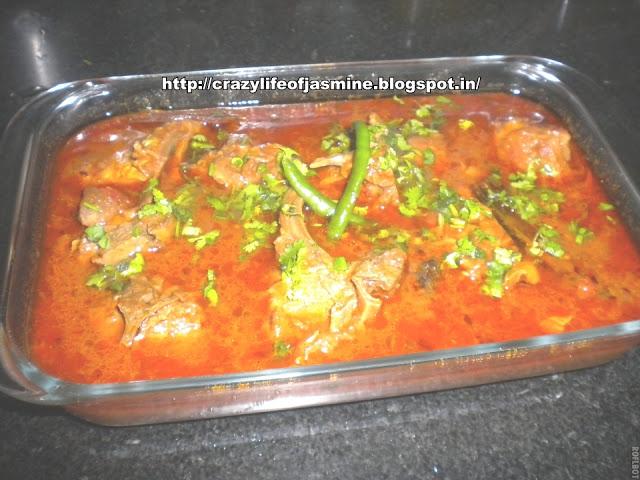 Overall, I liked Fortune Rice Bran Health Oil, the recipe tested fairly good and for a change I wasnt worried about daddy's cholesterol :)But as i said i am on a Oil testing phase, so expect alot of different recipes involving different cooking methods!! Anyways i hope you all enjoyed the recipe...do share your lovely thought <3This post is a part of Healthy & Tasty Recipe Contest with Fortune Rice Bran Health Oil & BlogAdda.com