SHOPPING
❤ ❤ ❤ ❤ ❤ ❤ ❤ ❤ ❤ ❤ ❤ ❤ ❤ ❤ ❤ ❤ ❤ ❤ ❤ ❤ ❤ ❤ ❤ ❤ ❤ ❤ ❤ ❤ ❤ ❤ ❤ ❤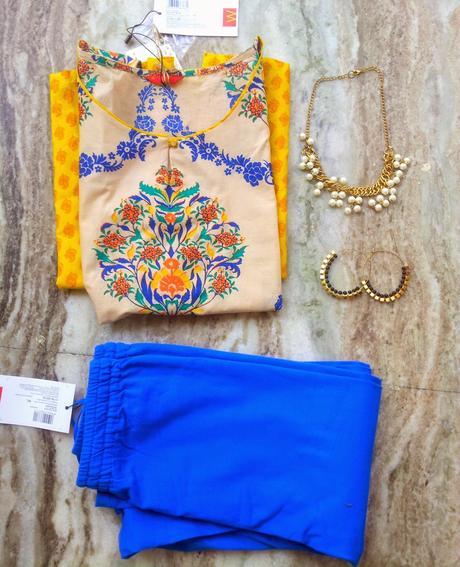 W for Woman store is all about eternal grace of a modern Indian women. This is what I get everytime I walk into the store and my recent visit in the month of April 2015 was no different. 
My April 2015 buys
from W store are the prettiest pieces in happiest colours like mustard yellow and fresh blue. Indian pieces in vivid colours are absolute hit for these summer days if you like wearing ethnic outfits. The long kurta with floral prints on top around neck is flawless. Light cotton fabric, small yellow button detail on neck and long slit are anything but boring.
I chose a blue legging for this kurta that enhances its beauty and adds a finishing touch to the entire outfit. But I'd love to switch leggings for
a pair of straight fit tailored trousers
in the same color one day.
PRICE
This time, I found the price range of these summery kurtas were half than what I had expected. This kurta's price is Rs.1299 and most of the newly launched kurtas were priced around this range. Price of legging was approx. Rs. 599.
W Store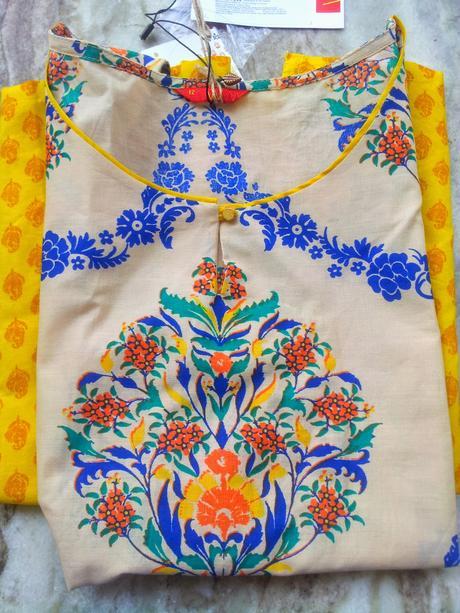 SHOP ONLINE: W for Woman
*This post may contain affiliate links, products sent by brand/PR for consideration, paid contents.
For The Shopaholic In You
There was discussion going on among friends how they did not get anything nice at W stores they visited. to name the location of the stores - The Great India Place, NOIDA and Connaught Place. I have this feeling that busier and more happening the place is, good items fly in no-time. Somehow, W store at Mahagun Mall is mostly less crowded and store is filled with all good kurtas and other items. This is why I am able to buy what I really like! If you are in the former wagon -
1. Just ask for the store number and share your contact number with them. Ask them to contact you when new products come in the store or you call them as you expect some new launches.
OR
2. Visit a less happening place to shop for and subscribe to SSU for updates.
Over To You:what do you think W for Woman kurtas? Any good?
Never miss A Post

  :
NEWSLETTER | FACEBOOK | TWITTER |  GOOGLE+ 
Disclosure Policy
.