Hey everyone!
Okay agree I am super late with this post - but better late than never :p
So I was very excited for my February box as My Envy Team has stated in Facebook that lucky ones would be getting the
Miss Malini's Box of Love
with Rs 5000 worth of Sephora products, and guess what I was head over heels when I received my curated box and could not stop giggling seeing some fabulous products inside.
Let me show you what all products I got -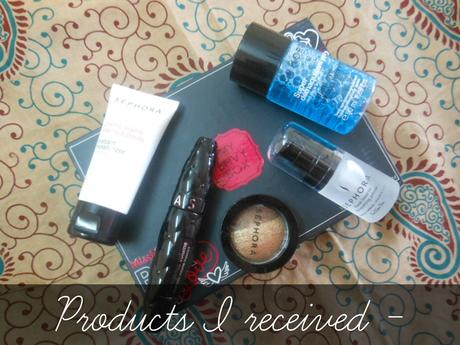 My Miss Malini's Box of Love
contained
5 full size Sephora products
packed in a bright fuchsia pouch in a black colored box with brand insignia in pink and few cupid strikes here and there.
Quite adorable I tell you!
My Envy Box costs Rs 850 per month and can be subscribed from here.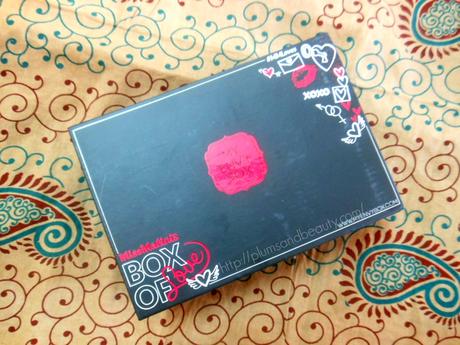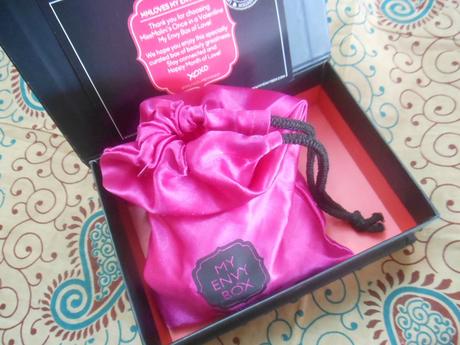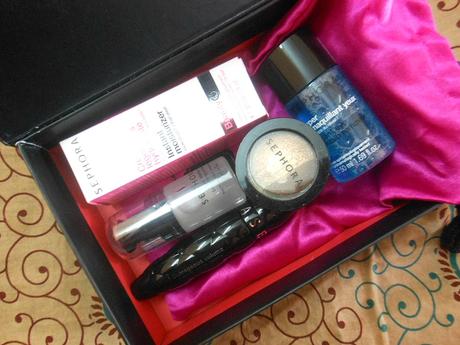 My Miss Malini's Box of Love Samples #MMLoves
1.
Sephora Super Instant Eye Makeup Remover
: Rs 450 for 50 ml
Sephora says : This is a multitasking makeup remover erases all traces of makeup, refreshes the eye contour area, and strengthens lashes. Its formula includes HydroSenn+, a natural ingredient proven to deliver immediate and long-lasting hydration more effectively than hyaluronic acid. Free from Parabens, Sulphates and Phthalates. 
I tried this to remove my mascara and in removed every traces of mascara and eye liner without stinging my eyes and also hydrated my eyes without making it oily. Full review coming soon.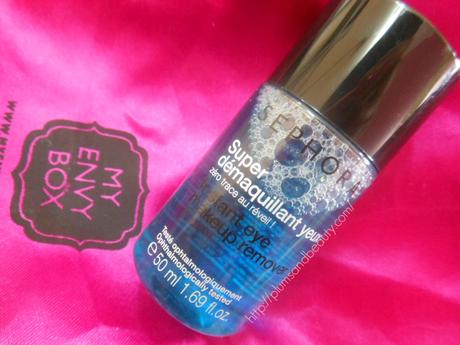 2.
Sephora Instant Moisturizer
: Rs 800 for 30 ml
Sephora says : This intensive formula hydrates and nourishes skin for 24 hours. Perfect for dry, and even sensitive skin, it helps prevent the first signs of aging while smoothing and refining skin's texture. Light-reflecting pigments even skintone and illuminate the complexion while antioxidants protect against environmental agressors to keep skin looking beautiful—even without makeup. Free from Parabens.
The Moistirizer is an Instant skin quencher! I have used this for a week now and I could immediately feel and see how it locked in much-needed moisture. The finish is quite smooth and my complexion did appear brighter over a week of use. I am liking this and this is on my wishlist next. Full review coming soon.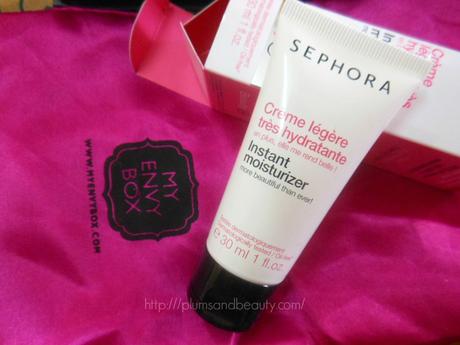 3.
Sephora Smoothing Primer
: Rs 1030 for 15 ml
Sephora says : This primer softens the appearance of imperfections, prolongs the wear of your foundation, and keeps you looking flawless longer. Infused with hydrating ceramides, this formula moisturizes and smooths, while protecting with antioxidant-rich vitamins E and A. Free from Parabens.
I'm yet to try this out but have read some awesome reviews for this product.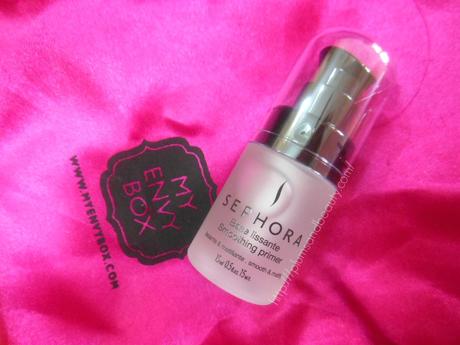 4.
Sephora Outrageous Volume - Dramatic Volume Mascara
: Rs 1200 for 15 ml
Sephora says :  A volumizing mascara that delivers pumped-up, glamorous lashes. This mascara's unique triple load brush intensely coats lashes in one easy stroke for a full, luscious look. The thick, Ultra Black formula is enriched with hyaluronic acid—an ingredient recognized for its moisturizing properties. Use the brush's reservoirs to intensify lashes from root to tip, separate lashes with the "spiked" areas, or achieve a curved effect by pressing the brush lightly against the tips of the upper lashes. 
The Mascara is the blackest black and adds volume and length but working up with the big spiky brush is a challenge. It do grabs each of my lashes but I have issues applying it on the lower lashes and inner corners. The brush is straight and there are times when accidentally I poked my nose :p 
Full review coming soon.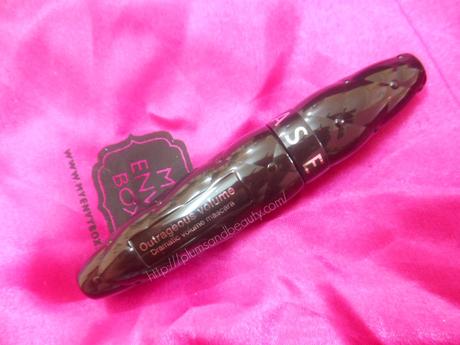 5.
Sephora Baked Eyeshadow Duo - 02 Sunbaked
: Rs 1280 for 1.2 gms
A gorgeous mix of matte brown and copper baked eye shadow is a must have for everyday wear. In the past few days, I have been reaching out for this particular eyeshadow duo a lot. Review coming soon.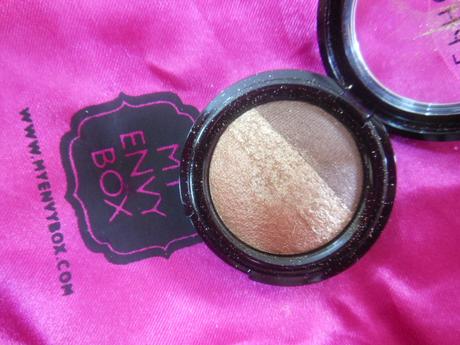 I paid Rs 850 and I got products worth (450 + 800 + 1030 + 1200 + 1280) Rs 4760, awesome na! That's the reason My Envy Box is one of my favorite beauty subscription box in India.
Thank you My Envy Box Team for making my Valentine month a special one.