Wine Business Monthly:
Sold out Oregon Bubbles Fest Defies Weather
by L.M. Archer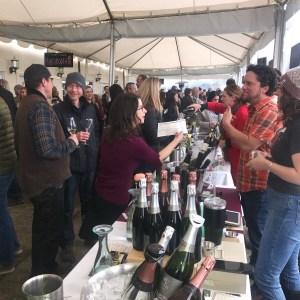 Carlton, OR. – The Willamette Valley didn't let an arctic snow storm blanket enthusiasm for Bubbles Fest 2019. More than 450 sparkling wine aficionados snuggled together February 9-10 2019 at Anne Amie Vineyards in Carlton for the sold-out fizz-fest, sipping and savoring a variety of Oregon sparkling wines paired with sumptuous local eats.
"I feel that sparkling wines have always had that certain cachet of sophistication, grandeur, and luxury associated with them, " says William Kobyluck, Wine Club and Events Manager for Anne Amie Vineyards. "I feel events like Bubbles Fest allow the consumer to look at the versatility, value and food friendly component of sparkling wines and move them to more of an any occasion wine."
This year's participants included an all-star roster of artisans, including Anne Amie Vineyards, Apolloni Vineyards, Argyle Winery, Day Wines, Division Winemaking Company, Elk Cove, Eola Hills Winery, Kramer Vineyards, Left Coast Cellars, Lundeen Wines, Maysara, Mellen Meyer, McMenamins, Ponzi Vineyards, Quady North, R. Stuart & Co. Winery, Raptor Ridge, ROCO Winery, Seufert Winery, Sokol Blosser, Soter Vineyards, Terra Vina, Trisaetum, Willamette Valley Vineyards, and Winter's Hill, with bites by Big's Chicken, Columbia Empire Farms, Northwest Fresh Seafood, and Smitten: Artisan Truffles.. READ FULL ARTICLE HERE.
Have a favorite Oregon sparkling wine? Please feel free to share your comments below!
Copyrighted 2019 L.M. Archer. All Rights Reserved.
Posted in Uncategorized