It's Children's Book Week here and to celebrate it I asked some of my fellow bloggers their favorite children's books.
Name: Maggy Woodley
Website: Red Ted Art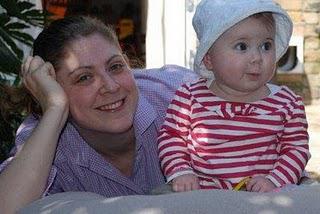 Your favorite children's book: Nutshell Library (Caldecott Collection) by Maurice Sendak. A little bit of a cheat as it's a "four in one". I love these books as I had them as a little girl... and I loved the smallness of them. I am also a great Maurice Sendak fan.A quirky author with quirky stories.These four are great as they all focus on different things- one is a simple story about a boy (that "doesn't care"), one all about the alphabet (alligators all about), one at the numbers and the last at the months. (Chicken Soup with Rice, is nice!) Nonsense and fun!
My children's favorite book: My children have many "favorite books". But my son (3.5 years old) really likes Stick Man by Julia Donaldson and my daughter (almost 2 years old) likes  Funny Face by Nicola Smee. It is a great book to explore emotions.
I love how Maggy combines her crafts with the books she reads with her children. Just take a look at these lovely stick men inspired by the book. Maggy loves recycling and I am a great fun of her loo roll crafts. I especially love this marionette!