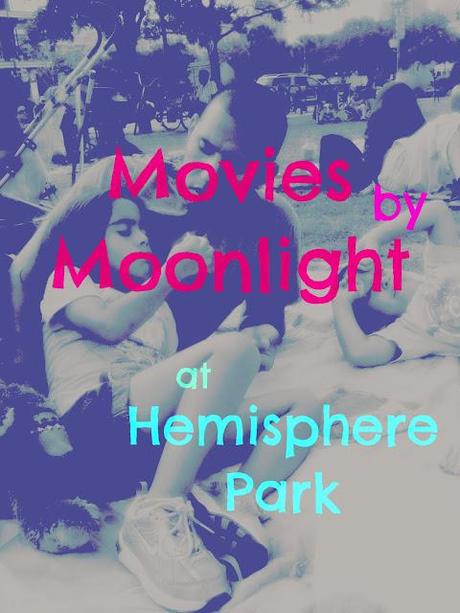 Movies by Moonlight
 at Hemisphere Park has by far been one of my favorite activities of the summer. 
I know it's hot, I know I have to find parking and carry a picnic blanket and snacks for four, but I
love love love
chillin' in the park, laying on a blanket, with a summer breeze under the Tower of Americas! It is one of those simple pleasures. 
The movies are every Tuesday from June 5 - August 28, 2012. It also coincides with the City's 
Downtown Tuesday
 Free Parking initiative. Parking is free in city operated lots, garages and meters after 5pm. 
There are also crafts and pre-show entertainment around 7:30 p.m., not to mention the playground near by. The movie starts at 8:30 p.m. Concessions and restrooms are available. 
I am a working-outside-of-the-home mommy, so my tips are to prepare a bag the night before. I usually take wipes, hand sanitizer, snacks, and a plastic bag for trash. I pack a small soft cooler for drinks and grapes and store in refrigerator overnight. After work, I swoop up the crew and supplies, and plan to be downtown around 6:15. This gives us enough time to find a parking spot, walk to the grassy area under the Hemisphere Park arch and scout the best spot available!
Hope you can make it! Here's the schedule - 
• June 5: "Hop"
• June 12: "The Fox and the Hound"
• June 19: "Puss in Boots"
• June 26: "Open Season"
• July 3: "Zookeeper"
• July 10: "Happy Feet Two"
• July 17: "Kung Fu Panda"
• July 24: "The Lion King"
• July 31: "Over the Hedge"
• Aug. 7: "Tangled"
• Aug. 14: "Alice in Wonderland"
• Aug. 21: "The Tale of Despereaux"
• Aug. 28: "The Adventures of Tin Tin"
For more information you can call (210) 207-3677 or check the city's 
website
Can't stand the heat?

 There are free
(and almost free)
indoor movies this summer too!
Santikos Free Summer Movies

 - Tuesday & Wednesday

Cinemark Kids Summer Movie Clubhouse

 - $1/ticket - Wednesday 

Regal Summer Movie Express

 - $1/ticket - Tuesday & Wednesday

Free Movie Night at Santikos Bijou

 - Thursday 
***I also found this monthly program at AMC Theatre in Rivercenter Mall - 
Sensory Friendly Films
 for Families affected by autism. 
Hope this was helpful!