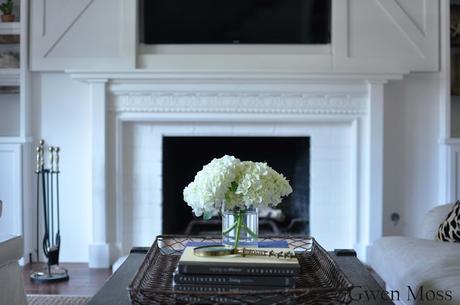 Ahhhhhh..........
That
my friends, is a deep, satisfying sigh you're hearing through your computer screen.
That's because today I'm checking off one of the time-consuming projects I've been working on this summer and I'm pretty happy with the end result.
My newly made mantel finally brings an end to the fireplace transformation in this house.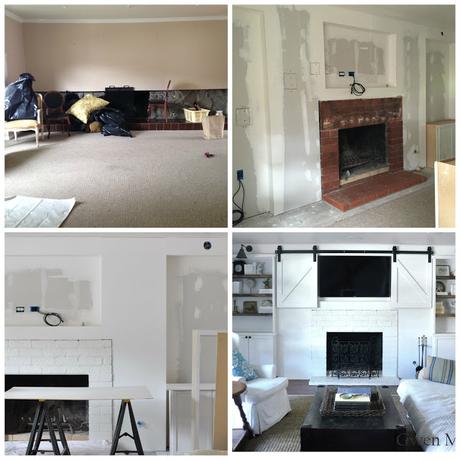 These pictures give you an glimpse of the 20 month process, showing you the original wall (top left), the red brick we uncovered beneath the drywall and added to, and the subsequent paint and design of the entire fifteen foot wall.
If you're new to this blog and you want to see Part One of this DIY mantel with some how-we-did-it pictures, you'll want to click 
HERE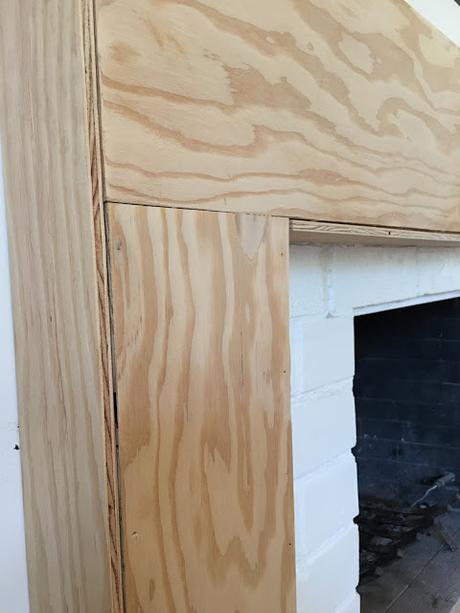 Here's a picture after the plywood "boxes" were added (part 1)
If you remember the last post ended with:
the three plywood boxes built as the mantel base

the addition of 4x4 posts along both sides of the mantel.

the fir boards added on top

 and the installation of the wood remnant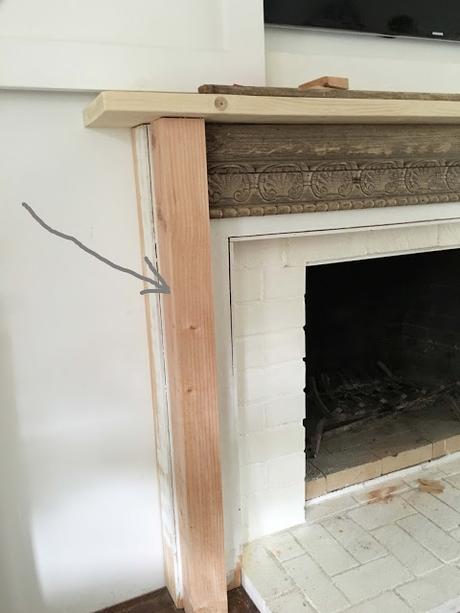 Before we nailed the 4x4s I gave the plywood base and each of the 4x4s a quick coat of primer paint.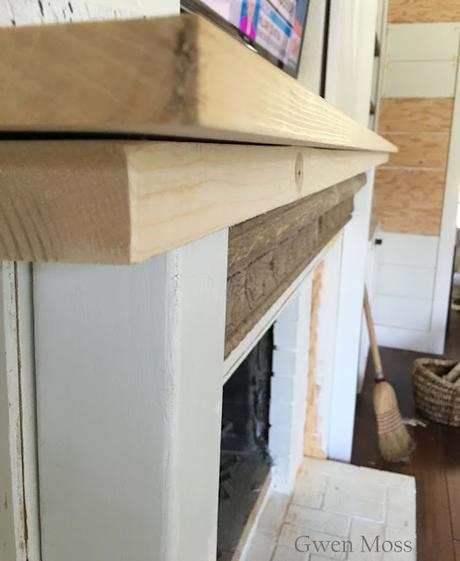 A quick word about the wood we used:
Even though I planned on painting the mantel ---because of the weathered remnant I was building it around, I decided to use basic  stock wood for the base, so its rougher look would blend better with the remnant once it was painted.
The 4x4s were run through the planer so they were smoother but still had the 'fence post' texture.
The top of the mantel was the only higher quality piece we used.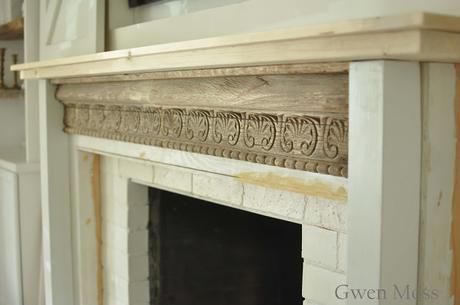 Once my Dad helped me with the basic structure and rebuilt and attached the wood remnant, our work together was done.  
At this point I was on my own.
After my parents returned home it was time for me to consider the final look of this mantel.
Even though I'd been collecting mantel ideas for this moment (on this
Pinterest Board
) it wasn't until I saw the wood remnant on  front, that I could finally get an idea of the kind of trim that would work.
I started at the bottom because I knew I wanted six inch trim there. So I bought an 8 inch (wide) pine board and ripped it to a full six inch.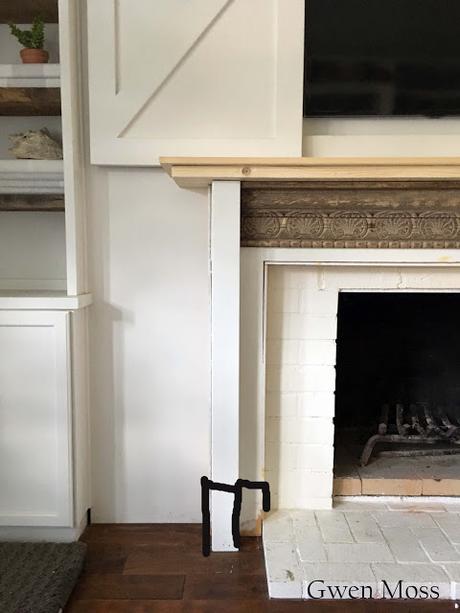 Then came my first mistake.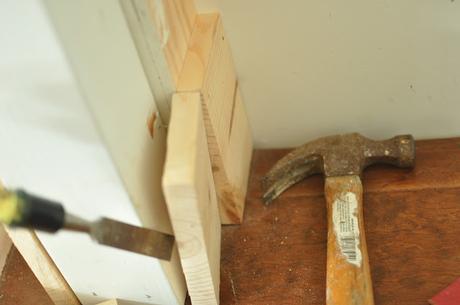 I forgot to double check these first pieces with a level (until after I nailed them) and even though it was barely off center, I could hear my Dad's voice saying, "If you're gonna do, do-it right. You better pull that off."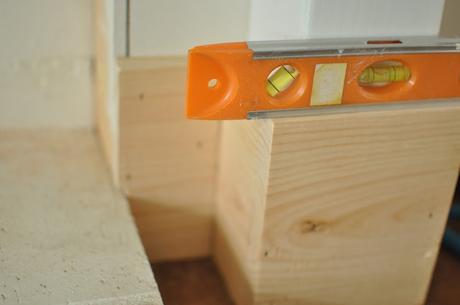 Ugh.
I learned my lesson. No more forgetting to check my level.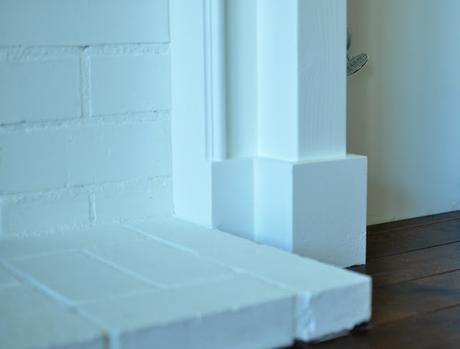 After a few trips to the molding section of Ganahl lumber and Home Depot, and bringing home a few pieces of fancy molding, I realized that what this mantel needed was simplicity.
There was so much going on with the carved sea shells that every elaborate piece of molding I held up to it seemed to clash. I decided to keep it clean and simple looking.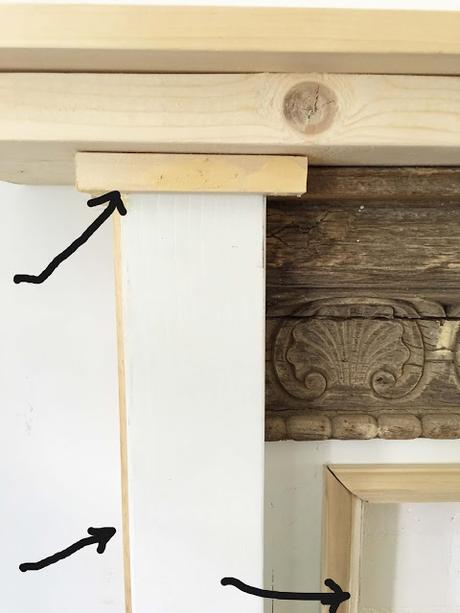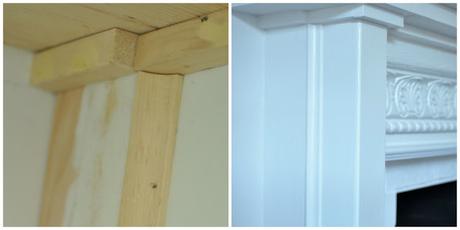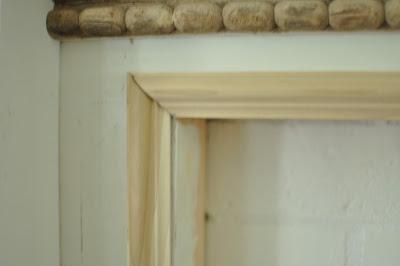 I had to stop and get a picture of my first-ever 45-angle cut on my miter saw!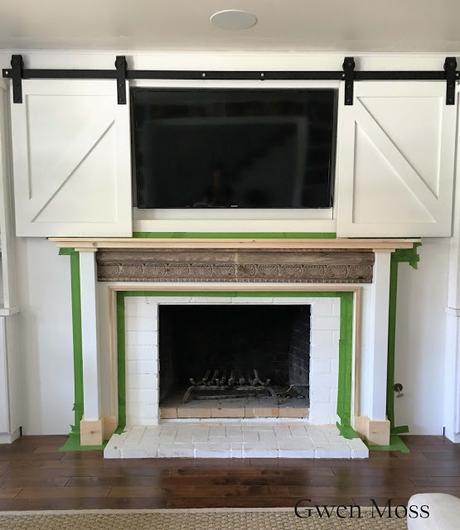 All done and ready to paint...woo hoo!!!
I was a bit nervous about how the old wood would 'take' the paint. And truthfully, it was also hard to say goodbye to the weathered finish that I love so much-- in another house I would happily have an entire mantel of this luscious distressed wood.
It just wouldn't work in this home, on this wall.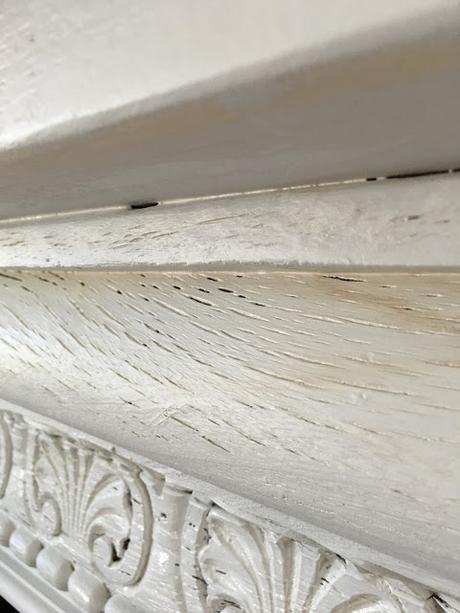 Gulp.
Good bye old wood, hello painted wood... I'm not sure I like you.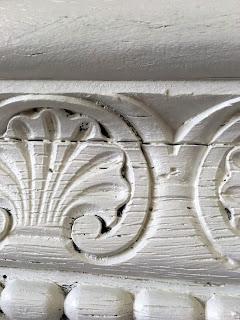 Ok. It took a few coats to penetrate the cracks.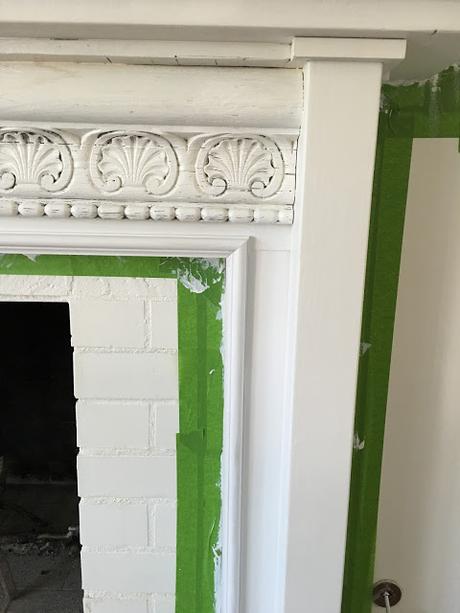 Then more caulking and sanding between coats.
However once it was painted I wasn't completely happy.
After a lot of staring I realized what it was.
I just didn't like the amount of sheen from the semi-gloss.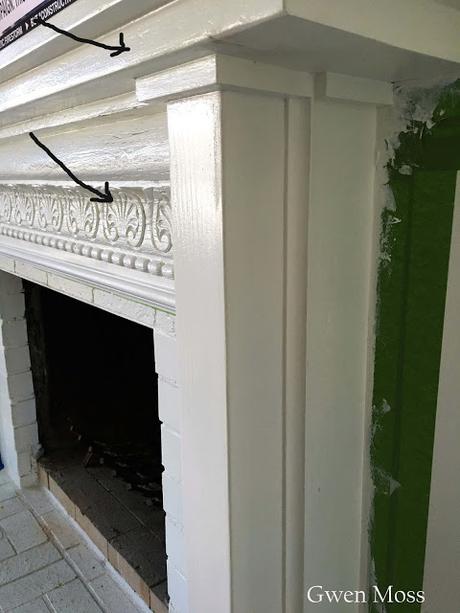 So I went back to the BM store and picked up the satin finish in the Aura paint line. In case you're wondering the shade is Simply White.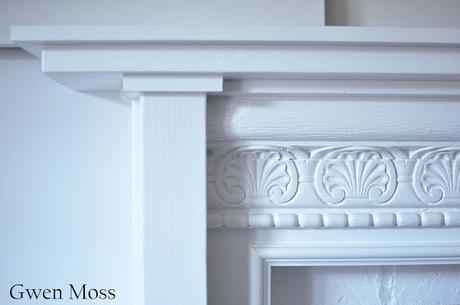 Call me crazy but I could tell the difference. Much better.
I'm also glad I used the stock wood because when you're next to it, there's a subtle 'imperfect' texture on the wood that's consistent throughout.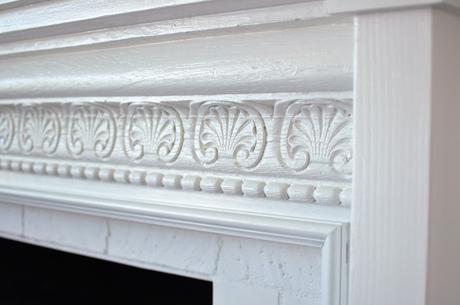 It's a fireplace mantel that could've been here for decades, simply painted a fresh coat of white.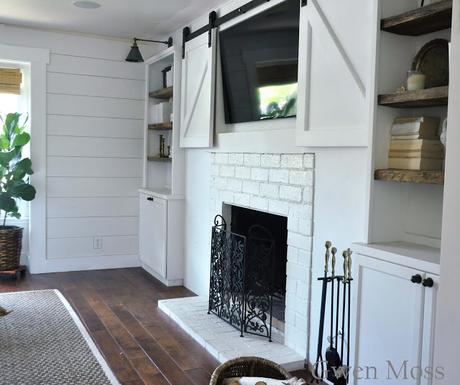 BEFORE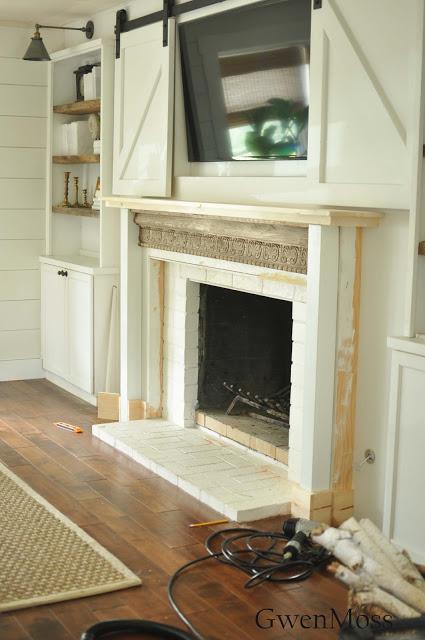 DURING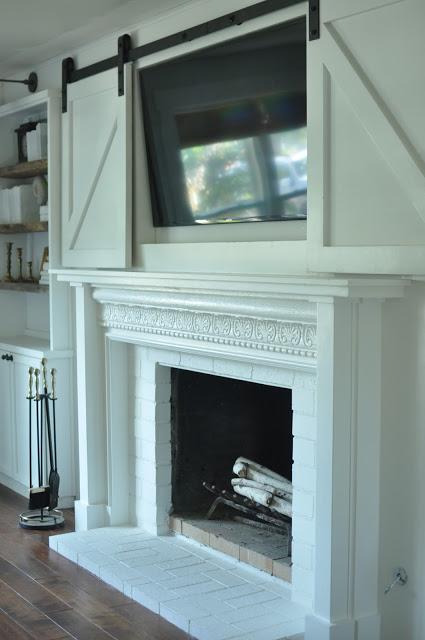 AFTER
While I was at it, I decided to repaint the brick surround with white chalk paint, (so easy with a foam roller) although I still need to get around to painting the rest of the bricks inside the fireplace black.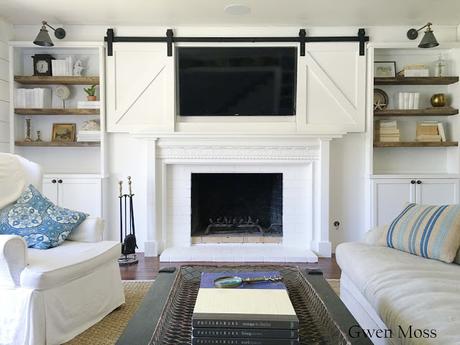 Hooray....all done!!
In the meantime, my vertical plank project in our downstairs bedroom-soon-to-be-family-room is moving along.
I'll share more on this project soon.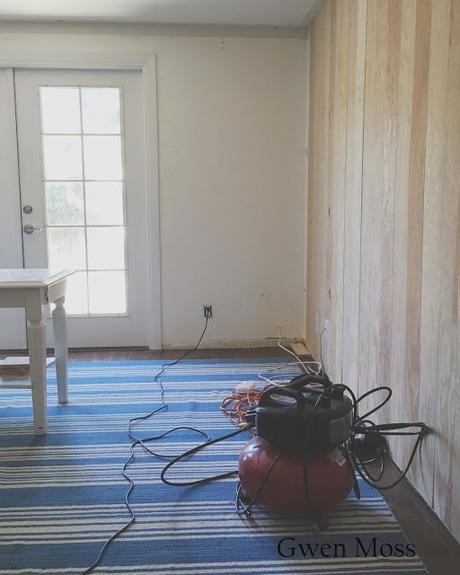 The planks are all up and painted.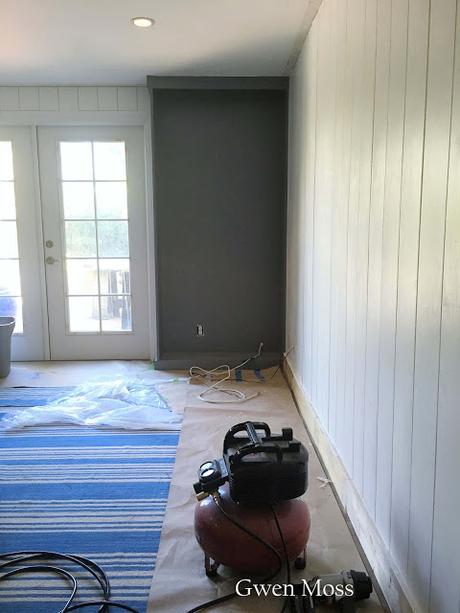 And now I'm working on my first bookshelves.
(another
gulp)
In the meantime... I thank you from the bottom of my heart for stopping by.
xo
Leslie
I'm sharing this post with these friends:
The Scoop
Inspire Me Tuesday
Wow Us Wednesdays