I had my bridesmaids chosen from the word 'go'; my sister, Olivia, and three of my closest friends, Katie, Elizabeth and Louise (who is also my maid-of-honour). I am also having two flower girls; Evelyn, who is David's niece, and, of course, Vivienne. I've asked them all, they've all gladly accepted, now the challenge of finding them all something to wear…
Originally I wanted all my girls to be wearing different colours, SATC style. I imagined a rainbow assortment of girls helping me down the aisle; but, when I started looking at making this a possibility, it seemed so difficult to 'match' colours so that they complimented each other, never mind finding nice dresses in the right shades, or the same dress in all desired colours.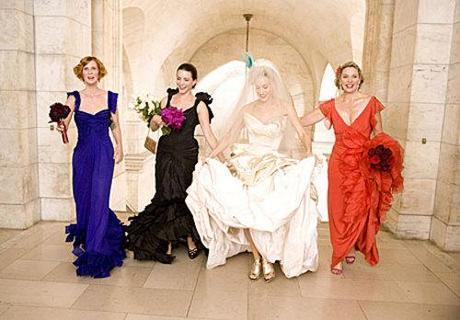 Another conundrum: all my bridesmaids are so different! Different heights, shapes, skin-tone, hair colour; how could I find one shade ad style that would flatter them all? I looked through a lot of websites like Dessy, to try and find a style of dress and narrow it down from there; I also discussed it with Louise, and we both felt that 50s style dresses flatter most figures, are feminine and don't really go out of style. As we are marrying in church, I wanted them to be respectful; a skirt down to or below the knee, nothing low cut, and, ideally, covered shoulders. Lou and I mentally drew up the perfect dress: a high bateau neckline, capped shoulders, a nipped waist and an A-line skirt. Now to find it somewhere!
I started looking on the high street at floral dresses, I thought they'd fit a relaxed wedding in a garden, and I didn't want to choose something too stiff, I wanted to make sure my bridesmaids could dance the night away with me without feeling too constricted! I looked everywhere from Topshop to Coast to bridal websites and nothing came of it, I was starting to annoy my maids sending them links and pictures of anything which was similar to what I was looking for, then, suddenly, I stumbled upon the perfect dress.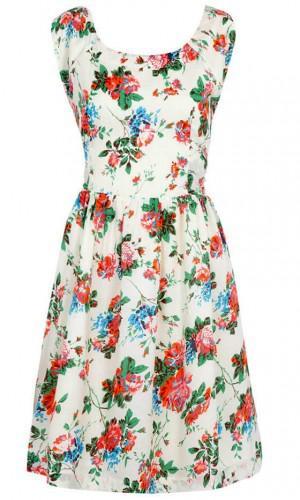 I'd heard of Rise but had never seen their clothing or knew who stocked it, but they had the exact dress I was looking for! Fortunately, the dress was in the sale, unfortunately they only had one in stock, and I had four dresses to buy! I became a detective for the day, trawling the internet and ringing stockists to find three more dresses, I think I may have found the last four dresses available and I made it my duty to snap them up quickly!
The flower girls' dresses were much easier to find, I snapped up two from eBay, from the Next Signature collection, in perfect condition and coincidentally, the listing had two dresses in the right sizes; ages 2 and 4. Perfect!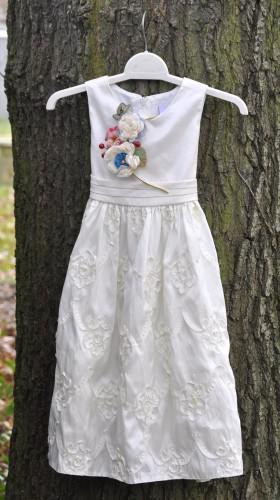 Now, how to accessorize them all; I wanted my bridesmaids to all have different shoes, and asked them to choose their own, which they were more than happy to do, (Louise already has hers but is strictly forbidden to wear them outside until the 30th July!). Also, as the dresses were such a bargain I decided to buy some beautiful headbands from What Katy Did Next, beautiful but quite fun, embroidered heart-shaped fascinators in cream to match the background colour of their dresses, to wear with whatever hairstyle they feel most comfortable having.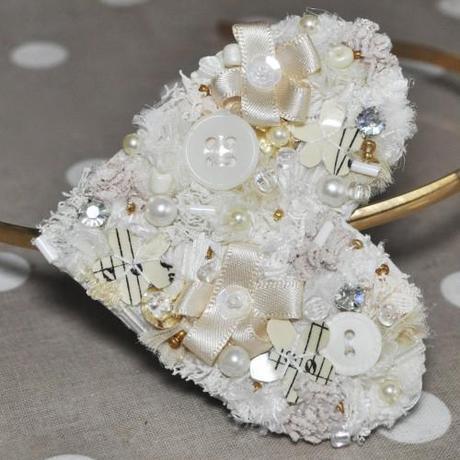 As the flower girls' dresses are plain cream I wanted to bring a bit of colour to their outfits, and Katy made them headbands to match the shades in the bridesmaids' dresses, which also helped tie all their outfits together. Yet again, she did a wonderful job, a mini version of my headpiece for each girl. I'm also going to ask her to decorate rustic, wooden, heart-shaped wreaths with similar flowers for them to carry down the aisle instead of flowers or a petal basket. (Typically, I have lost the wreaths moving house, but I'll get a picture up here when they're done!)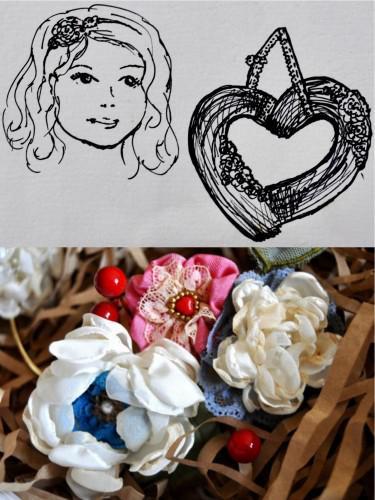 So that's the bridal party sorted! Ideally, the next post would be the groom and his partys' outfit, but David being David and men being men I think they're too preoccupied with the stag do rather than looking at suit hire!
Therefore, next: Stationery and spending far too much in Hobbycraft!
Sally xx