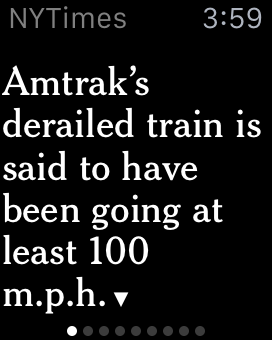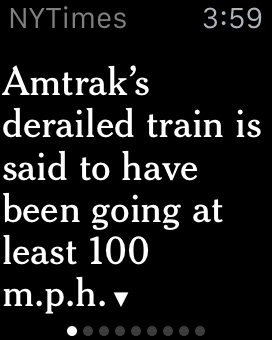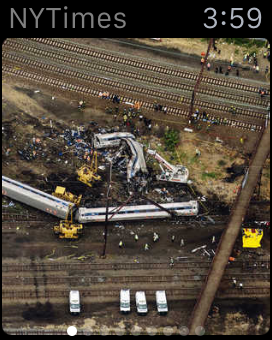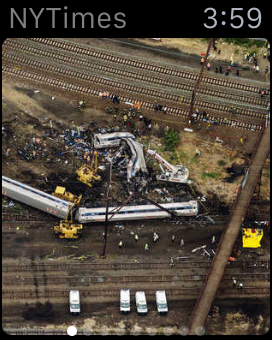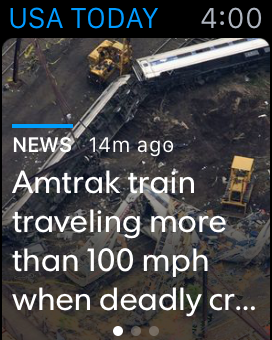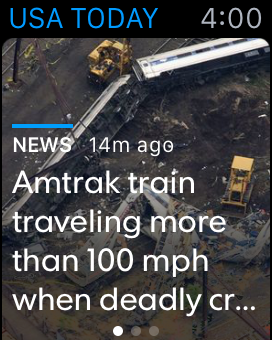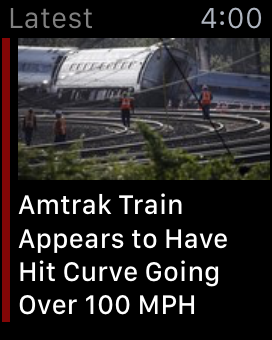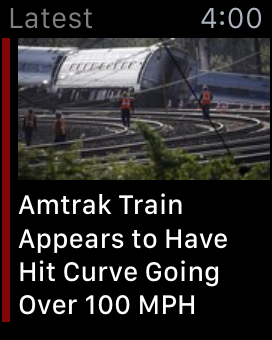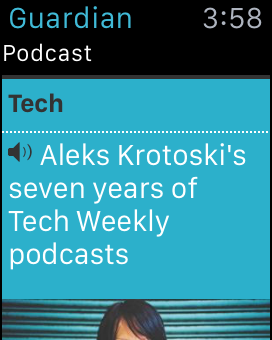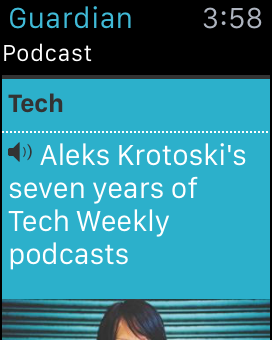 From left: New York Times, USA Today, The Guardian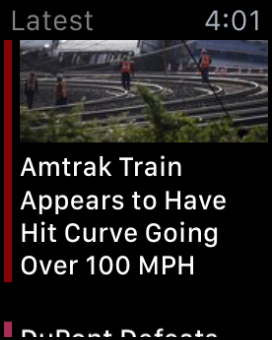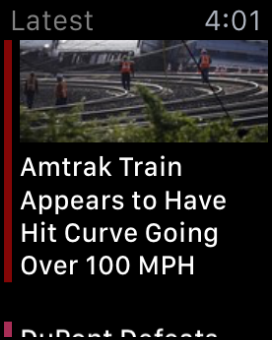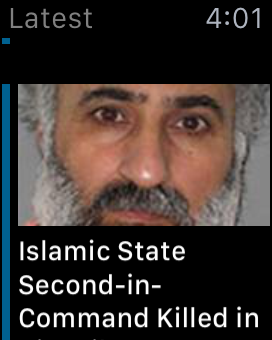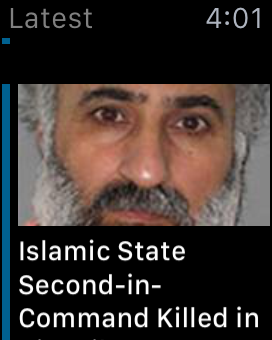 The Wall Street Journal
It's been exactly four days since I got my Apple Watch.  I already mentioned in this blog that I debunked two myths about the Watch within hours of having it around my wrist: it's NOT difficult to learn to use and battery life seems to be superior to that of my iPhone.  I start wearing the Apple Watch at 6:30 each morning and take it off before going to speed, normally around 10 in the evening.  The battery reserve at that time is usually about 43%, so no complaints there.
My report today, however, is all about my observations of how the news moves on my Apple Watch.  Here are some quick takes:
1. There are not as many pints and/or alerts as one would imagine.  When it comes to news on the Watch, it is you, the user who may go and seek it, and I find myself visiting The New York Times, particularly, sometimes up to 16-20 times a day.  My contact with that brand is now extending across three platforms daily: smartwatch, phone and tablet.  On Sundays, I get the print edition, so I visit a quartet of NYT platforms on that day. I may not be such an exceptional user, indeed.
2. I am intrigued by who will give me the breaking news first:  USAToday wins, with the more cautious NYT not even the second to provide us such breaking news as that of a Philadelphia Amtrak train derailment, or Football star Tom Brady getting suspended over the issue of "inflated" footballs.  I also notice that USA Today may come in with a breaking news item (George Zimmerman has another brush with the law in a shooting incident in Florida), which none of the other outlets interrupted the pulse of my wrist with. USAToday very quickly dropped that item from its Watch offerings.
3. The Wall Street Journal offers the most stories to sample on the Watch (perhaps too many, in my view), but the worst part is that the brand is nowhere to be found on any of the Watch screens. The user must be very conscious that she is reading WSJ news.  All the other news providers do keep their brand up there where it is visible.
4. The Guardian does not bother with breaking news, but comes in from time to time with "something for you", or "in case you missed it" or a "Podcast" (Aleks Krotoski's seven years of Tech Weekly podcasts").
The news and I on the Watch
Obviously, I am using my Apple Watch as a scientist uses a rat in his laboratory.  But that scientist is probably not having as much fun.
I have absolutely become used to the presence of my watch. Mind you, I first put a watch on at the age of 12, I think. My father was a watchmaker so I was probably playing with watches around the house long before that.  They were pieces of beauty and I have several watches collected over the years that I would pick for a special occasion (my Patek Philippe), or for everyday casual (my Raymond Weil). I have assorted other watches, too. None, however, commanded the daily attention that my Apple Watch gets. It is a constant companion, but, unlike the Patek or the Weil, not necessarily a silent one.
The Apple Watch wants to make sure you remember IT is there, next to your pulse.  It perks up in the middle of that crowded subway car (Train #6 at 5: 30 pm), and it reminds you it is alive in the middle of Sunday Mass at St. Patrick's, but, I find, it is a one watch show: I run with it (perfect Fitness app to mark my everystep), it is there throughout the day for messages, photos, emails and, yes, news.  Mine has a silver band so I can wear it with a suit, running shorts or a tuxedo.
And because it is the new kid on the block, it is like that smiling baby sitting happily in his carriage: people look, smile and make faces.  Even in the usually impersonal NY subways, I have had three people inquire: is that the Apple Watch, sir?
"May I touch it?," said a young man in his prep school uniform.
I have the feeling that this is the start of smartwatches as a platform of choice for many to consume lots of information at a glance ----and that last reference is important.  We don't detain to study what is on our Apple Watch.
We glance. We register the information. We decide how to process it.
Here is what I would emphasize:
1. Define what your "smartwatch" edition is going to be. It may be the shortest published version of your brand, but IT IS your brand, so beware of how it is presented.
2. While photos help, sometimes the "three bullet headline" items give you more information. There is time to look at photos.
3. At a glance journalism DEMANDS the surprise stories, and sometimes those are the only ones we stop in the middle of busy Madison Avenue to take a second look.  So, even in the fast pace world of watches and at a glance journalism, the silly and the serious need to mix, and, on an average day, it is that "silly" story that makes you linger on your watch for another 3 seconds.
4. When you name the person in charge of your smartwatch edition, look for the following: someone fun, someone who follows Twitter, Quartz and perhaps a couple of other non legacy brands, a great headline writer and craftsman of words, an adventurer who, while respecting the DNA of your brand, can be convinced that when your brand goes to the smartwatch, it is venturing into new territory. Legacy should not be an obstacle.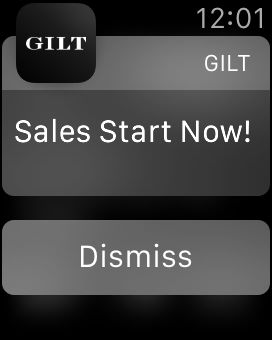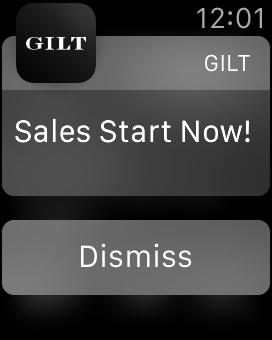 An ad appears just about the right time, when the sale is about to start.
Stand Up and Cheer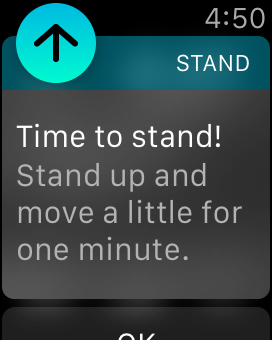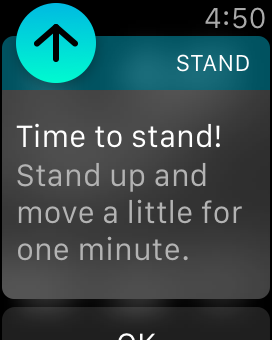 And one benefit of the Apple Watch: it reminds you when you have been sitting too long. 
So stand up and cheer for that---and for all that this first version of the Apple Watch does.
Can only imagine what future versions may do for us.
TheMarioBlog post # 1752
Please enable JavaScript to view the
comments powered by Disqus.
comments powered by

Disqus