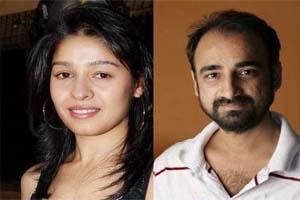 Hitesh Sonik, a highly talented Bollywood musician has revealed that he will be marrying singer Sunidhi Chauhan in April. Sonik told IANS: "First I was her fan. Now, I am going to be her husband".
Hitesh Sonik is the grand-nephew of music composer Sonik of the Sonik-Omi pair of the 1960s and 1970s.
The composer, Hitesh has known singer Sunidhi Chauhan for 15 years. He said: "She was a little more than a child when she won the 'Meri Awaz Suno' music contest on television. That is when we became friends. Gradually, over the years as she grew into a fine singer, our friendship blossomed into love".
Hitesh served as an assistant musician to Vishal Bhardwaj in 11 films. He is now trying to establish himself as an independent composer. He has done songs in Luv Ranjan's 'Pyaar Ka Punchnaama' and Raghav Dhar's 'My Friend Pinto'. Currently, he is working on the songs of Luv Ranjan's new film 'Akaash Vani'.
When asked about his love, Hitesh said: "I love her first and foremost for the person she is. She has blended so well into my family. And I am also very comfortable with her family". "There is little time and much to do before the wedding," he added.