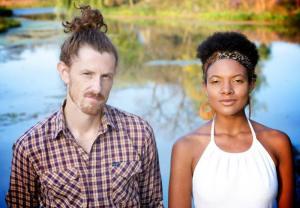 Image from allaboutjazz.com
With their self-titled album set to release on October 2, Birds of Chicago showcase their aptitude for capturing Americana music in its most natural form.
The album is made up of 12 original songs which encompass all the bluesy soul, acoustic power, and festive melodies that one should expect from the band L.A. times is calling "This year's biggest roots surprise."
"Trampoline" leads off the album with a joyful atmosphere that displays beautiful harmony and connection found between the two singer/songwriters that the collective is formed around, JT Nero and Allison Russell.  Full of jazzy rhythms and a folksy jam-band ambiance, it undoubtedly gives the album room the spread its wings.  "Trampoline" is available for download here.
However blissful "Trampoline" may be, it certainly does not set the mood for the entire album, frankly, because no one song on the album could do so.  Birds of Chicago take the listener through a tour of Americana music: from up-beat barnyard jamborees, to haunting gospel-infused guitar ballads, and even a few surprises in between (like "Sans Souci," the latin-like polka ditty that I would expect to hear at some Cantina in Arizona.)
The 12-track album elegantly flows from one song to the next.  The bluesy tune, "Before She Goes," the acoustically driven "Cannonball," the Spanish-polka twist "Sans Souci," and the gospel-infused "The Wide Sea" are all masterfully blended with the other tracks of the album to make a smooth, well-balanced listen.
The gentle huskiness of Nero's voice is like a far-off summer storm: a quiet gentle roll of thunder that let's you know cooler weather is on its way.  Perfectly balanced by the pure golden smoothness of Russell's voice, the two refuse to disappoint throughout the album, though I highly recommend "Galaxy Ballroom" to truly hear the duo's majesty.
Hatched between the partnership of the two singers, Birds of Chicago is backed up by Nero's band, The Cloud, and the wonderful singer and picker Michelle McGrath heralding from Southeast Ohio.  Birds of Chicago have created an album that is sure to have Americana and folk fans craving for more.  The good news is; the band loves to travel.   They'll be at festivals, pubs, and maybe even a few household locations for the 8 weeks to 2 years, so check out they're touring schedule here.