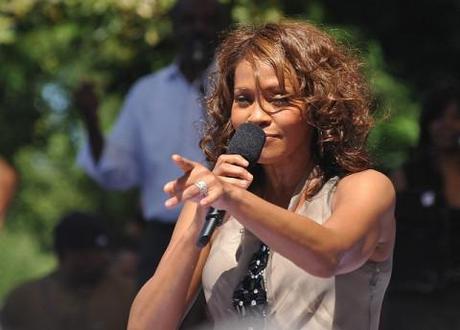 Whitney Houston. Photo credit: asterix611, http://flic.kr/p/6UPq2t
A galaxy of stars has paid tribute to the late pop icon Whitney Houston, who was found dead in the bathtub of her hotel room at the age of 48. Jennifer Hudson performed 'I Will Love You', arguably one of Houston's most famous hits, at the Grammy Awards the day after the singer's body was discovered. Attendees including Bruno Mars, Rihanna and Stevie Wonder also praised the star, while other celebrities took to Twitter to express their sorrow. Oprah Winfrey is reportedly planning a two-hour TV tribute.
Houston was widely considered one of the most influential performers of her generation during the 1980s and early 1990s. However, after a turbulent marriage to R&B star Bobbi Brown and a battle with drink and drugs, Houston's career began to wane. "Her innocent image was corrupted, and her ability to work dissolved… Her last three desultory LPs sold in puny figures compared to her peak, as she ceased to matter," wrote Nick Hasted in The Independent.
An autopsy found no evidence of trauma on Houston's body, reported The Telegraph, and the coroner is not ruling out any cause of death at this stage pending the results of toxicology tests, which are expected to take several weeks. According to TMZ, police found several prescription drugs including anti-anxiety medication Xanax in the singer's hotel suite, leading to speculation that the singer may have passed out and drowned in the bath.
Nobody like Houston. "With her passing, a certain kind of pop star is gone for ever," wrote Bim Adewunmi on The Guardian's Comment is Free, pointing out that unlike today's raunchy pop princesses, Houston projected a clean-cut image on stage, whatever the issues in her personal life. "In many ways, her life was the inverse of today's female singers. While they play wild and dangerous on stage, they seem to lead focused, driven, business-led lives off it," said Adewunmi.
"First of all, I want to tell you that I love you all. Second, I would like to say, I love you Whitney. The hardest thing for me to do is to come on this stage," said Whitney Houston's ex-husband Bobbi Brown as he performed a show after her death, reported The Christian Science Monitor.
Price of fame. "We surely have to ask ourselves why the lives of so many of popular music's most exceptional and life affirming artists end in tragedy," said Neil McCormick at The Telegraph. According to McCormick, Houston's legacy is in danger of being overshadowed by the troubles of her later years: "Even if Whitney Houston's death at 48 should prove unrelated to the controversies that blighted her career, her battles with drugs, alcohol, abusive relationships and depression, the image that remains of her is of a kind of eclipse, a shining star thrown into darkness." McCormick argued that we should instead remember the singer for her "pure talent" and dazzling voice.
Gawker published a list of stars who have died over the last five years as a result of prescription drugs, including actor Heath Ledger, singer Michael Jackson and model Anna Nicole Smith.
Burden of talent. "Whenever anyone with Houston's kind of gift seems to be falling apart, we have a terrible habit of getting angry with them, and throwing around words like 'squander' and 'waste'" pointed out Nitsuh Abebe at New Yorker's Vulture blog. But perhaps the pressure on Houston to be "perfect" all the time was the real cause of the singer's downward spiral, suggested Abebe: "What if the blessing of a talent is also the curse of having to lug it around like a workhorse, impressing everyone, and that very expectation is part of what makes talented people want to ignore the world and dive headlong into their own issues to begin with?"
Whitney Houston's daughter, Bobbi Kristina Brown, has been hospitalised twice following her mother's death, reported TMZ.
Drugs to blame. Whether or not Houston's death was the direct result of an drug overdose, drugs were indirectly to blame, argued Mansfield Frazier at The Daily Beast: "Although the end abruptly came on Feb. 11 for Whitney Houston, she had in fact been dying slowly—killing herself virtually in full view of the entire world—for years, if not decades." According to Frazier, the problem is that US drug policies focus on punishment rather than treatment: "While we have a seemingly never-ending supply of prison beds for drug sellers, treatment beds for drug abusers in this country are, and always have been, in very scant supply." Houston would still be alive today if US drug policies were different, said Frazier.
Whitney Houston had a huge impact on the music industry and inspired many other singers, said Stylist, publishing a list of stars such as Mariah Carey and Beyoncé who were influenced by her.
Aaron Ramsey to blame. The Sun had an alternative suggestion for the cause of Houston's death: Arsenal footballer Aaron Ramsey. "Every time the Arsenal midfielder scores, a famous figure dies. Whitney was the fourth in under a year," reported the paper. Assuming this theory is correct, Ramsey has also inadvertently killed off Osama Bin Laden, Colonel Gaddafi and Steve Jobs.