The next upcoming episode of True Blood 4.06, "I Wish I Was the Moon", set to air this Sunday on July 31will feature a song by Chicago Americana group The Spares.
"The haunting twang and dark sexiness of The Spares mixed very nicely in the world of True Blood," says Gary Calamar, the show's Grammy-nominated music supervisor. True Blood was also nominated for four Emmy Awards earlier this month.
Calamar chose the song "Mexico" to include in an this episode. The track was written and recorded by The Spares in 2005 for the group's first CD, Hand Me Down. "Mexico" was also named "Country Song of the Year" in 2006 by the Independent Artists Company.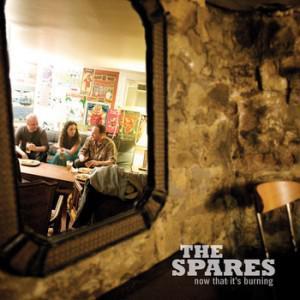 "'
Mexico' is about someone who is frustrated with day-to-day life, and who dreams of making a dramatic change to shake up that routine
," says Steve Hendershot of The Spares, who wrote the song along with lead vocalist Jodee Lewis. "What I had in mind at the time was wanting to quit my job at Northwestern University to be a musician. But I can see how it would apply equally well to the people and vampires of Bon Temps, Louisiana."
The Spares have released three CDs since Hand Me Down, including Beautiful and Treacherous Thing in 2007 (a finalist for "Americana Album of the Year" in the 2009 Just Plain Folks Music Awards) and 2010's Everything Is Easy, released last August at a sold-out concert at Chicago's Old Town School of Folk Music.
True Blood's Calamar was introduced to The Spares by Brooke Blocki of KMA Licensing (http://www.kmalicensing.com), a Chicago-based music licensing company that helps musicians gain television, film and advertising placements.
"We're thrilled to be able to introduce the Spares to millions of people worldwide," says Blocki. "This will also draw national attention to the great independent music that comes from Chicago."
The Spares' original acoustic music has been described as "hauntingly gorgeous" (Maverick Magazine), "simple, aching and hearty" (NewCity Chicago), and "somewhere in heaven between Gram Parsons and Alison Krauss" (Smother Magazine). "Their sound kind of tracks their personal journeys in encompassing the range of the American heartland," says Alison Cuddy of WBEZ (Chicago's NPR affiliate). "That may be why, in spite of the literal spareness of their music, it can be hard to categorize." Indeed, The Spares' songs fuse country, folk, blues and rock. The lyrics are thoughtful and honest, just as the music is raw, beautiful and compelling.
Listen: "Mexico" is available for purchase via iTunes, Amazon MP3 and other Internet music retailers. The song is also available for streaming at http://www.thespares.com/listen/
Upcoming Performance by The Spares: The Spares' next Chicago performance is Friday, Aug. 19 at the Biograph Theater (2433 N. Lincoln Ave., Chicago). 9:30pm, all ages, $15, tickets at thespares.com.
About the Spares: Jodee Lewis and Steve Hendershot formed The Spares in 2005. They write and sing twangy, bluesy, roots music about characters who are desperate and hopeful, buoyant and brokenhearted—sometimes all at once. The stories hint at love and truth in ways that the characters themselves don't always recognize. For more information, visit www.thespares.com.
Gary Calamar, True Blood's Grammy-nominated music supervisor, runs Los Angeles, CA-based Go Music Supervision. In addition to his work on True Blood, Calamar also handles music supervision for House and Dexter, and hosts a radio show at Los Angeles NPR-affiliate KCRW. To learn more about Gary go to: http://www.gomusicsupervision.com/