A chill and rainy mid-morning weekend, our home has become a proper holiday home with all my family members. I always wish to treat them with a delicious dish to their taste buds and a healthy dish for their stomach. Soups would be the best choice for it. Added they would be a best healthy choice too.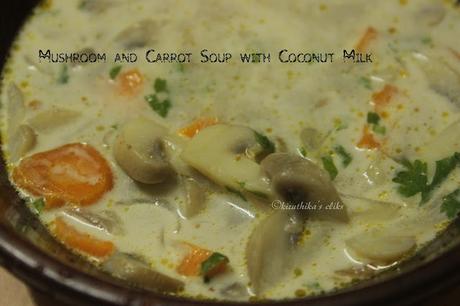 Now a days I am trying to make my daughter to eat on her own, The reason behind my ingredients for the soup: Carrots and Mushrooms. My total family are clear soup lovers. So wanted to give a special flavor to the soup apart from normal ones and decided to add this outstanding coconut milk. A complete and absolute Vegan Soup..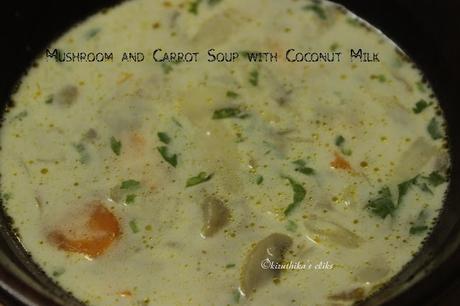 Mushrooms have good source of vitamin B, lots of minerals in them like potassium, phosphorous, selenium and so on. Added they are vegan too. Coconuts are rich in fibre, vitamin C, E, B1, B3 ,B5 and B6, minerals like sodium, calcium and so on. Coconut Milk is the best substitute for milk for people with lactose intolerance and vegan diet.
Prep time 10 minsCooking time 15 minsIngredients 1 cup Mushroom (Cleaned and Chopped)1 tbsp Onion finely chopped1/4 cup Carrot (Cleaned and Chopped)1 tbsp Cilantro (or Coriander Leaves)1 cup Water ( For cooking mushroom and carrot)2 cups Coconut Milk1 tbsp GheeAs per taste  Pepper powderAs per taste  Salt
Procedure
First we will have to cook the mushrooms and carrots.

In a pan, in medium flame, add little ghee and saute the onion. When it turns mushy add the chopped mushrooms and carrots.

Let it to cook by adding water and little salt. If using pressure cooker, wait for three whistle in medium-high flame.

Meantime extract the coconut milk and keep aside.

After the mushrooms are cooked, pour the coconut milk. 

Garnish with chopped cilantro.

Finally add the crushed pepper or pepper powder as per your taste.
Note:
When adding canned coconut milk. you can dilute it if needed.

If you are extracting fresh coconut milk, you can add the first two milk extracts.

Adding small onion or sambar onion would give a great taste. 
A healthy and comforting Vegan Soup is ready to be 
served hot.