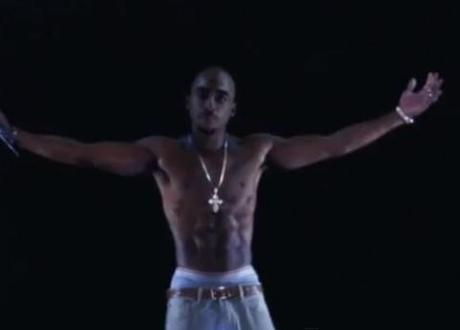 Late rapper Tupac Shakur performs at Coachella 2012
The "resurrection" of late rapper Tupac Shakur in holographic form has given critics pause, with some branding the move "creepy". A hologram of Tupac, who was shot dead in 1996, materialised on stage during the Coachella festival and performed a duet with Snoop Dogg.
The hologram was created by AV Concepts in collaboration with producer Dr Dre. According to The Wall Street Journal, a "virtual Tupac tour" is under discussion.
Watch hologram Tupac Shakur's shirtless performance at Coachella below.
As The Guardian pointed out, this isn't the first holographic on stage performance – or even the first time an artist has duetted with the dead, going back to Natalie Cole's two-hander with late father Nat King Cole. But was Tupac's performance a step too far?
Bad idea. "The Tupac hologram? A red herring, unnecessary and ill advised," was the verdict of Randall Roberts at The Los Angeles Times. Roberts conceded that "there was a certain spring" in the hologram's step, but insisted that, ultimately, the collaboration did not work: "When the hologram rhymed the line, 'my intention's to get richer,' well, we know how that ended up."
Perhaps inevitably, the hologram of Tupac Shakur now has his own spoof Twitter account: "I could have sworn I died with a shirt on," tweeted @HologramTupac.
Creepy. "Watching the cameo on YouTube, the whole thing seems downright creepy—particularly when Snoop Dogg joins him on stage and addresses the Shakur hologram as though he were a real person," wrote David Haglund at Slate. Haglund pointed out that the hologram's creators must have used vocal impersonation as well as previous recordings of the late rapper: "When Shakur first appears on stage, he shouts 'What the f*** is up, Coachella?' To which one wants to reply, 'Good question, hologram of Tupac Shakur. What the f*** is up?'"
Whatever the critics' view of hologram Tupac Shakur at Coachella, the Twitter response was largely positive, with many compliments for the late rapper's abs, as Buzzfeed pointed out.
Let's just bring them all back. "Perhaps, instead of Live Aid, some bold entrepreneur could stage Dead Aid, the greatest bill ever seen in this world or the next: Elvis, Frank Sinatra, John Lennon, Jimi Hendrix, The Doors with Jim Morrison," wrote Neil McCormick in The Telegraph. "And when we've brought back all the dead rockers, we can start on the living ones. How about old Bob Dylan duetting with his younger self."