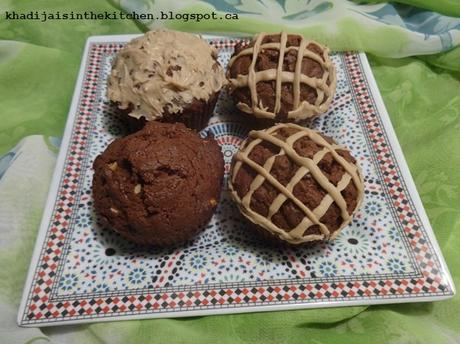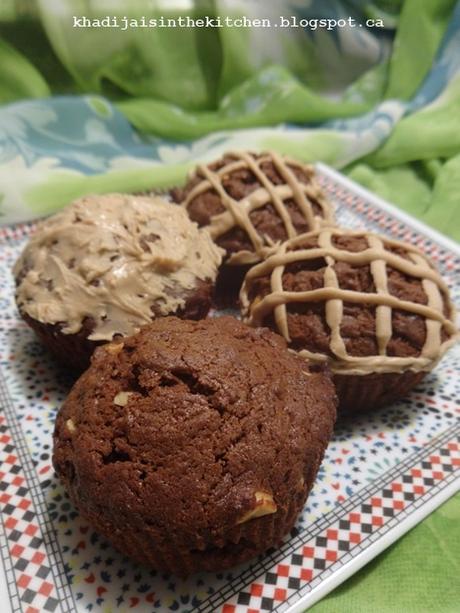 RECETTE /
RECIPE
/ RECETA /
الوصفة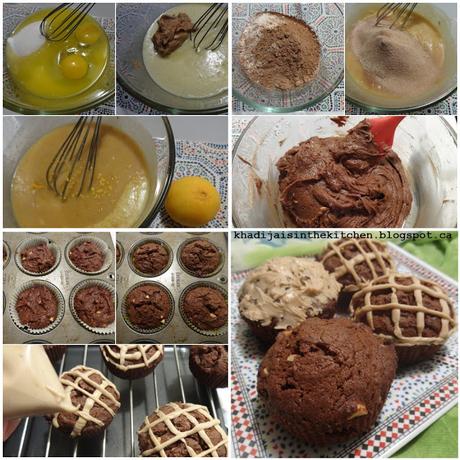 MUFFINS AU CHOCOLAT ET AU BEURRE D'ARACHIDE.
Ingrédients et méthode de préparation (pour 7 muffins):
110g de beurre non salé, fondu
90g de sucre semoule
2 œufs
zeste d'une mandarine ou orange
25g de poudre de cacao non sucré
100g de farine tout usage
½ cuillère à café de poudre à pâte (levure pâtissière)
Une pincée de sel
100g de beurre d'arachide croquant
50 g de pépites choco-caramel ou autres (facultatif)
1. Préchauffer le four à 350 degrés. Mettre les caissettes à muffins dans le moule à muffins et mettre de côté.
2. Dans un grand bol, battre le beurre, le sucre et les œufs environ 3-4 minutes. Ajouter le beurre d'arachide puis le zeste de mandarine et battre jusqu'à l'obtention d'un mélange homogène.
3. Dans un autre bol, mélanger la poudre de cacao, la farine, la poudre à pâte et le sel.
4. Tamiser graduellement les ingrédients secs par-dessus les ingrédients humides et mélanger jusqu'à l'obtention d'une pâte homogène. Ne pas trop mélanger.
5. Répartir la pâte entre les caissettes à muffins.
6. Cuire au four pendant 20 à 25 minutes ou jusqu'à ce qu'un cure-dent inséré dans un muffin en ressorte propre. Laisser les muffins refroidir dans le moule pendant 10 minutes, puis les transférer sur une grille jusqu'à refroidissement complet.
7. Faire fondre les pépites choco-caramel et en décorer les muffins.
******************************
CHOCOLATE PEANUT BUTTER MUFFINS
Ingredients and how to (for 7 muffins):
110g of unsalted butter, melted
90g of caster sugar
2 eggs
Zest of one mandarine or orange
25g of unsweetened cocoa powder
100g all-purpose flour
½ teaspoon of baking powder
A pinch of salt
100g crunchy peanut butter
50 g choco-caramel chips or other chocolate chips (optional)
1. Preheat the oven to 350 degrees. Line a muffins pan with 7 paper liners and set aside.
2. In a large bowl, beat the butter, sugar and eggs for 3-4 minutes. Add the peanut butter, then the mandarine zest and beat until the mixture becomes homogeneous.
3. In another bowl, whisk the cocoa powder, all-purpose flour, baking powder and salt.
4. Gradually sift the dry ingredients over the wet ones and mix until smooth. Do not overmix.
5. Divide the batter between the paper liners.
6. Bake for 20 to 25 minutes or until a toothpick inserted into a muffin comes out clean. Let the muffins cool in the muffins pan for 10 minutes, and then transfer them to a rack until completely cooled.
7. Melt the choco-caramel chips and decorate the muffins.

*********************************
MUFFINS DE CHOCOLATE Y MANTEQUILLA DE MANÍ
Ingredientes y elaboración (para 7 magdalenas):
110g de mantequilla, derretida
90g de azúcar en polvo
2 huevos
Ralladura de una mandarina o naranja
25g de cacao en polvo sin azúcar
100 g de harina común
½ cucharadita de polvo de hornear
Una pizca de sal
100g de mantequilla de maní crujiente
50g de chispas de chocolate (sabor caramel) u otras (opcional)
1. Precalentar el horno a 350°F. Preparar las cápsulas de papel para muffins en el molde. Dejar de lado.
2. En un tazón grande, mezclar la mantequilla, el azúcar y los huevos hasta que estén bien combinados. Añadir la mantequilla de maní y la ralladura de mandarina y mezclar hasta que la mezcla sea suave.
3. En otro tazón, mezclar el cacao en polvo, la harina común, el polvo de hornear y la sal.
4. Tamizar gradualmente los ingredientes secos sobre los ingredientes húmedos y mezclar hasta que la masa quede suave. No mezclar demasiado.
5. Dividir la mezcla entre las capsulas de papel para muffins,
6. Hornear durante unos 20 a 25 minutos o hasta que un palillo insertado en un muffin salga limpio. Dejar que las magdalenas se enfríen en la molde durante 10 minutos, luego transferirlas a un rejilla hasta que se enfríen.
7. Derretir las chispas de chocolate y decorar los muffins.
************************************** 
مافن
الشوكولاطة و

زبدة الفول السوداني
المكونات وطريقة التحضير ( 7 حبات مافن):
110 غرام زبدة غير مملحة، مذابة
90 غرام من السكر
سنيدة
بيضتان
قشرة ماندرين او برتقالة محكوكة
25 غرام من مسحوق الكاكاو غير المحلى
100 غرام دقيق ابيض
½ ملعقة صغيرة من خميرة الحلوى
قبصة ملح
100 غرام زبدة الفول السوداني المقرمش
50 غرام من حبيبات الشوكولاطة بمذاق الكراميل او اي نوع اخر (اختياري)
1
.
يسخن الفرن على درجة 350 فهرنهايت. تحضر قوالب المافن و تترك جانبا.
2. في وعاء كبير، تطرب الزبدة والسكر والبيض لمدة 3-4 دقائق. تضاف زبدة الفول السوداني، ثم قشرة الماندرين و يخلط الكل حتى يتم الحصول على مزيج متجانس.
3. في وعاء آخر، يخلط مسحوق الكاكاو والدقيق وخميرة الحلوى والملح.
4. تغربل المكونات الجافة فوق المكونات السائلة تدريجيا ويمزج الكل حتى يصبح الخليط ناعما. لا يجب الخلط كثيرا.
5. يقسم الخليط بين قوالب المافن.
6.تخبز حبات المافن لمدة 20 إلى 25 دقيقة. تترك لتبرد مدة 10 دقائق في قالب المافن ، ثم تنقل إلى شبكة الحلوى حتى تبرد تماما.
7. تذوب حبيبات الشوكولاطة ثم تزين بها حبات المافن.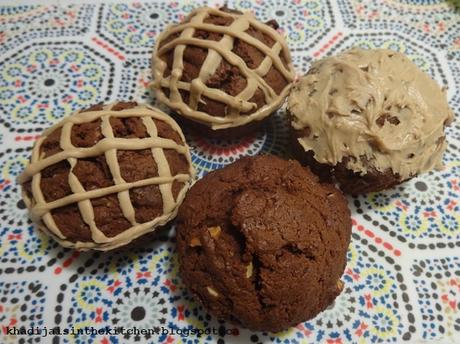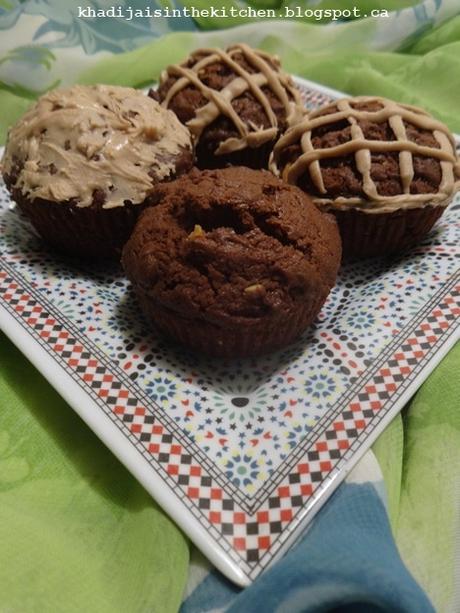 ****************
Hope you'll enjoy!!

****************
Merci de votre visite / Thank you for your visit /Gracias por su visita/

شكرا على زيارتكم
Pour d'autres idées de cuisine / For other cooking ideas / Para otras

ideas de cocina /

من اجل افكار اخرى للطبخ

:

Facebook

,

Instagram

,

Pinterest