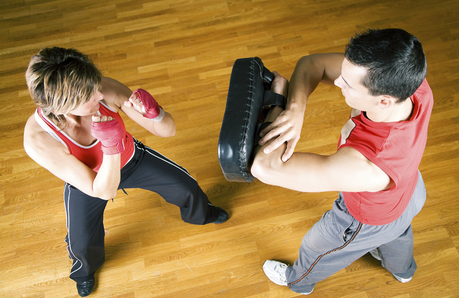 When people think of Muay Thai, they usually picture some very strong athletes involved in fierce fighting. But, Muay Thai is not just a martial art or sport anymore. This is also a very popular way to get in shape among men and women of all ages. In other words, people use Muay Thai training for fitness purposes too. There is no need to step into the ring or to avoid or take punches and kicks, so you should not worry about head trauma and injuries. Instead, Muay Thai training has adjusted the movements of this martial art and turned them into an efficient exercise routine. This type of combat sport and training comes with many health benefits because it makes students think, switch their positions and adjust their posture all the time.
Taking classes
In order to take proper Muay Thai classes, you need to travel to Thailand and join a training camp there. You can find camps like this everywhere in Thailand because this is their national sport. Most of these camps accept foreigners interested in using Muay Thai training to get in shape. If you want to be sure that the camp that you are interested in accepts this type of students, simply visit their website to get more info.
Traditional Muay Thai training usually involves sparring with a partner. However, Muay Thai training for fitness purposes includes throwing kicks and punches in the air or kicking and punching pads and bags. During these classes, students must perform a wide range of exercises. This is one of the main reasons why so many people are impressed with Muay Thai. Namely, these exercises are versatile and they active the entire body. With these exercises, it is very difficult to get bored. They are challenging and fun and what is even more important - they are adequate for every category of people.
Advantages of taking Muay Thai training classes
According to many experts, Muay Thai training is by far one of the most efficient types of fitness activities out there. We won't analyze these claims, but we can agree that Muay Thai brings many health benefits. First of all, it makes people stronger. All those swings and movement are increasing your arm and leg strength and strength in general.
Muay Thai training is also an excellent aerobic exercise. An exercise like this will increase your heart rate and lower the chances of experiencing hypertension, diabetes, stroke or heart disease. Additionally, this type of activity makes your muscles and bones much stronger, eliminates calories faster and improve mood too. Aerobic exercises that are part of Muay Thai training will boost your endurance too.
It's also worth mentioning that Muay Thai improves specific brain functions and it provides better balance.
Muay Thai training at Suwit Muay Thai is suitable for almost every category of people. Before the training starts, a professional trainer will evaluate your condition and give you advice. Follow their instructions to feel all the benefits we've mentioned