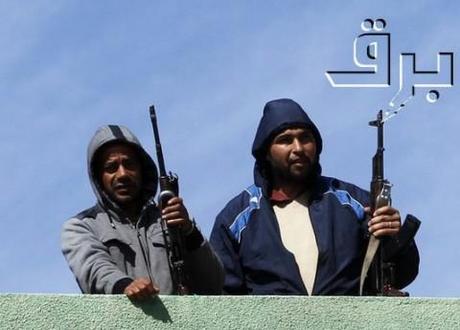 Gunmen opposed to leader Muammar Gaddafi stand guard on a rooftop in the centre of the city of Zawiyah, March 5, 2011. Photo credit: B.R.Q. http://www.flickr.com/photos/brqnetwork/5510816848/
Reuters report
The taking of Zawiyah is an important development given the city is home to the country's only functioning oil refinery and along the supply route to Tripoli from Tunisia.
In typical fashion, Gaddafi has hit back at reports that his regime is teetering. In a speech early on Monday, which was delivered over a poor quality telephone line and broadcast by state television in audio only, he urged supporters to "move forward, challenge, pick up your weapons, go to the fight for liberating Libya inch by inch from the traitors and from NATO … The end of the rats (rebels) is near, as they flee from house to house while the masses hunt them down."
Rebels in strongest position yet. Missy Ryan on Reuters said that while Tripoli is not under "immediate threat," the rebel forces are "now in their strongest position since the uprising." She revealed that a "source" who spoke "on the condition of anonymity" told Reuters that government and rebel representatives met on the Tunisian resort island of Djerba on Sunday.
Beginning of the end for Gaddafi. James Hider of The Times (£) insisted that the rebel breakthrough to Zawiya "marks the beginning of the end for Gaddafi. Not only does the capture of the town represent the cutting of a crucial supply route to Tunisia and the loss of one of his last oil refineries, it brings the western front to just 30 miles from his last bastion,Tripoli." Hider suggested that many of Gaddafi's fighters are "opportunists … who may, now that the tide appears to be changing, throw in their lot with the rebels."