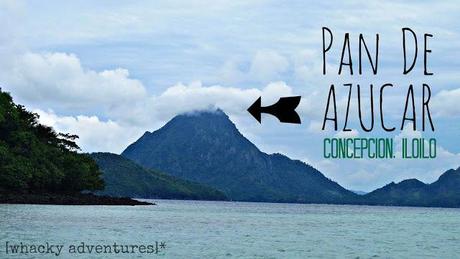 Mt. Manaphag a.k.a Pan de Azucar
The Iloilo-

Guimaras trip was about to reach a big finish but we couldn't let it pass without getting a good look of Pan de Azucar. Plus, I still have an unfinished business with Sandbar Island Beach Resort as I have not gotten any peak of the bed of corals. W

e were still hopeful though, hoping that there's something good in store for us before we head home to Cebu. So, off we go to location # 2.1 before we finally give this trip a close.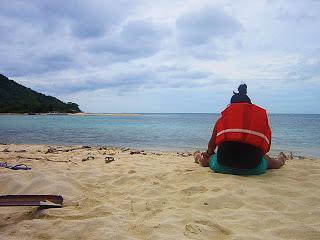 Stranded? Lost? Or just hanging around?
Time check: 6:00AM++
Location: Sandbar Island Beach Resort
(Still) gloomy bed weather.
The sun wasn't at all shiny and bright when we got up. I, for one, was hoping it was gonna be sunny and nice but it wasn't. It was all gloomy, and cloudy; a weather conjunctive to bed rolls. Bohoo. #justourluck. However, that's not going to stop us from exploring the beauty of Concepcion, Iloilo. #optimisticmuchsomuch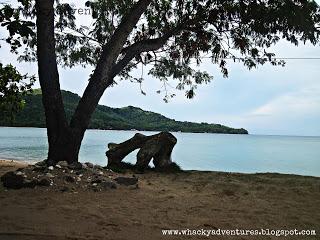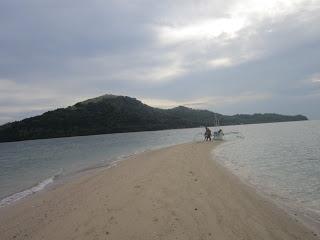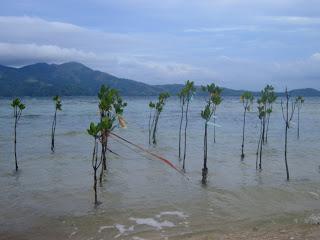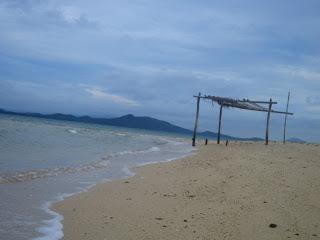 But, first thing's first - securing the grub. Early that morning, Kuya Sonny offered us a ride over at a neighboring island where we could secure fresh seafood for our island hopping later. Being a natural curious cat, I immediately went with the bunch.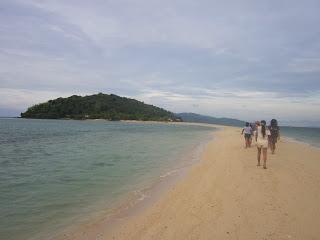 The island (which I forgot to ask the name of) was just a good 10-minute boat ride from Sandbar Island Beach Resort. It was where most of the fishermen bring their catch ready for selling. Sort of, the first step in the seafood market chain. They were much like suppliers in the game of economics. Prices were not that high as, and can get even lower depending on your haggling skills and charm. #TrueStory
Bagsakan: A frenzy of fresh catches
As soon as the boats dock, tons of fresh catch (fish, crustaceans, among others) were segregated which would then be shipped to respective public markets in the nearest towns. The ones they didn't need are then gathered on the shoreline for scavenging. Okay, I'm exaggerating; more like setting apart the ones they can sell. These 'rejects' (or the ones that were not up for bidding) were small fishes/creatures that were negligible in terms of demand in the market. Locals could either eat or sell them afterwards.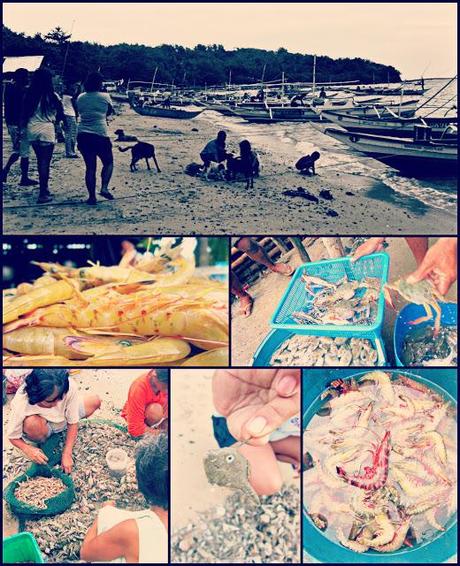 Why fit in when you were born to stand out? ~ Dr. Theodore Geisel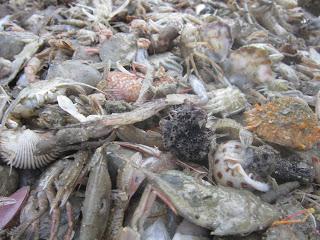 The off-market-demand catch. Poor creatures.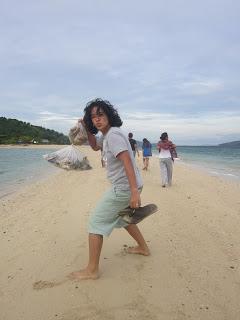 Kaye, happy as can be with the purchase. :)
Since we hadn't brought any cooking utensils with us, Kuya Sonny was kind enough to lend some of his stuff. Booyeah!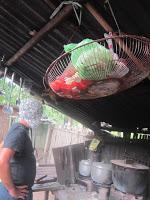 cooking like a boss, and NO, that's not a lifevest underneath the shirt.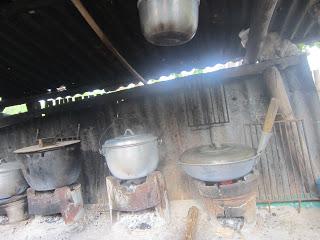 Kuya Sonny's dirty kitchen.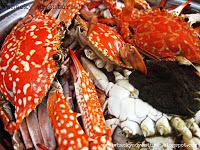 Lunch is served.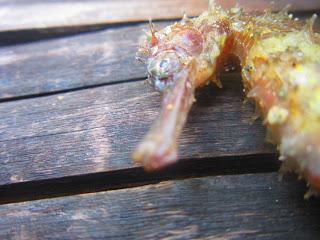 Nope, not part of our lunch. The poor guy got caught on the  fishing frenzy.
Quickie Island Hopping
A cup of rice (isa lang talaga, promise) and a plate-mix of eggs/pancit canton/canned sardines later, we were all pumped up for the island hopping tour in search of the bed of corals. No time to waste, we only have about 5 hours to spare before we head on back to Cebu.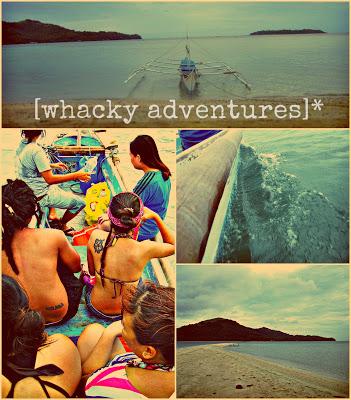 Source: Wikipedia
The Municipality of Concepcion is a 3rd class, coastal municipality in the province of Iloilo, Philippines, located on the northeastern part of Panay Island (known as the mainland), together with some 16 other, smaller, associated islands. 

It is bounded on the north by the municipality of San Dionisio, in the south by the municipality of Ajuy, in the west by the municipality of Sara, and in the east by the Visayan Sea. It has a total land area of 9,702.04 hectares.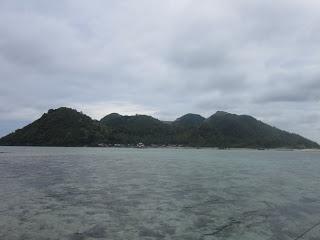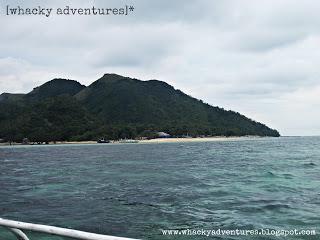 Agho Island We were to take a stop at Agho Island for our first stop but the entrance fee (100/person)+boat parking fee (250/boat) didn't sound like a good deal considering that we'd be spending too less of a time. The option? The island right across Agho. It was FREE! :)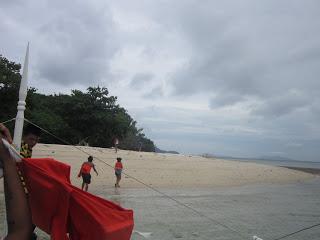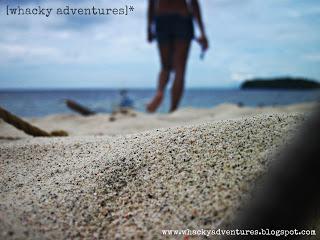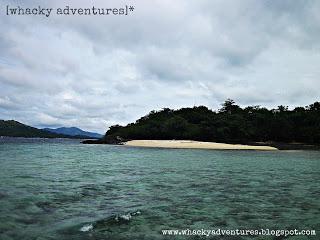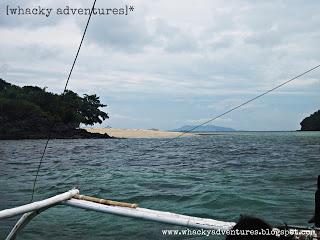 The (i-forgot-the-name) island has a short white sand shoreline, where you will find some debris on the left side, and a rock formation on the right. There were shrubs and trees suitable for chillaxing on a hot day as there were no cottages found on it. According to Kuya Rex, our boatman and guide, the island didn't have any settler, and if it the tide was low enough, another sand bar emerges allowing anybody to cross to the neighboring island.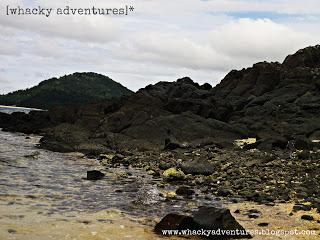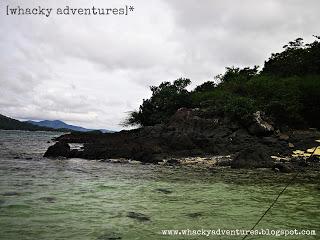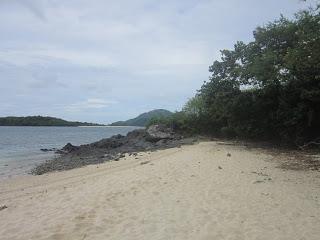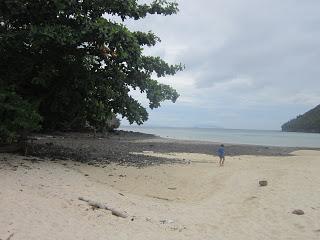 a poor 180 degree view (or what appears to be.) It didn't take us to hard or long of a swim to find what we were looking for. Corals, fishes, bottom feeders and other marine life were found on shallow waters.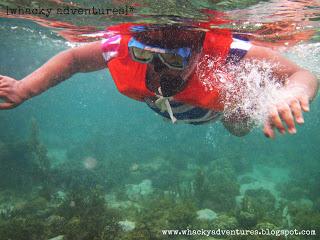 ..the search for the bed of corals begins.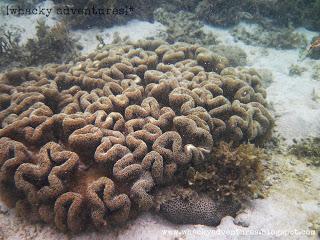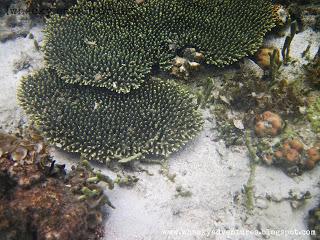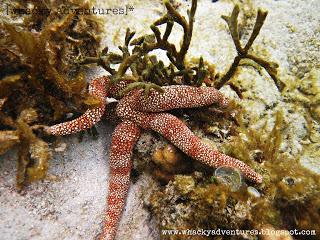 Apart from snorkeling, swimming like a cow, sun worshiping to a crisp-burnt, and beach bumming like a boss, me and the gang found a way to entertain ourselves, and waste time by cam-whoring.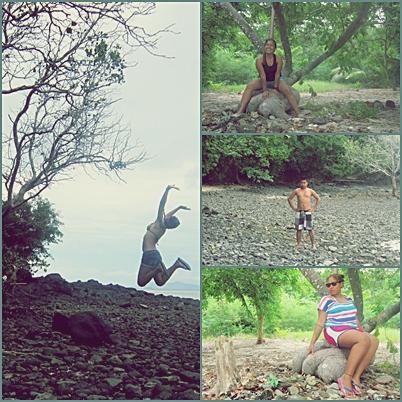 Mandatory jumpshot c/o Osang on the right.
Poor imitation of a porn star c/o Pia on top
Poor imitation of a hunk c/o Whacky
Poor imitation of a FHM babe c/o Tabian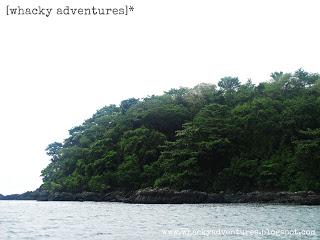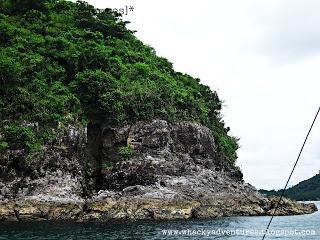 Mt Manaphag / Pan de Azucar
 
Among Concepcion's islands, 

Pan de Azucar island, is most popular destination 

because of the towering mountain, called Mt. Pan de Azucar or Mt. Manaphag, overseeing the neighboring islands like a watch tower. It is also

 largest of the 16 islands Concepcion has, at about 1840 hectares with the 573-meter Mount Manaphag rising from like a boss.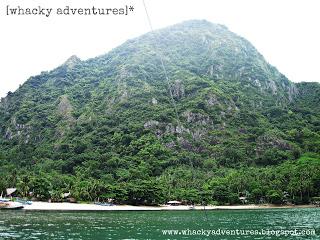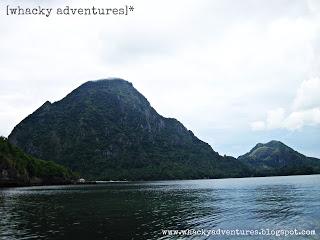 According to legend, a giant named Toya used to inhabit the summit of Manaphag. Toya takes a bath in a lagoon on the summit, using for a scoop the shell of a gigantic manlot or clam. It is also home to white-breasted hawks and a community of wild monkeys.
Source: http://www.exploreiloilo.com/mt-manaphag-also-called-mt-pan-de-azucar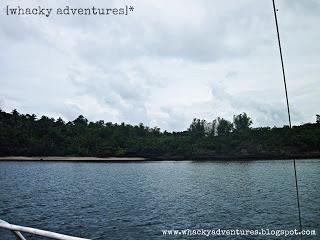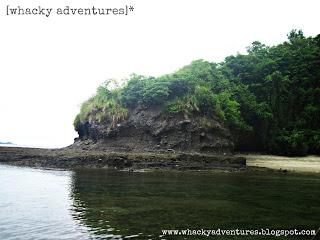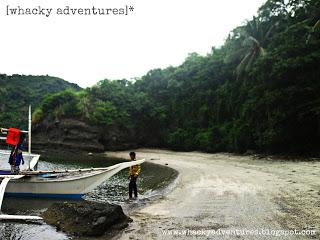 I would've wanted to get a vista view of the island and see Pan de Azucar up close by climbing
Hampangan Rock
 but there was just no time. We docked on shoreline beside Pan de Azucar's main shoreline for a quick lunch and dip.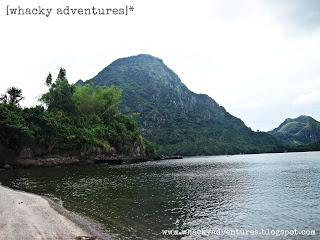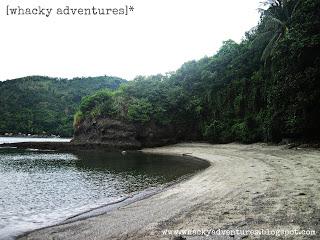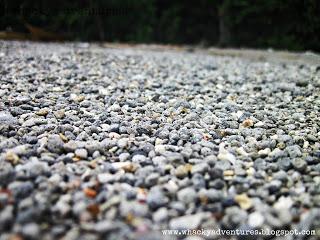 We docked on a gray pebbly-kind of shoreline. The water was clear but looked really dark because of the pebbles that it had on the bottom. I did try to snorkel but didn't find anything that's interesting.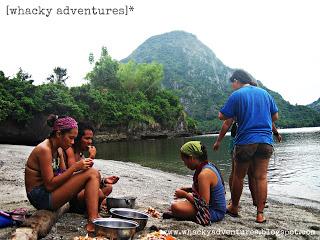 Lunch ala cowboy with Mt Manaphag on the background.
 If I remembered correctly, we didn't really spend much time on the island. We just the lunch we brought earlier because we were really running out of time. I would have loved it if we have a day or two as I really got curious with Pan de Azucar. Our guides didn't know why it was named such. They just thought it looked like bread with white sugary coat on its tip.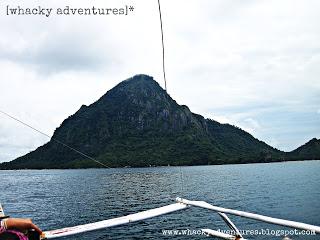 It was about 2PM when we got back to Sandbar Island Beach Resort. We were behind schedule. It was still gloomy so we need to hurry up so we can catch the flight. It was do or die.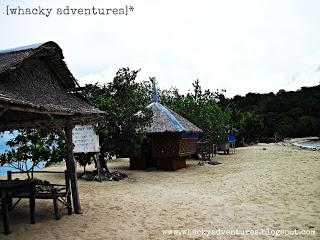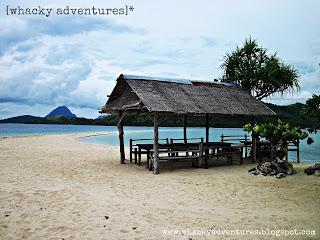 It started drizzling when we got back to Brgy Poblacion, Concepcion, and worst thing was that the scheduled bus for that day already left. We have no choice but to go to the neighboring municipality's bus terminal. It was a good 30-minute drive to the town of 
Sara.
 Another, do or die moment.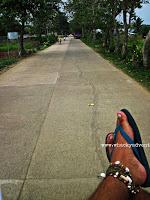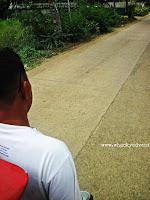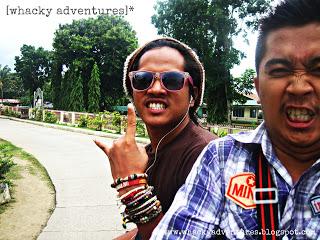 Bulingit on the background, and yes, I have the triple chin.
A tricycle driver offered bring us to the nearest bus terminal which is a town away. We said it was impossible to fit 8 people in a 6-seater tricycle. But Kuya driver said he does it everyday. Who wouldn't get assured with those statement right? Well, we had him arrange us in his tricycle only to find out that 2 of us needs to be on the top load. Hellsyeah!  I was up for it. Literally. Booyeah!
To cut it short, we did catch the flight, by a hair. Wohoo!
**END**
Whacky* Notes:
How to get to Sand Bar Island Resort Concepcion Iloilo from Guimaras?
Catch an outrigger from Buenavista or Jordan Port, Guimaras bound for Ortiz or Parola Port, Iloilo.
From the port, take a tricycle to the nearest jeepney stop. Tip: Tell the driver you are heading to SM Iloilo so they can get you to the jeepney stop bound for the mall.
Take a jeepney going to SM Iloilo. From there, hail another jeepney or cab bound for Tagbak Terminal. 
From Tagbak Terminal, look for the bus bound for Concepcion. Ride the bus and ask the conductor or driver to drop you off at the Public Market or Police Station, which is where the drop off point is for Sand Bar Island Resort.
Make sure to contact Kuya Sonny prior to trip so he can arrange a charter boat for you guys.
CONTACT INFO:
Sand Bar Island Resort
Kuya Sonny 
Eusala
63.906.819.7516
Concepcion Municipal Tourism Office
Mario Lazarito, Municipal Tourism Officer
63.919.458.8451
Whacky* Thoughts:
I realized that Concepcion is very blessed to have such a large volume of marine territory. Although the weather didn't cooperate the whole time we've been there, I was still able to see the glimmer of beauty and potential Concepcion has. We didn't have much time to explore but that just gave me more reasons to come back. 
With all honesty, I didn't have a blast on my trip to Guimaras and Iloilo because I had expected too much. I realized my
OC
extensive research didn't do much for me as it only raised the expectation bar so high, I didn't have the time to take it slow and enjoy whatever came my way. I'd probably redo the whole trip and iti if given the chance.
Photo credits: 
Thanks to 
Osang
 and 
Tabian
.
Guimaras Series:  of sweet mangoes and memories
Iloilo-Guimaras Hullabaloo [Teaser] 
Iloilo-Guimaras: the bitter-sweet escape
Our Lady of the Philippines Trappist Abbey
View of Iloilo at Balaan Bukid Shrine
Of sweet mangoes and good laughs at Guisi Lighthouse
..the good, the bad and the ugly side of Alubihod
A Sandbar Island Beach Resort, Concepcion, Iloilo Sidetrip
Mt. Manaphag a.k.a Pan de Azucar and the islands of Concepcion, Iloilo
Check out the 
video 
we made just to stop that damn Nicki Minaj from ringing in our heads. Talk about LSS.