"No woman; no cry" – Bob Marley.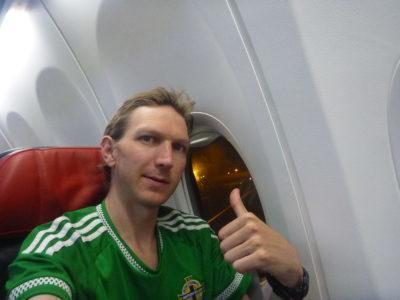 #MSMLostLuggage Challenge with Money Supermarket: Top 5 Problems I Had
In my attempts to try and pretend I am a hardcore backpacker, and could slay any beast at the drop of a visa issuance, I headed to Africa on a crazy 12 day trip away from my laptop, my backpack and almost everything I had previously backpacked the world with the past decade or so. Oh, so this is the challenge…thanks to Money Supermarket.com for sending me out to Senegal, and the Gambia for this crazy mission! I buzzed, I loved, I smiled, I cried but I had issues, I had problems.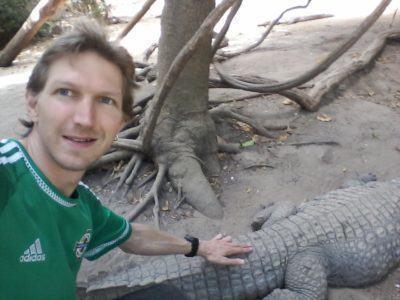 Stroking Crocodiles at Kachikally Pool, Bakau, The Gambia
While I got through it, of course there are positives and negatives to traveling without luggage and I'll do two posts on this issue – one on the problems and one of the benefits. Some of us find it easier to cope than others, but one thing is definitely in my mind more now than ever before – travel insurance, at least for piece of mind and monetary gain IS IMPORTANT.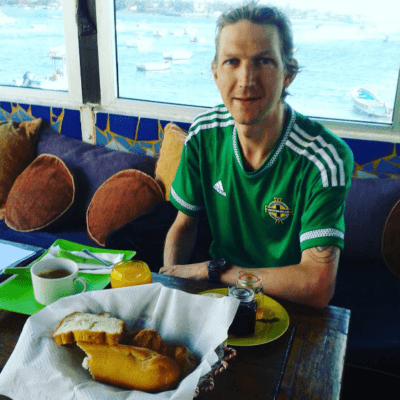 Breakfast at Maison Abaka Dakar Senegal
For me, it's not the be all and end all to have that back up of travel insurance, I used to think like that, but I was being selfish. Travel insurance is damn important, on the grand scheme of things. My Mum and Dad would never travel without it, neither would some of my friends and fellow backpackers. And of course you saw that I went to Afghanistan and Antarctica with travel insurance in the past. It took a challenge like this to turn my opinion round, to realize the benefits and perhaps, for once to stop being so selfish.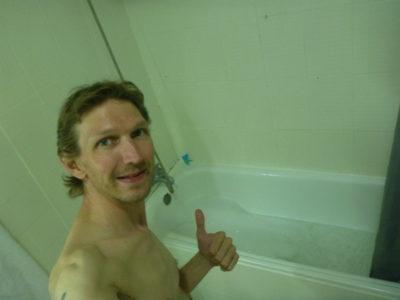 Time for a bath in Senegal
One thing I realised when I had to wear the same clothes for days on end, you become dirty, you shower more, you are reluctant to spend money on new clothes if you are not covered by travel insurance. The same with buying new toiletries and adapters for your camera battery. If you have travel insurance, you can buy all these things, keep the receipts and beg for your money back as it was caused by issues beyond your control.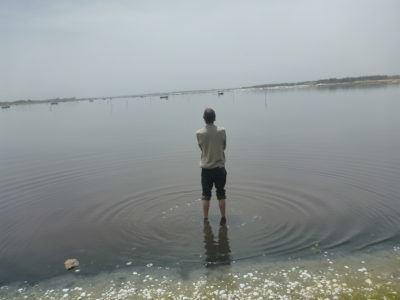 Daydreaming at Lac Rose in Senegal
Over the 12 day period (2 days in airports/buses and 10 days in Senegal and Gambia), these are the top 5 problems I faced due to the fact that I had no luggage. These are my personal top 5 problems, I've written this from the mind of a hardcore backpacker and business traveller of course, rather than a family holiday or a long term hitch-hiker, but some similarities are at play.
"But don't look back in anger, I heard you say" – Noel Gallagher.
1.No Laptop: Boredom and Anger
I got really frustrated not having my laptop. I won't lie to you – I lost time patience and money. I reckon I was down about $1,500 in money as I couldn't reply to clients or type up articles in time and it wasn't even the money that was the issue. It was the fact that my brain was brimming with ideas, with thoughts of what to write, yet I had no computer to type with. So instead, I handwrote everything, which means double the work if I ever wanted to publish those thoughts. Most of my handwritten notes, will, never see the light of day.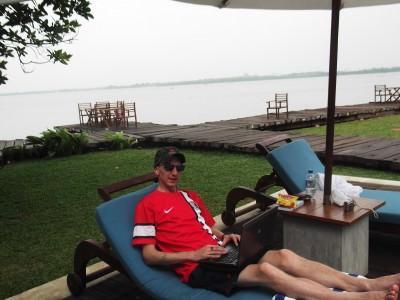 Days like this simply didn't happen
I have a clever phone with me but I can't type on such a small screen, I can't upload photos from my camera onto the blogs, I felt lost. I cursed my life away and I hated it. Instagram was a saviour, as was using What's App (when it worked) to contact friends and family.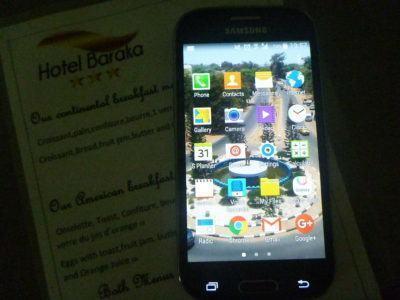 Trying to succeed at blogging on my phone…
How I dealt with it – I resorted to Instagram photos synced to Facebook, a generic "Sorry I'm in Africa and I've no laptop" response to important emails (copy and pasting this on a phone was horrendous). I resorted to my hand written notebook and pen which was how Don't Stop Living began life. I didn't cope well with it and I know I've lost time and money on it, but I can't dwell or I cannot really complain!! This was my challenge, my dream, my choice. So I shouldn't complain, should I? I shouldn't but I needed to tell you the problems I had, I needed to write a negative article like this and highlight the benefits of travel insurance and the benefits of backpacking over traveling with no backpack like a raider of a lost arc.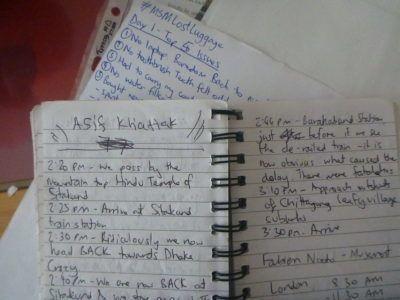 Hand writing my travel stories
But it's not even that I write about travel to make money, it just happened that the money came, it was hard to go back to writing everything on pen. I couldn't even type up chapters of my book. I was lost, and I got bored. So I spent more time offline than before. It became a bit boring I have to admit. I went to the bar and tried to talk to people, I lay on the beach on my own and I lay in bed for periods in the afternoons, doing nothing. Sod all.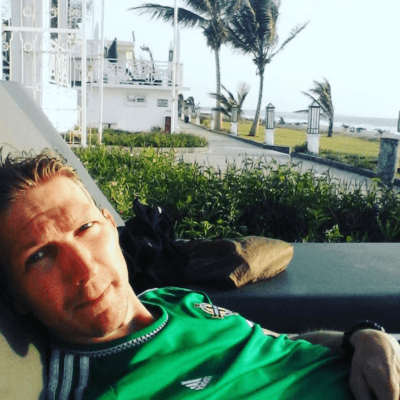 My Lonely Life: Chilling out at Coco Ocean Resort and Spa Gambia
On the fourth day, the Coco Ocean Resort and Spa allowed me to use their computer so this saved my bacon for a day or two as I could type on a keyboard and got one blog post done and about 20% of emails replied to.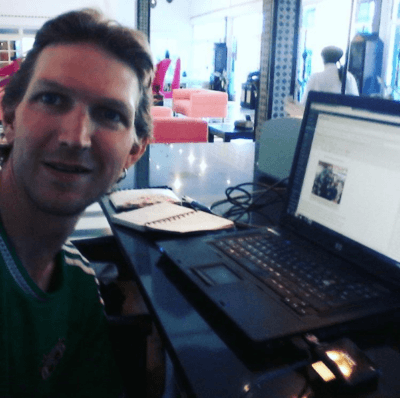 Blogging at Coco Ocean Resort and Spa Gambia
2.No Toothbrush: Teeth Felt Odd
After 3 days I still hadn't located a toothbrush. Turkish Airlines didn't have one in the cupboard of their plane toilets and neither did my first two guesthouses so I had to go out and get one. My teeth felt really odd by the morning of the fourth day.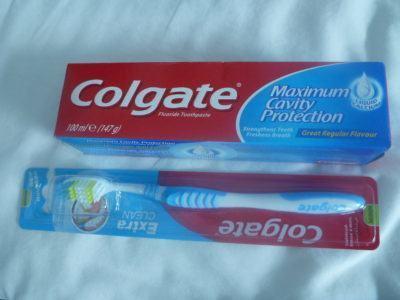 Toothbrush and toothpaste became essential
How I dealt with it – I made sure I bought a good toothbrush and toothpaste under 100 ml so I could get it back on the flight back out of Africa. A toothbrush is essential. Soap and shampoo, less so as almost every hotel/hostel can lend you these. You need a toothbrush.
3.I Had to Carry My Coat: No Backpack to put it in!
As I started my journey in England, I wore my large overcoat as it was chilly there on my night time arrival into Gatwick. However, in Africa, I didn't need it. I felt more ironical than Alanis Mozarrella and I'll tell you why…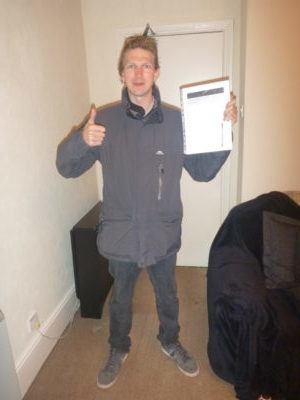 This coat I wore to the airport, then it was too hot!
Basically I was here on a Lost Luggage challenge, yet ironically my biggest item, this coat, I didn't even need it! In the day times I left it in my hotel room, no problem, easy. But when I was out traveling from town to town, and across the borders, I needed to physically carry my coat in one hand (or wear it in the heat – too hot!). It was annoying that I had no backpack to put it in. Everything else I had fitted in my pocket – the coat didn't.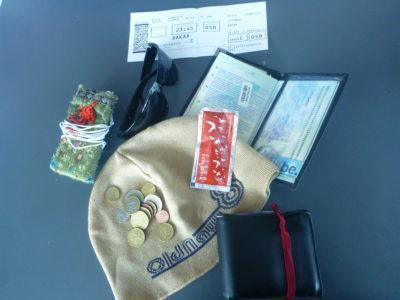 All this fits in the pocket – a coat doesn't
How I dealt with it – I bought a small carrier bag to put my coat and toiletries in. I then had to carry this bag too, but it could hook onto my shoulder and wasn't heavy. I missed having a backpack so much. And how stupid to carry a coat with me everywhere. I felt a bit stupid at times.
4.No Water Filter Bottle: Spending Extra Money
If you have followed my journeys you will know that I never pay for water, it's simply a waste of money as far as I'm concerned and I buy about 2-3 small bottles of water per year when forced to and that's it. Here, as I didn't have my trusty water filter bottle, I couldn't drink tap water or find water for free easily. So I had to go out and buy bottled water.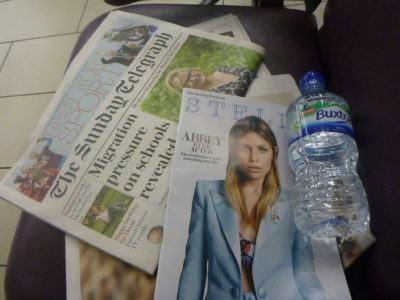 Ouch I bought water
How I dealt with it – I had to bite the bullet and in the end I bought at least a bottle of water everyday. But it was also the time I had lost, when I used to spend 20 seconds in my hotel rooms filling up my water filter bottle, now I was walking to far away shops to buy them, or paying the extra money to buy them in my hotels. On the flights, Turkish Airlines provided me with some extra mini waters, but in the heat they don't last long. And thanks to the Sunday Telegraph at Gatwick Airport where you get a free bottle of water if you buy the paper. I was going to buy a paper anyway so this wasn't much extra expense.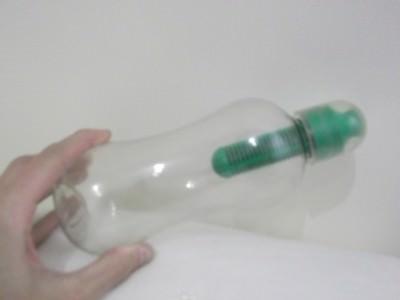 My water filter bottle which I missed.
5.Buying Things: Nowhere to Put Them
What I hated was the fact that even when I did buy things – newspapers, fridge magnets, water bottles, toiletries, spare socks and pants…I had nowhere to put them! I was going from town to town and staying in different hotels and had to carry everything. Also the things I was picking up for free – toiletries, tea and coffee – I ended up carrying them in my pockets and hated it – I felt smelly and overloaded.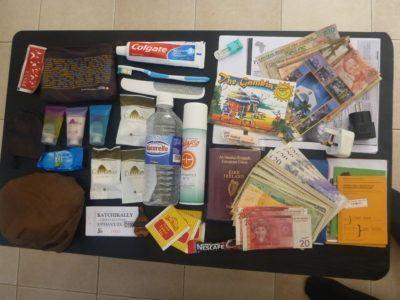 I had to buy a bag to put all this in
As well as these problems, I noticed that I spent more money on food, beer and coffee on this trip. The reason being, probably because I didn't have my laptop. On those moments when I got bored of not having my laptop, instead of typing on my phone or writing notes, I headed to the bar, or the coffee shop, or I went to the shop and bought more food.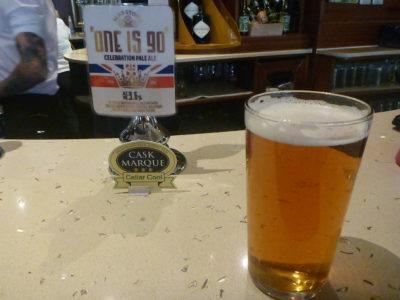 Bored at Gatwick Airport – pintage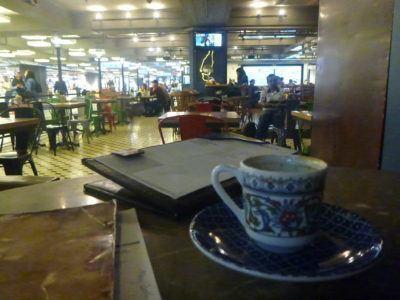 Bored in Istanbul Airport – coffee time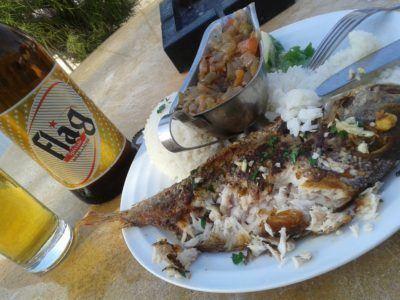 Bored in Senegal – beach fish and beer
"You didn't buy clothes??" – Johnny Ward (One Step 4Ward).
A few readers and friends expected me to buy a load of clothes and then carry them around with me, which would be lunacy in my eyes. But seriously, as for buying extra clothes, this wasn't needed. I picked up some pants and socks and a blanket on the flight that doubled up as a towel and a dress (when I was chilling in hotel bars while my jeans dried). But every hotel I stayed in had a towel. I had my own pool in two of the four resorts. The sun was hot so I washed and dried my clothes every day for 10 days, and they dried quickly, I usually left my jeans out at night to dry as well.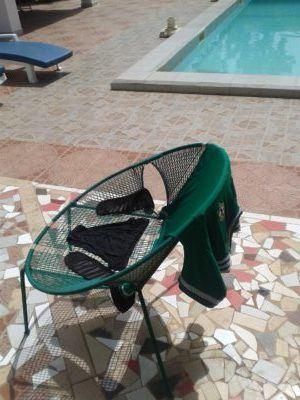 My clothes dry in the mid-day sun of the Gambia
That proved easier than I thought but overall, if you are traveling on a holiday for a short length of time, you need your luggage. It is important to you. I missed my laptop and water filter bottles much more than I expected and I WILL NEVER do it again unless a company challenges me to it. So get your travel insurance sorted with Money Supermarket.com and have a safe and happy trip!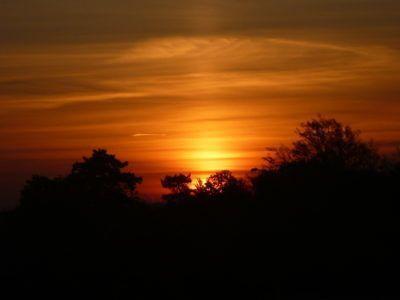 Sunset in Gatwick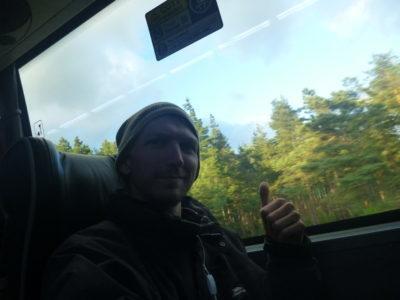 Safe travels!
Join 15,017 Monthly Readers! If you enjoyed this article and LOVE travel and SAVING money, get e-mail updates from Don't Stop Living – a lifestyle of travel! (It's Free) 😉 Jonny