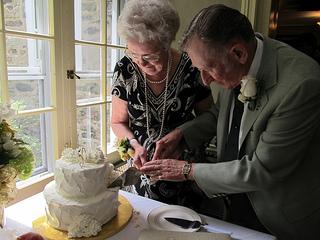 Photo by Amy Loves Yah. 
It's sometimes difficult for young people to imagine, but older adults need love and sexual contact.  Yes, sometimes age-related issues interfere with their abilities to pursue emotional and physical relationships.
Nevertheless, most people seek to clear these roadblocks.  Grappling with these conflicts makes for good movie material.
Hollywood love stories often focus on romance for those 15 to 35, but a growing  number of comedies and dramas are focusing on love and sex concerns for those middle aged and older.
Here is a short list of these films.
The Best Exotic Marigold Hotel (2012)
deals with a number of age-related issues for a group of Britons who decide to retire in India. A couple of the plot lines deal with relationship troubles for mature adults: old love, new love, lost love, etc. The cast includes a number of great actors including Judi Dench, Bill Nighy, Maggie Smith and Tom Wilkinson.
Hope Springs (2012).
Meryl Streep and Tommy Lee Jones star as a couple married decades who have drifted apart emotionally and sexually.  The husband is happy with the status quo, but the wife demands a change--one way or another.  A painfully realistic portrayal of the complexities of long-term relationships.
The Curious Case of Benjamin Buttons (2008)
. Cate Blanchett and Brad Pitt star in a film where the man is born old and grows young.  This gives the film a chance to consider various age-related conflicts for couples such as age differences as well as long-term relationship conflicts.
Last Chance Harvey (2008)
. Emma Thompson and Dustin Hoffman star as two mature adults who meet while the man is in town for his daughter's wedding.  Because of their age, they have a little baggage to manage on the road to love.
Play the Game (2008).
Any Griffith plays an older man trying to date again after his wife dies. His grandson offers him tips on how to romance women.  As a comedy, some age-related issues are distorted, but there are still some realistic elements portrayed.
Innocence (2000).  
A woman in a long-term marriage starts to question her needs when a former lover looks her up after his wife dies.  A painful love triangle forms when all people involved start to examine their long-neglected emotional and physical needs.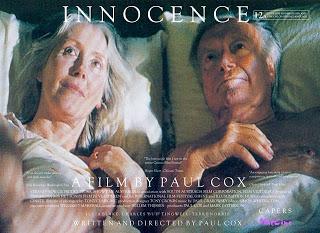 Click on Movie Poster of Innocence for a Film Clip
Tortilla Soup (2001).
 A Mexican-American widower, played by Hector Elizondo, supports his grown daughters in their adventures with love. But can they support him when he decides that it's time for him to find love again?  (This film is a remake/adaptation of the 1994 Taiwanese film
Eat Drink Man Woman,
 which I really need to see.
)
Ali: Fear Eats the Soul (1974).
This Cannes Film Award winner from Germany exposes various forms of prejudice in the story of a young immigrant from Morocco who marries an older German woman.  Their friends, neighbors and family have trouble accepting this couple from different countries, cultures and life stages.
If you have recommendations, please add a comment. Thanks!
Related:
Films Featuring Older Adults