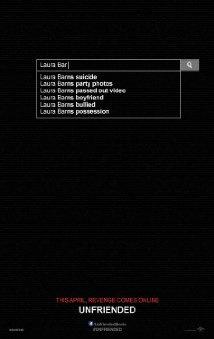 Director: Levan Gabriadze
Writer: Nelson Greaves (Screenplay)
Starring: Shelly Hennig, Moses Storm, Renee Olstead, Will Peltz, Jacob Wysocki, Courtney Halverson, Heather Sossaman, Matthew Bohrere, Mickey River
Plot: A group of online chat room friends find themselves haunted by a mysterious, supernatural force using the account of their dead friend.
There may be spoilers the rest of the review
Verdict: Karma Through Skype
Story: Unfriended starts by making it clear we will only see Blaire's (Hennig) prospective on everything which includes her looking into a high school suicide that happened one year ago. The suicide was at her school and was one of her friends who got bullied into it. Next we watch her do what all high school kids do have really awkward sex chats through Skype with her boyfriend Mitch (Storm) I mean really awkward he looked so uninterested it is unbelievable. Their little talk gets interrupted when their friends Jess (Olstead), Adam (Peltz), Ken (Wysocki) and Val (Halverson) join the conversation.
The friends have an uninvited guest in the conversation that can't be identified through the normal methods. The person claims to be the suicide girl who wants to play a game to unravel the friendships before forcing the friends to take their own lives like they made her.
Unfriended is a film that I first have to praise for an original idea with its look but that is where the praise will be ending. I am not sure if this is meant to be a comedy horror but if it was it achieves this with ease. I personally found myself laughing at so many different things through this film and of o wasn't laughing I was holding my head going 'really are you that stupid?' I think the film really struggles to make any likable character because all six of the friends are complete back stabbing people who only look out for each other, they also have way too many secrets and are willing to sell each other out. Finally we are going to hit the trademark rant of mine, NOT ALL TEENAGERS DO DRUGS AND DRINK TOO MUCH. How many times do I have to bring this up seriously? In the end this film bottles down to a bullying revenge film from beyond the grave, it lacks the ideas that could tease at it being a real person doing the killing and making it a ghost is fine, but why didn't they all just switch off the computers and meet up? (4/10)
Actor Review
Cast: Unfriended is too difficult to look into any of the stars performance, they all look like genuine friends at the start but clearly over react to what happens as the story unfolds. Each character is unlikable because of their action but you can see why the group stick together before learning the secrets. They all do make us believe they could be just chatting but in the end we don't care.
Director Review: Levan Gabriadze – I do like how the director tried to make this different but I just wish he would have created a character I could have routed for. (5/10)
Horror: Unfriended does puts us into the idea of something happening beyond the grave that our characters simple can't escape from. (7/10)
Thriller: Unfriended does keep you wondering what will happen next or who will be the next victim. (7/10)
Settings: Unfriended keeps all the action inside the house where each victim lives making everything frightening for our characters when terror comes home. (9/10)
Suggestion: Unfriended is one for the horror fans to try but don't expect too much, you will have to get through a lot of constant arguing between the friends with the horror being more tension built that in your face. (Horror Fans Try)
Best Part: Ken's shocking violent death because it makes us see that this is actually going to be a serious horror.
Worst Part: Too funny to be taken seriously.
Funniest Scene: Blaire typing, just make up your mind.
Kill Of The Film: Ken
Scariest Scene: Ken getting his visit.
Believability: No (0/10)
Chances of Tears: No (0/10)
Chances of Sequel: They will find a way to make one, but please no.
Post Credits Scene: No
Similar Too: Cyberbully
Oscar Chances: No
Box Office: $31 Million (to Date)
Budget: $1 Million
Runtime: 1 Hour 23 Minutes
Tagline: Online, your memories last forever. But so do your mistakes
Trivia: All filmed in one house with all the cast members in different rooms.
Overall: Just watch Cyberbully, it tackles to same problem with a realistic outcome and realisation of the mistakes made.
Rating