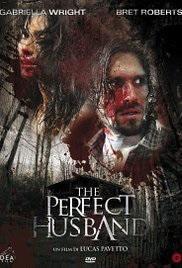 Director: Lucas Pavetto
Writer: Lucas Pavetto, Massimo Vavassori (Screenplay)
Starring: Gabriella Wright, Bret Roberts, Carl Wharton, Tania Bambaci, Daniel Vivian, Philippe Reinhardt
Plot: A married couple decide to spend a weekend in a remote cabin, but the romantic journey takes a turn for the worst, when a sneaking suspicion becomes pure madness.
There may be spoilers the rest of the review
Verdict: Slow Burner Horror
Story: The Perfect Husband starts as we meet our married couple Viola (Wright) and Nicola (Roberts) as they look to escape for the weekend in a remote cabin in the woods. When Viola passes out in the woods we start to see how she might not be as comfortable in this area compared to her husband.
We continue to learn that Viola isn't the most mental stable having received treatment in the past but we also learn her husband listens in on her conversation. We learn that all the tension between the two comes from a tragedy they suffered and this weekend is to put to bed the difficulties they have been suffering through until the two start suspecting each other of doing something wrong.
The Perfect Husband is a horror that does take a while to get going when it does become what feels like a brutal cat and mouse like chase. This all works well but is also very genetic that is where the final act spins everything from this movie on its head which could either make you go well that made everything interesting or it could make you go what was the point in everything we have seen? This is obviously a problem that could easily put people off this film but otherwise it is all easy to follow.
Actor Review
Gabriella Wright: Viola is married to Nicola but after they lost their child during childbirth she starts to become distant from him. During their weekend getaway she finds herself having to fight for her life from her own husband. Gabriella does well in this leading role but does have moments of over acting.
Bret Roberts: Nicola is the husband of Viola who suggests going away for the weekend, he is clearly still feeling the effects of what happened with the loss of their child but he has started to suspect Viola of cheating on him and wants to use this weekend to punish her. Bret is solid in this role but never hits the menace need for parts of this film.
Support Cast: The Perfect Husband has a very small supporting role with most of the cast only appearing in one scene but that is all that is needed.
Director Review: Lucas Pavetto – Lucas does give us an interesting horror that has a few pacing issues with a twist that could leave you shocked.
Horror: The Perfect Husband struggles to reach the true levels of horror until the final act and it feels slightly too late.
Settings: The Perfect Husband keep most of the settings within the cabin and surrounding woods which help show how important this weekend is to the people involved.
Suggestion: The Perfect Husband is one I do think you could try if you are a horror fan. (Try It)
Best Part: Final twist is clever.
Worst Part: Slow moving.
Believability: No
Chances of Tears: No
Chances of Sequel: No
Post Credits Scene: No
Oscar Chances: No
Runtime: 1 Hour 25 Minutes
Tagline:  Image the face of terror is the one you love
Overall: Horror that is saved by final twist.
Rating