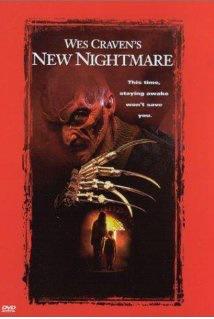 Director: Wes Craven
Writer: Wes Craven (Screenplay) Wes Craven (Characters)
Starring: Robert Englund, Heather Langenkamp, Miko Hughes, Wes Craven
Plot: A demonic force has chosen Freddy Krueger as its portal to the real world. Can Heather play the part of Nancy one last time and trap the evil trying to enter our world?
There may be spoilers the rest of the review
Verdict: Fresh Prospective
Story: New Nightmare starts with the filming of the next Freddy film where Heather Langenkamp (Langenkamp) her partner Chase Porter (Newsom) and son Dylan (Hughes) are going to star but when the mechanical hand  breaks down and starts killing the crew we learn it was only a dream. The three are really just going through an Earthquake.
Heather is dealing with a stalker while trying to get her acting career back on track before getting haunting phone calls from Freddy. Heather gets to meet her fellow co-star Robert Englund (Englund) before being offered a chance to return for the next Nightmare film with the original director Wes Craven. When Dylan continues to act strange it becomes clear that not everything is safe when he uses his toy dinosaur for safety from a mysterious man trying to take him in his sleep. Meanwhile Chase is on route to home when Freddy takes him and we learn the truth that Freddy is trying to break into the real world. This brings the battle into a whole new dimension as we have to see the former stars of the franchise fight against the very much fictional killer or so they thought.
New Nightmare manages to take what looked like a dead franchise and breathe brand new life into it. The idea of bringing everything into the real world works brilliantly because we get to see the everyday problems of the stars and that Freddy was just a character in a film they made together. Another huge plus in this film is that the child been haunted by Freddy is actually only a child not a teenager which shows that Freddy will go after any aged person. On the bad side I didn't like the idea that Freddy was a demon being killed every time a Nightmare on Elm Street killed him and now the franchise was over he wants to burst out. In the end this really is a great imaginative story that changes the way a franchise was going and should be used as an example to dying franchises. (8/10)
Actor Review
Robert Englund: Freddy Krueger/Robert Englund, we see Robert playing himself a friendly good natured actor supporting the friends of the franchise. We also see him reprise the role as the serial killer but this time he wants to enter the real world through the actors he has killed in the franchise. Robert makes his Freddy the scariest too date in this film and seeing his normal look adds to the scare factor. (8/10)
Heather Langenkamp: Heather Langenkamp is the actress celebrating the tenth anniversary of Nightmare on Elm Street, she has her own family now but with fame comes its bad side, she has herself a stalker and to make matters worse Freddy is trying to break into the real world through her dreams. Heather does a good job as the leading lady playing herself taking on Freddy this time around. (7/10)
Miko Hughes: Dylan is Heather's son who starts acting strange when Freddy starts using him to try and break into the real world. He is struggling with the loss of his father and seems to want to use a toy dinosaur as his defence against Freddy. Miko does a good job as the youngest person Freddy has taken on to date. (7/10)
Support Cast: New Nightmare is filled with cameo like performances from the stars of the original films, we also have plenty of doctors thinking they know best.
Director Review: Wes Craven – Wes returns to finishes his franchise with his first outing since the original one, he plays the game changer card giving this the award as best sequel in the franchise in the series. (8/10)
Horror: New Nightmare brings back the scare levels we want to see in a Freddy Krueger film and manages to make them feel fresh. (8/10)
Thriller: New Nightmare makes us guess right the way through about just what will happen next. (8/10)
Settings: New Nightmare brings the settings to LA where we see how the actors are getting haunted while trying to continue their careers. (8/10)
Special Effects: New Nightmare still has solid effects but it would be fair to say certain ones have dated now. (5/10)
Suggestion: New Nightmare is the one film in the franchise you can go and watch and not wonder why you did after. (Franchise Fans Must Watch)
Best Part: The idea.
Worst Part: Freddy being a demon.
Believability: While the whole story is fictional the idea is to make us feel like it is real. (0/10)
Chances of Tears: No (0/10)
Chances of Sequel: Last in the series
Post Credits Scene: No
Oscar Chances: No
Box Office: $17 Million
Budget: $8 Million
Runtime: 1 Hour 52 Minutes
Tagline: On October 14th, terror no longer stops at the screen
Trivia: Director Wes Craven had intended to ask Johnny Depp to make an appearance as himself in the funeral scene. Craven never worked up the courage to ask him, but after the film's release, they ran into each other. Craven asked Depp if he would have made an appearance in the movie and Depp said that he would have, and that Craven should have asked him.
Overall: Refreshing, Brave, Game Changer all words that could describe this outing of Freddy Krueger.
Rating