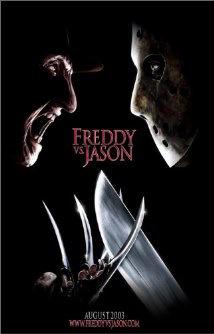 Director: Ronny Yu
Writer: Damian Shannon, Mark Swift (Screenplay) Wes Craven, Victor Miller (Characters)
Starring: Robert Englund, Ken Kirzinger, Monica Keena, Jason Ritter, Kelly Rowland, Chris Marquette, Brendan Fletcher, Katharine Isabelle
Plot: Freddy Krueger and Jason Voorhees return to terrorize the teenage population. Except this time, they're out to get each other, too.
There may be spoilers the rest of the review
Verdict: Most Entertaining Entry in Both Franchises.
Story: Freddy Vs. Jason starts by filling us in on Freddy Krueger's (Englund) back story because we haven't heard it before, wait a minute. Freddy has been forgotten by all the kids of Elm Street and now Freddy has search hell for a way back, his answer is Jason Voorhees (Kirzinger) the machete wielding killer or Camp Crystal Lake. Freddy brings Jason back from the dead forcing him to go to Elm Street to start killing again.
Time to meet our teenage victims Lori (Keena), Kia (Rowland), Gibb (Isabelle), Blake (Kopp) and Trey (Hutch) who are, wait for it home alone on a stormy night with drinks. Lori has been struggling since the disappearance of her first love Will (Ritter) many years before. When the first kill happens in the Elm Street house the name Freddy Krueger starts popping up in conversation, but keeping it quiet from the teenagers.
When Freddy isn't strong enough he starts appearing in the dreams but can't kill his victims leaving Jason to build up the scare factor on the teenagers. We meet Will and his friend Mark (Fletcher) who have been institutionalized by the parents of Springwood so they can keep Freddy and his story from coming back. The teenagers of Springwood start suffering the nightmares of Freddy Krueger but Freddy doesn't realize just who he has released into the world as the two killers start competing for the kills where neither staying awake or sleeping is safe.
Freddy Vs. Jason is the mix of two iconic franchises where we get to see two icons of the horror genre fight, we have seen 10 Friday the 13ths and 7 Nightmare on Elm Streets so it would be fair to say both franchises had started to run dry. This film breathes new life into both of the franchise and even giving us the back story the next generation might not know about. The film is hugely over the top but that works for it because the kills are so entertaining you just don't know what will happen to the characters. It would be honest to say this is just pure entertainment that will be enjoyed by the fans of both franchises. (8/10)
Actor Review
Robert Englund: Freddy Krueger is our dream killer who the town has forgotten, he recruits Jason to bring back the fear to his town Springwood but his plan goes wrong when Jason just doesn't stop killing the victims before he can get his hands on them. Robert gets his darkest look to date in the series and gives a great performance. (8/10)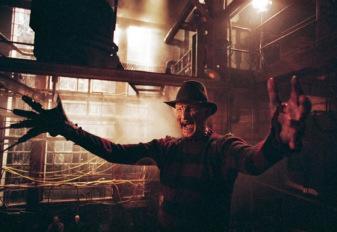 Ken Kirzinger: Jason Voorhees is the silent serial killer who is following his mother's instruction or so he thinks to go to Elm Street and start killing the teenagers, but we all know he simply can't be stopped once he starts killing. Ken makes for a very imposing Jason that brings the fear to the character. (8/10)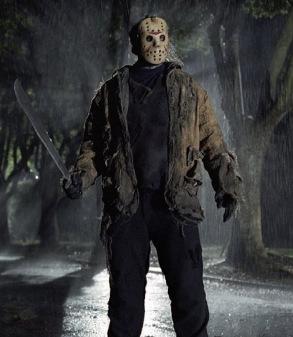 Monica Keena: Lori Campbell is our leading lady who just so happens to live in the very house where the first Nightmare on Elm Street's victim Nancy lived. Lori has to team up with her friends and her lost love to try and stop not just Freddy but Jason. Monica does a good job as the leading lady being hunted down by two serial killers. (7/10)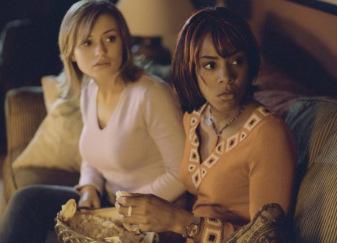 Jason Ritter: Will Rollins is the first love of Lori who gets put in an institute to help cover up the existence of Freddy Krueger but when the killings starts up again he breaks out to try and save Lori. Jason does give a good performance as the caring boyfriend fighting the killers. (7/10)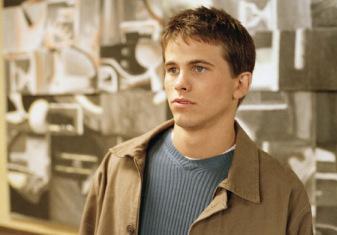 Support Cast: Freddy Vs. Jason has a large supporting cast that pretty much make up the victim lists and we do have generic teenagers making the list here, over protected best friend, slutty girl, stoner, the virgin and the troubled past. We also see the adult characters used very well to create the cover up against Freddy Krueger.
Director Review: Ronny Yu – Ronny brings his style to the iconic horror film that is filled with blood, gore and a mega body count. (8/10)
Horror: Freddy Vs. Jason brings the old school slasher into the next generation showing how to build a body count but never truly scaring us. (7/10)
Thriller: Freddy Vs. Jason does keep you guessing to how, who and by whom the human character will meet their fate. (9/10)
Settings: Freddy Vs. Jason pays respect to the franchises by taking the action to iconic locations used in previous outings. (10/10)
Special Effects: Freddy Vs. Jason uses great effects for the kills through the film but there are a few questionable uses of effects. (7/10)
Suggestion: Freddy Vs. Jason is one for all the horror fans to watch, it could easily be one of the most enjoyable re-watchable horror films this century. (Horror Fans Watch)
Best Part: Final battle.
Worst Part: Loses any suspense.
Action Scene Of The Film: Final fight.
Kill Of The Film: This is a hard choice so many great kills but I will have to go with Trey.
Believability: No (0/10)
Chances of Tears: No (0/10)
Chances of Sequel: No, but did end up in Graphic novel form against Ash from the Evil Dead too.
Post Credits Scene: No
Oscar Chances: No
Box Office: $115 Million
Budget: $25 Million
Runtime: 1 Hour 37 Minutes
Tagline: Freddy Vs. Jason! Place your bets!
Trivia: Ken Kirzinger had to undergo some dental work during filming, but it would have taken too much time to remove his makeup and costume and reapply them. When he arrived at the dentist's office still dressed as Jason (without the hockey mask), people were afraid he was an escaped psychopath and almost called the police.
Overall: The battle to end all battles between the icons of horrors.
Rating