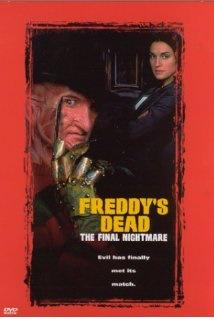 Director: Rachel Talalay
Writer: Michael De Luca (Screenplay) Rachel Talalay (Story) Wes Craven (Characters)
Starring: Robert Englund, Lisa Zane, Ricky Dean Logan, Breckin Meyer, Yaphett Kotto
Plot: Freddy Krueger returns once again to haunt both the dreams of his daughter and Springwood's last surviving teenager.
There may be spoilers the rest of the review
Verdict: Knowing It Has Gone On Too Long
Story: Freddy's Dead: The Final Nightmare starts by informing us that ten years from now I am guessing the year 2000, mysterious killings and suicides wipe out entire populations of children and teenagers, remaining adults are experiencing mass psychosis but there is new evidence of one surviving teenager. We do meet the last remaining teenager who is desperately trying to escape Freddy Krueger (Englund) but Freddy is using him to meet his newest victims.
Freddy sends the boy known only as John Doe (Greenblatt) to a new city where he gets taken to a youth center. The center has Doctor Maggie Burroughs (Zane) where she is treating Tracy (Deane), Carlos (Logan) and Spencer (Meyer). Maggie has to try to figure out what is wrong with our John Doe but only discovers a terrifying truth about her own nightmares.
Maggie seeing a chance to solve both the dream problems takes John Doe back to Springwood to face the reality only to be joined on the journey by Tracy, Carlos and Spencer. Arriving in Springwood they found out that not a single kid is at the town fair. What we learn is of the truth about Freddy but who will survive the latest battle against the dream hunter.
Freddy's Dead: The Final Nightmare is the first one in the franchise that accepts that it has gone too far in the series, it never takes anything too serious but does actually have a serious side to the story. I know that sounds contradictable but it does sacrifice the scares for comedy level but yet again dives deeper into the Freddy Krueger origin story. I will give this story credit because it tries something different moving the story along because it was getting tiring seeing Freddy just coming back to take on a small group, with this he has taken out all of the kids and actually won in his revenge but he just needs new victims who haven't heard about his legacy. In the end this film is tongue in cheek about the classic but it embraces this fact. (6/10)
Actor Review
Robert Englund: Freddy Krueger is back once more and this time he wants more children to kill after he has taken all of the rest, but he ends up coming face to face with the one child he could never kill. Robert shows that he can handle the comedic side of Freddy with this performance. (7/10)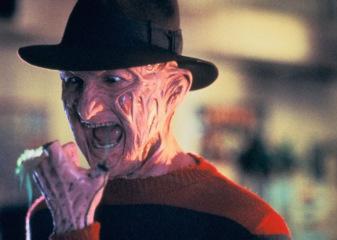 Lisa Zane: Maggie is the Doctor trying to help the troubled youths and ends up taking them back to Springwood and the birthplace of Freddy Krueger only to discover she has a connection to the killer. Lisa does a solid job taking over the leading lady but sometime looks out of place in the scare scenes. (5/10)
Shon Greenblatt: John Doe is the stranger sent by Freddy to find new victims even if he doesn't realize it. He is the last surviving teenager in the town where he was sent from and now he could have released the killer from his latest trap. Shon does a solid performance but doesn't live up to previous characters in the series. (5/10)
Support Cast: Freddy's Dead: The Final Nightmare has a supporting cast that includes the latest victims, yes that is all we are having yet again. They all do a solid job and end up meeting creative ends.
Director Review: Rachel Talalay – Rachel does a good job directing letting the film accept that it is going to be going in a different direction to previous encounters with Freddy. (7/10)
Comedy: Freddy's Dead: The Final Nightmare takes the horror into the comedy genre and gets good laughs with Freddy's lines and kills. (7/10)
Horror: Freddy's Dead: The Final Nightmare continues to lose its horror to satisfy other genres here. (2/10)
Thriller: Freddy's Dead: The Final Nightmare doesn't keep you guessing as much but does give you one question about who Freddy's child is. (6/10)
Settings: Freddy's Dead: The Final Nightmare shows the effects of Freddy on Springwood which is effective for the settings because in previous films it still always looks fine like nothing happened. (7/10)
Special Effects: Freddy's Dead: The Final Nightmare is part of the attempts to use 3D in film which don't really come off but would have been good upon release. (6/10)
Suggestion: Freddy's Dead: The Final Nightmare is a franchise fan must watch but not a one off horror film to watch (Franchise Fans Watch)
Best Part: Freddy's origin story continued.
Worst Part: Even though I praise the comedy side, I think it is a shame the franchise has fallen into the comedy world.
Funniest Scene: Spencer and the Game
Kill Of The Film: Carlos
Favourite Quote: Freddy (while fighting Spencer on a video game) 'great graphics'
Believability: No (0/10)
Chances of Tears: No (0/10)
Chances of Sequel: Has only one more sequel
Post Credits Scene: Shows clips from previous outings through the credits.
Oscar Chances: No
Box Office: $35 Million
Budget: $8.5 Million
Runtime: 1 Hour 29 Minutes
Tagline: Evil has finally met its match.
Trivia: Peter Jackson's original screenplay for Freddy's Dead saw Freddy aging and growing weak within the dream world. The teens of Springwood would have drug-fuelled slumber parties for kicks, and enter the dream world to beat him up.
Overall: Freddy has turned into a comedic genius with his kills mixing the serial killer with Schwarzenegger.
Rating